I have an article currently submitted to SA as well, but I wanted to post my instablog now my thoughts and reasons for writing the article. I will link to this as a post in the comments of the article, but wanted to share my thoughts while waiting. This is my form of brain storming.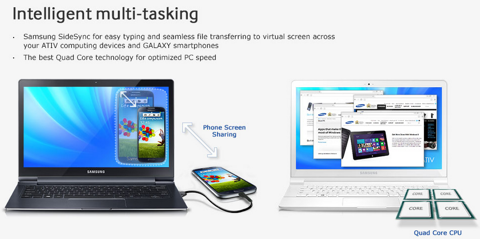 Since this is not an actual article, but just a blog post it will be much less formal (and the editing will be subpar). These thoughts are from my overactive mind, and are completely speculative.
AMD's Custom Chip
"It's something we wanted that was outside [AMD's] roadmap, Samsung PC Product manager David Ng told me in a briefing on Friday. Asked why Samsung chose to partner with AMD for this custom CPU, Ng replied "A huge part of it was the superior integrated GPU in AMD's parts."
In the graphic and in the quote, Samsung uses very strong language: "superior integrated GPU", "The best Quad Core technology."
This seems like the kind of language chosen deliberately. This, along with the quote from Mr. Ng make me think one of three things: AMD tacked a couple more GCN cores onto the Jaguar core, *or* it uses hUMA and will be the first true HSA device, or both.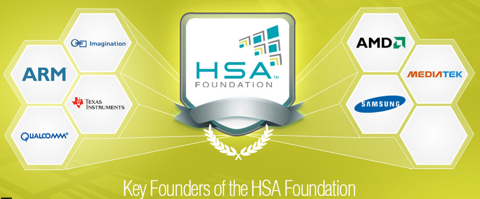 See AMD and Samsung hanging out together? The implications of my article is that AMD and Samsung have been in close collaboration for awhile now.
Based on Samsung's strong language and breaking the mold by putting custom AMD silicon in an upper tier (not talking about gaming notebooks) design (and yes, I know the screen resolution is 1366x768, but I'll point out that it is the same as a 13" MBA), I'm going to go out on a limb and say that the custom APU is quad core, hUMA/HSA, and has more than 2 GCN cores. We may be getting a look at the end of the month of the first fruits of the HSA Foundation. By the way, hasn't Microsoft been working with AMD for a while now on designing the HSA compliant Xbox?
And AMD stated that neither Microsoft nor Sony knew AMD was building silicon for the other company. How do you keep it a secret? Simple. Build them at different plants. This is another possibility that could point to AMD silicon being fabbed at Samsung, and would suggest Samsung has the necessary pieces in place to make a custom APU with hUMA/HSA.
But hardware and the user interface need the software to act as an intermediary. This is where Microsoft comes in. It's logo also fits nicely in that blank founding member square...
**I MAY BE SO FAR OUT TO LUNCH I AM EATING TACO BELL AT 2 AM**
Meaning, I could be completely wrong, so do not take this as ground truth, but rather with as much saltt as you can find. It's all highly speculative. It's like I'm playing connect the dots with only three dots, so this is just the first place my mind goes. This is also the kind of stuff I normally keep to myself.
For all I know, Samsung fabs no chips, uses a custom chip fabbed at TSMC, and decides to quit the HSA Foundation.
The only reason I am writing this is for discussion purposes. Thank you to Tom Luongo. He sent me down this path, so thank him for me by clicking his name and reading his article if you have not. Thanks Tom!
Disclosure: I am long AMD.
Additional disclosure: I actively trade my AMD position. I may add do it or take profits at any time.