Today, a collaboration was officially announced between Advanced Micro Devices (NASDAQ:AMD) and Verizon (NYSE:VZ) in a joint venture to increase Verizon's cloud services infrastructure.
Gives Credence To Microservers
Here is an article on ZDnet which briefly explains the differences between traditional and microservers. Microservers are the relative new comer in the network world.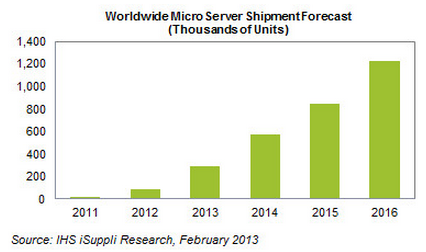 According to iSuppli, microserver forecast is expected to grow exponentially over the next few years, tripling from ~400k shipments in 2013 to ~1200k shipments in 2016. Although there are certain niche workloads that are better served by microservers, these nich workloads are growing quickly as the world becomes more connected through the use of smart devices.
Implications
Last week a video aired on CNBC stating that Verizon worked directly with AMD to build custom hardware in an effort to save cost. At that time, I only posted the video as a Stock Talk because I did not have enough information to write a full article.
Image taken from CNBC Video Clip, posted on Yahoo! Finance:

What became apparent today is that AMD worked with Verizon by giving Verizon access at lower levels to AMD's IP, allowing Verizon tailor software and hardware to AMD's hardware, providing a more stable, predictable, and secure cloud network.
Implications cited included a potential impact to companies such as Hewlett-Packard (NYSE:HPQ) or Cisco (NASDAQ:CSCO). Companies such as HP typically sell hardware to these clients, so this announcement represents a shift in revenue away from traditional server vendors. Noteworthy is that the AMD/Verizon announcement came on the heels of a similar announcement AT&T, although the hardware powering AT&T's infrastructure has not been announced. The big shift here is that larger companies are leaning toward designing custom hardware in an effort to cut costs.
The Question Is Will The SeaMicro Servers Use AMD or Intel Chips?
SeaMicro's current microserver offerings currently feature a mix of both Intel (NASDAQ:INTC) and AMD chips. In an interview with VentureBeat, it was unclear as to which chips would power the Verizon servers.
SeaMicro used Intel Atom chips before AMD acquired it, and it still offers several models with Atom chips. But the new SeaMicro SM15000 will use AMD Opteron chips, Feldman said. That's a blow to Intel, which has the leading market share in chips for micro servers. Intel has announced a number of its own new products in micro servers, but there is always a danger that low-end micro server chips could undermine Intel's high-end enterprise server chip business. So Feldman believes that Intel will be cautious about charging into micro servers.
So based on this comment, I do not think it can be unequivocally stated that these servers will be Opteron powered, but it sounds highly likely. Given that AMD has also given Verizon lower level access to AMD IP in order for Verizon to design custom hardware, I think it is even more likely the servers will use Opteron.
Conclusion
For further reading, in addition to the VentureBeat article linked to above, I recommend an article on the Wall Street Journal as well.
In the press release it was stated that the efforts between AMD and Verizon spanned 2 years. This demonstrates the length of time it takes between when custom projects begin between AMD and a partner. Given the uncertainty of AMD's custom-business model, further design wins should denounce some of the FUD surrounding the new business model. It demonstrates that the fruits of labor will not be immediately evident, but also that big announcements could come at any time.
Given this microserver announcement and the console ban being lifted in China, an analyst from FBR has raised his price target on AMD.
Best case scenario for AMD is that this deal is utilizing Opteron server chips, leading to higher margins and an overall larger impact on bottom line. But regardless of chips used, in the article on the WSJ, Seamicro does disclose that Verizon is its largest deal ever.
Disclosure: I am long AMD, INTC. I wrote this article myself, and it expresses my own opinions. I am not receiving compensation for it. I have no business relationship with any company whose stock is mentioned in this article.
Additional disclosure: I am long both shares and options in AMD. I actively trade both my INTC and AMD positions, and may add or liquidate shares or options at any time.