Company Overview 
AcelRx Pharmaceuticals, Inc., or the Company or AcelRx, was incorporated in Delaware on July 13, 2005, as SuRx, Inc., and in January 2006, the Company changed its name to AcelRx Pharmaceuticals, Inc. The Company's operations are based in Redwood City, California. AcelRx is a specialty pharmaceutical company focused on the development and commercialization of innovative therapies for the treatment of acute pain. On November 2, 2018, the U.S. Food and Drug Administration, or FDA, approved the resubmitted New Drug Application, or NDA, for DSUVIA™ (known as DZUVEO™ outside of the United States). DSUVIA and the Company's follow-on product candidate, Zalviso®, each utilize sufentanil, delivered via a non-invasive route under the tongue. DSUVIA is a 30 mcg sufentanil under the tongue tablet in a single-dose applicator approved for use in adults in a certified medically supervised healthcare setting, such as hospitals, surgical centers, and emergency departments, for the management of acute pain severe enough to require an opioid analgesic and for which alternative treatments are inadequate. Zalviso delivers 15 mcg under the tongue through a non-invasive delivery route via a pre-programmed, patient-controlled analgesia, or PCA, system.
Recent News: Institutional coverage by Credit Suisse, the addition of the stock to the NASDAQ Biotechnology Index on 12/18/18 and an increase in institutional ownership since FDA Approval on November 2, 2018.
Commercialization Strategy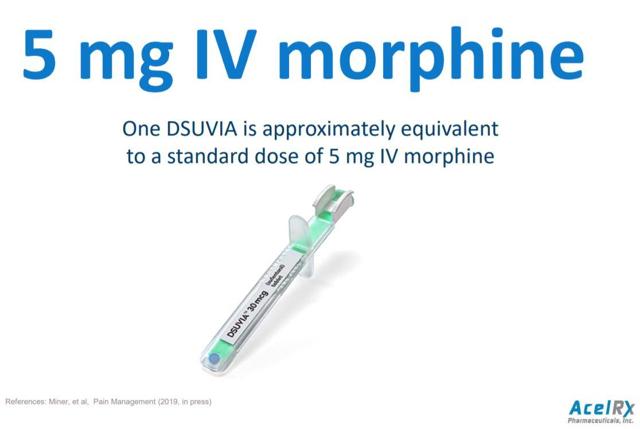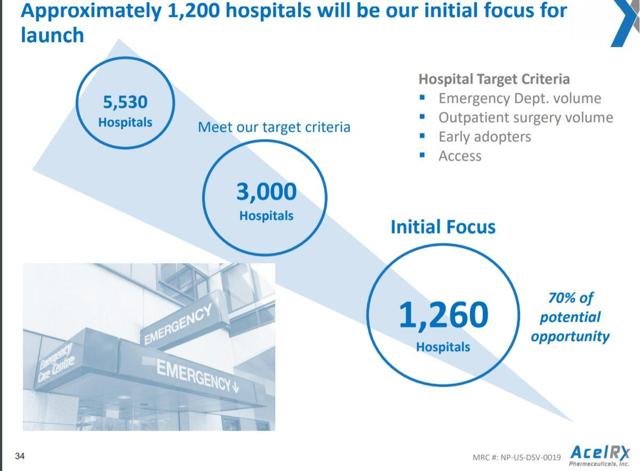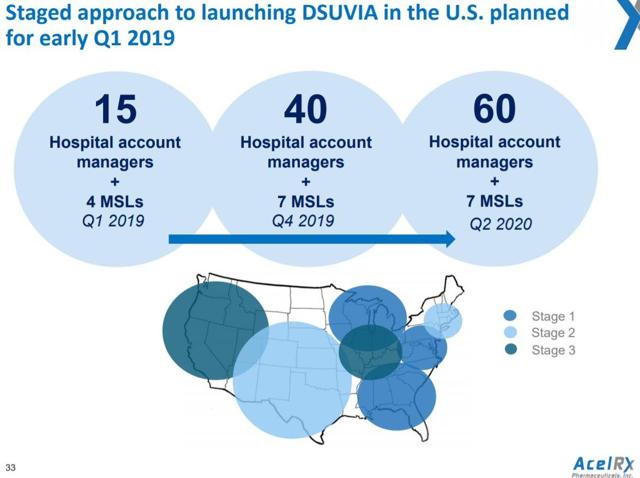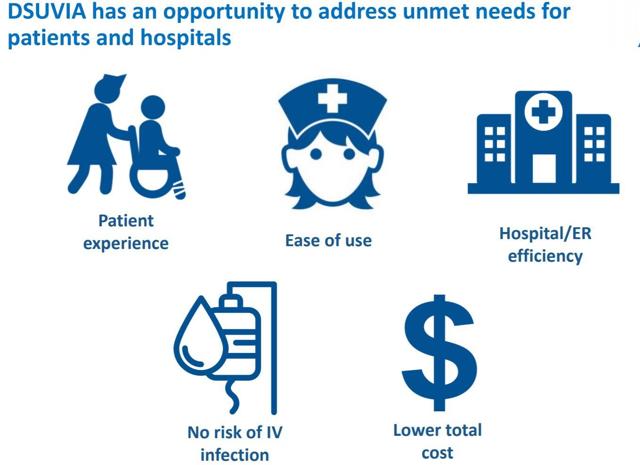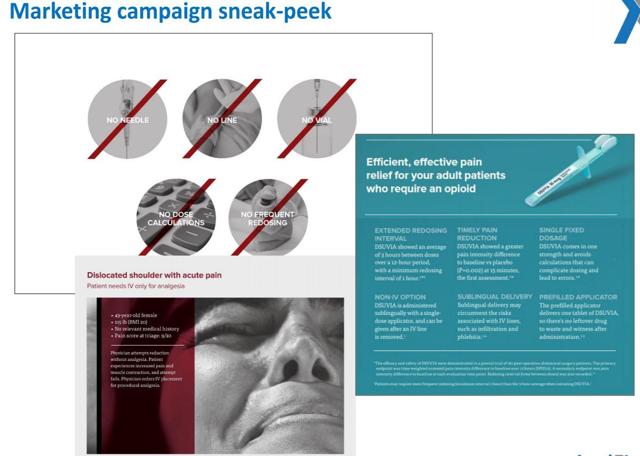 Capable Management/Leadership Team
Vincent Angotti:  Appointed Chief Executive Officer and a member of the Company's Board of Directors in March 2017
Mr. Angotti brings over two decades of experience leading executive and commercial teams at public and private life sciences companies, most recently as CEO of XenoPort, Inc., a biopharmaceutical company focused on the development of treatments for neuropathic pain and other neurological disorders.
During his tenure at XenoPort, Mr. Angotti was involved in the re-acquisition of Horizant from GSK and implemented a successful re-branding and re-launch strategy leading to XenoPort's acquisition by Arbor Pharmaceuticals, LLC in 2016.
Previous to joining XenoPort, Mr. Angotti held senior sales and marketing positions at Reliant Pharmaceuticals, Inc. from 2001 – 2008. In his role as senior vice president of sales and marketing at Reliant, Mr. Angotti was integrally involved in the company's M&A discussions that concluded with Reliant's acquisition by GSK in 2007. Mr. Angotti began his career in the life sciences industry at Novartis Pharmaceuticals Corp., where he worked from 1991 – 2001 in sales and operations positions of increasing responsibility.
Mr. Angotti earned a Bachelor of Science with a concentration in business management from Cornell University in 1990 and a Masters of Business Administration with honors in 2000 from Columbia University.
Raffi Asadorian: Appointed Chief Financial Officer effective August 2017
Mr. Asadorian brings over 25 years of finance, strategy and corporate development experience to AcelRx. Prior to joining AcelRx, Mr. Asadorian served as the Chief Financial Officer of Amyris, Inc., a publicly traded commercial-stage biotechnology company, from 2015-2017. Prior to Amyris, he served as the Chief Financial Officer of Unilabs, a private equity-owned medical diagnostics company, from 2009-2014.
Mr. Asadorian started his career at PricewaterhouseCoopers (PWC) where he was a partner in its Transaction Services (M&A advisory) group. While at PwC, Mr. Asadorian advised Barr Pharmaceuticals, a publicly traded specialty pharmaceutical company, on its acquisition of PLIVA, a publicly traded pharmaceutical company, and, after its acquisition, Mr. Asadorian joined Barr as Senior Vice President and Chief Financial Officer of its PLIVA business from 2007-2009. In that role, Mr. Asadorian oversaw a global finance team and was responsible for Barr's ex-US financial operations, until its acquisition by Teva Pharmaceuticals.
Mr. Asadorian holds a Bachelor of Science in Business Administration degree from Xavier University and a Master of Business Administration degree from the University of Manchester (UK).
Pamela P. Palmer, MD, PHD.:  Co-founded AcelRx in July 2005 and serves as Director and Chief Medical Officer
Dr. Palmer has dedicated her career to researching and treating pain, first as an anesthesiologist at UCSF and in her current role as a chief medical officer and a member of the board of directors of AcelRx, a company she co-founded in July 2005.
Dr. Palmer gained extensive experience in the treatment of pain during her tenure as the director of the UCSF Pain Center for Advanced Research and Education (PainCARE) from 2005 to 2009, during which time the American Pain Society named the UCSF Pain Management Center and PainCARE jointly as one of only six centers of excellence nationwide. Prior to PainCARE, from 1999 to 2005, she was medical director of the UCSF Pain Management Center, which uses a comprehensive and multidisciplinary approach to treat patients with various stages and types of complex acute and chronic pain. From 1996 to 1999, Dr. Palmer worked as a faculty member at UCSF, where she conducted research on basic science mechanisms of pain transmission in her NIH-funded laboratory.
In 1994 she co-founded Omeros Corporation, a biopharmaceutical company developing small-molecule and protein therapeutics aimed at improving pain management and clinical outcomes of patients undergoing a wide range of surgical and medical procedures. Dr. Palmer remains a consultant to Omeros.
Dr. Palmer received a medical degree and a doctorate in neuroscience at Stanford University and continued on to the University of California, San Francisco for her anesthesia residency. She has an undergraduate degree in electrical engineering.
Dr. Palmer is Board certified in anesthesiology and pain medicine by the American Board of Anesthesiology.
Equity Capital Structure - 2.15.2019
| | |
| --- | --- |
| Outstanding Shares | 74,488,758 |
| +Warrants ($3.07 Strike) |      176,730 |
| +Options ($3.68 Strike) |  11,628,395 |
| Total Diluted Share Count | 86,293,883 |
| Fully Diluted Market Cap @$2.90 per share | $250,252,260 |
Estimated Cash and Cash Burn
| | |
| --- | --- |
| Cash Balance 9.30.18 | $63,561,000 |
| +Stock Offering 11.8.18 | $37,000,000 |
| Total Cash | $100,561,000 |
| -Est Q4'18 Burn | $12,500,000 |
| -Est YTD Burn | $6,750,000 |
| Estimated Total Cash 2.15.19 | $81,311,000 |
| Fully Diluted Cash Per Share: | $0.94 |
Price Target
Our estimated near term price target of $11.23 is based upon a full 12.5% market penetration and 18% discount rate over 10 years.   See full inputs below.  
Catalysts
The commercial launch of Dsuvia in US Q1'19 — First Orders and Updates by end of February.
Department of defense order announcement planed by Q1'19
FDA Approval of Zalvisio in the United States by Q3'19
Strategic partner to market and sell Dzuvio outside the United State by Q2'19 (Dzuvio Granted Approval in EU Q2'19)
Morphine Shortage in nationwide hospitals
Lower cost and safer alternative to IV Morphine; $50 for Dsuvia vs $145 IV Morphine.
Additional Analyst Coverage by Investment Banks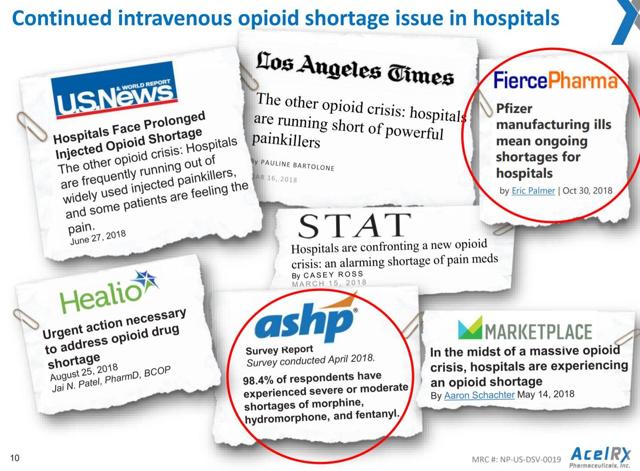 Discounted Cash Flow Inputs Below:
| | | |
| --- | --- | --- |
| Annual Demand | | |
| ER | | 51,500,000 |
| DOD | | 250,000 |
| Surgery | | 21,700,000 |
| Other Procedures | | 18,700,000 |
| Other Gov Defense | | 250,000 |
| Total Annual Acute Pain Market Demand | | 92,400,000 |
| | | |
| Doses Per Unit of Demand | | 1.5 |
| | | |
| Market Penetration | | 12.50% |
| Other Licensing Revenue % of Dusvio Rev | | 12.50% |
| | | |
| | | |
| Number of Doses | | 17,325,000 |
| Price Per Dose | | $ 50.00 |
| | | |
| Dusvio Revenue | | $ 866,250,000.00 |
| Other Licensing Revenues | | $ 108,281,250.00 |
| Other Licensing Revenues | | |
| Total Revenue | | $ 974,531,250.00 |
| | | |
| COGS | 35.00% | $ 341,085,937.50 |
| | | |
| Gross Profit | | $ 633,445,312.50 |
| | | |
| SG&A | 15.00% | $ 146,179,687.50 |
| R&D | 5.00% | $ 48,726,562.50 |
| Wages - ALL | 15.00% | $ 146,179,687.50 |
| Other | 5.00% | $ 48,726,562.50 |
| Other | | $ - |
| Total Operating Expenses | 40.00% | $ 389,812,500.00 |
| | | |
| Operating Profit | | $ 243,632,812.50 |
| | | |
| Tax Rate | 25.00% | $ 60,908,203.13 |
| | | |
| Net Profit | | $ 182,724,609.38 |
| | | |
| Fully Diluted Share Count | | 86,293,883 |
| | | |
| Years Discounted | | 10 |
| Potential Future Profits | | $1,827,246,094 |
| Discount Rate | | 18.0% |
| PV over x Years | | $968,992,592 |
| Discounted Share Price | | $11.23 |
| | | |
| Current Market Price | | 2.9 |
| Discount to Fair Value | | 287% |