It is a well known fact that penny stock investor awareness campaigns have been around for a very long time, but it has been quite a few years since this sector of the market has been this strong. Normally you only see large percent runners on millions of dollars in volume once in a blue moon, but we have had at least 6 such campaigns in the last month or two: Green Innovations (OTC:GNIN), Echo Automotive (OTCPK:ECAU), Swingplane Ventures (OTCPK:SWVI), US Tungsten (OTCPK:USTU), Southern USA Resources (NYSEARCA:SUSA), and Pterosonic Energy (OTCPK:PSON). Of course, now we have a new one beginning, (OTC:REDG) from the Victory Mark group. This unprecedented string of successful campaigns begs one to wonder where all of this sector strength came from, and if it can be predicted in the future. In this article we will discuss the main factors that drive the penny stock investor awareness campaign sector on the macro scale in both a multi year basis and an intra-year basis. Before we dive into the details, be sure to check out the charts, they speak for themselves:
GNIN by the Brighton Markets group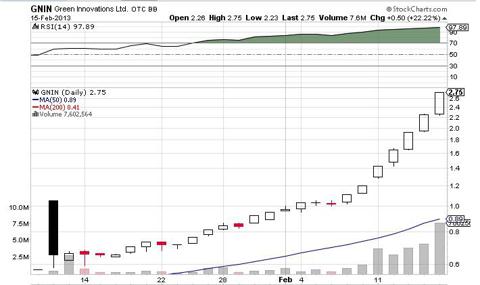 ECAU by the Paragon Report/Bedford group with a Chuck Hughes hard mailer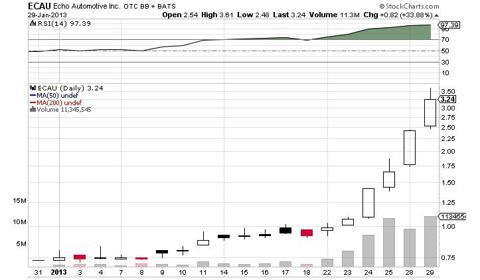 SWVI by the AwesomePennyStocks group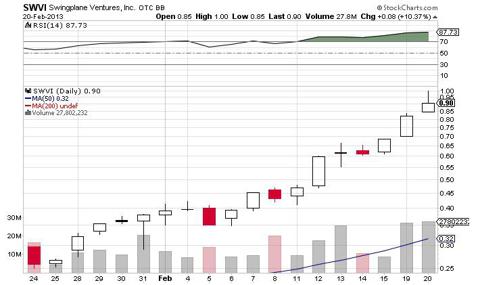 USTU by a hard mailer campaign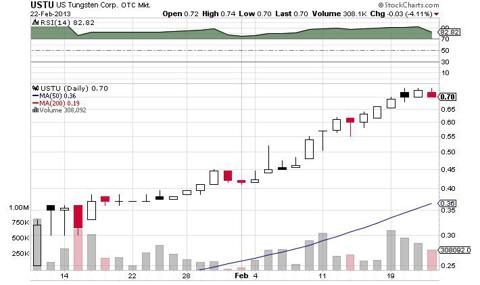 SUSA by a hard mailer campaign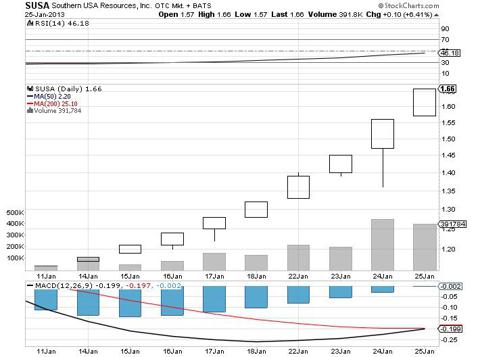 PSON by a hard mailer campaign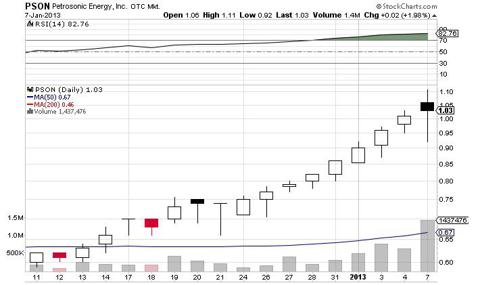 If those are not impressive, I don't know what is. What caused this massive sector strength, and can we predict something like this in the future? There are many known factors that control the stock market as a whole that we could look at, but most of them have little or no correlation to this sector. Based on veteran penny stock trader Tim Sykes book, An American Hedge Fund, the last time this sector showed this much strength was during the last major bull run starting after the tech bubble and ending with the housing crisis in late 2008. Today the SPY is closing in on all time highs, and the penny stock investor awareness campaign sector is on fire again. It seems safe to say that there is some correlation between a strong bull market and how well this sector does on a multi year basis.
Now, even within this year, there was a timespan when pumps went nowhere but down for the most part. How could that be if we were still in a bull market then? This same slump tends to happen around the same time every year, its called summertime. The main factor that actually drives the penny market is how much extra spending money people have available to them. This translates well to the multiyear theory since in a strong bull market people should be bringing home more money.
I could be wrong, but as far as I know, most 401k's will not allow you to invest your money into penny stocks, and on top of that a persons 401k will not fluctuate much within one year. The money people put into penny stocks touted by investor awareness campaigns has to come from somewhere, and if it isn't a persons retirement fund, it must come from their extra money on hand.
Every year around this time (January, February, March) there are numerous investor awareness campaigns that do incredibly well. The best from last year at this time was (SNPK). It just so happens that this time of the year is when people begin to get, or expect to get, their tax returns. Tax return season is the only time of the year when the aggregate of America will have a significant amount of extra spending money available to them. Here is an interesting statistic:
"the Internal Revenue Services says for fiscal 2011 it issued individual tax refunds for $337 billion. Nearly 120 million individual taxpayers got refunds that year, which averages to about $2,800 per person.

That check is the largest single lump sum of money the average American family receives in a typical year, according to an estimate by the American Tax and Financial Center at TurboTax."
In addition, over 55% of the population expects to receive a tax refund, according to budgeting.about.com/b/2012/03/22/most-americans-expecting-a-tax-refund.htm
The extra spending money factor will also explain why penny stock investor awareness campaigns tend to do so poorly during the summer. Due to the school systems schedule, and the weather, most people take their vacations during the summer. Vacations usually involve travel, lodging, and food, which is not free, so during the summer we see an aggregate decrease in extra spending money, which translates into a poor performing penny stock market.
So, there you have it. The two main driving factors in the macro penny stock market are the overall investor sentiment which dictates how much people on average will take risks, and the amount of extra money people have on hand to invest. It will be very interesting to see if Victory Mark can continue this string of successful campaigns with REDG, or if they cannot compete anymore, and REDG flops.
One word of caution though, most penny stock investor awareness campaigns involve one large shareholder who is selling many of the shares during the campaign, and if they sell too quickly, the stock will not go up, even during the perfect storm of tax refund season during a bull market which we have going on right now. In addition, penny stock awareness campaigns significantly increase investor attention on a stock, and when the campaigns end, which they always do, the stock price goes crashing down.
Disclosure: I have no positions in any stocks mentioned, but may initiate a long position in OTC:REDG over the next 72 hours.