1. Background
Bezo acquired 'The Washington Post' at $250M for it's whole publishing business. I'm really surprised since I even didn't think that 'The Washington Post' can be considered as buy-able stuff.
According to SEC filing, story is as follows.
Purchasing Target : WP Company, Express Publications Company, EL Tiempo Latino, Robinson Terminal Warehouse, Greater Washington Publishing, Post Newsweek Media (WPO's Publishing Business)
Price : $ 250MM
Since WPO has successfully transformed it's main business line to education service, Kaplan, actually WPO selling it's loss business unit.
[WPO Profit Structure]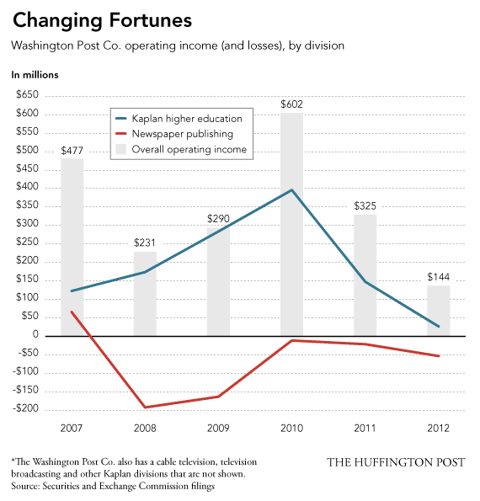 According to DA, WPO need to change it's name after SPA, which I guess 'Kaplan'.
[Definitive Agreement 8-K]
The Purchaser will also acquire all other assets of the Company primarily related to the Publishing Business, including all of the Company's rights in the name "The Washington Post". The Company will change its corporate name within 60 days following the closing.
As follows, newspaper publishing business unit are constantly losing money.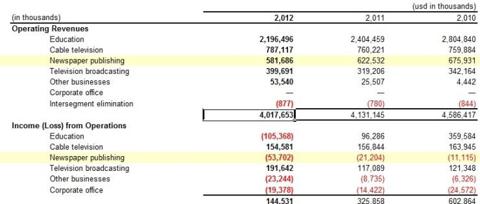 2. Reason to buy
It seems lot's of guess are spreading for acquisition, here are some summary of guessing.
A. Synergy with Amazon, Kindle
B. Bezo's management insight
C. Political reason
But, does it really appropriate buyout since it's losing offline subscription numbers and uncertain future?
[Post Circulation Trend]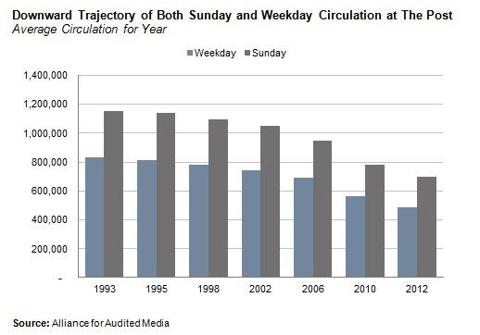 3. Personal Proposal to news industry
In my opinion, the media industry (including newspaper) is a quite attractive business model and especially with smart device such as semaphore, tablet, eBook and etc.
Newspapers are core information provider and apparently contents creator. However, their wrong strategy to web era makes them hard to survive.
Their laborious fine work are neglected by portal such as Google, and majority of people is about to think news is free. The only thing newspaper company can do was small banner ads around a news article.
It's definitely wrong.
And, their current strategy that make news exclusively and provide premium news service to users who paid premium service fee, is also wrong. Unless break the concept of free news article, they cannot make it.
Follows are newspaper management's selection matrix.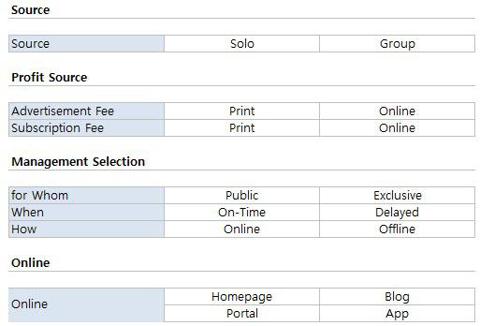 In example, premium service are as follows.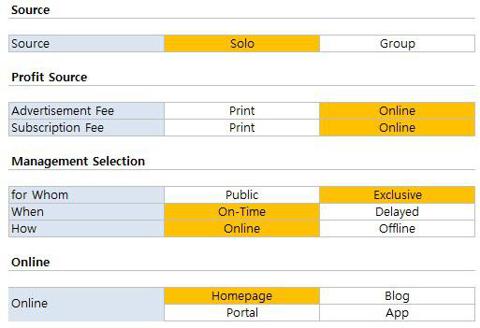 And here is my suggestion on newspaper companies.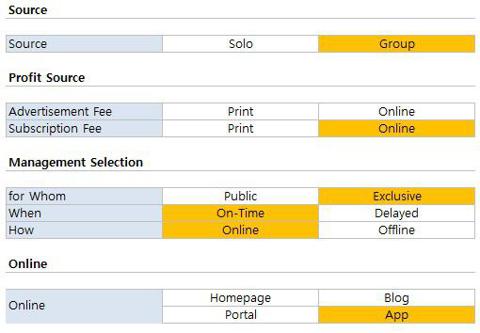 They definitely need to gather their information and narrow it's channel to their own portal or app. For non-paid public, they can provide delayed news article, however on-time news must be provided only with subscription fee. And of course, it must be done together.
In broad sense, news articles are same to songs. Music industry successfully carve it's paid service atmosphere to public, and they willing to pay money for listening to music. And, a core engine for music business model is the channel which newspaper industry couldn't make it.
Reputable newspaper companies are should gathered as group, and only group can provide their precious news article to public in forms of monthly subscription fee. They can choose app base or web base (ex. app 10$, web 7$)
Splitting profit structure may be daunting task, however, better than solo fight.
Contents are very lucrative business unless competitors are fighting each other for nothing.
Dear contents creator, be smart.