Last Friday the NFP was supposed to influence the EURUSD and other similar currencies. However, the GBPJPY pair saw the biggest pip movement in a single day. Prior to the NFP, the previous night (or day depending on where you reside), BoJ's Kuroda announced a massive easing policy which saw the Yen drop like a hot potato.
If you were like me, shorting GBPJPY then I feel your pain. However, if you were sensible enough to push your stops to 152, then take heart.
What goes up must and will come down and the Pound Yen is no exception.
For those reading my analysis for the first time, to give a brief context, I trade using triangle breakouts combined with Wolfe Waves and a few twists here and there.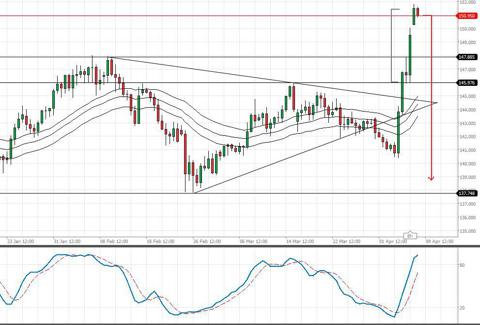 Getting back to the topic, the GBPJPY seems to have peaked on Friday and earlier this morning we see a bearish candle being formed.
In the chart below, you can see the triangle that I have plotted. The three lines are nothing but 34 EMA's applied to Open, High and Close.
While I won't go into details as it might make it complicated, this is what my analysis is in brief.
Point A was @ 147.885
Point B was @ 137.748
As such our upward projection from a breakout price of 145.976 gives us a price target of 151.044, which was reached without any road blocks.
Now on the downward trend, we are looking at a possible price point of 135.838.
Another aspect to my analysis is to do with the time factor as well. Simply put, we expect price to drop to our levels towards this coming Friday, but because the upward move was indeed 'exceptional' we estimate GBPJPY to drop to 135 region sometime next week.