In continuation of my previous view on CLM3, the latest chart analysis point to a possible downside move by Crude Oil futures for June 2013 delivery on a short term but overall the CLM3 contracts looks as if it would be closing on a strong note.
The chart below (H4) is made up of different Fib zones. The important levels to take note of are 90.41 to the down, which marks the 50% Fib level. Upon drawing up few more fib zones on the weekly/daily charts we notice a cluster forming at the region of 94.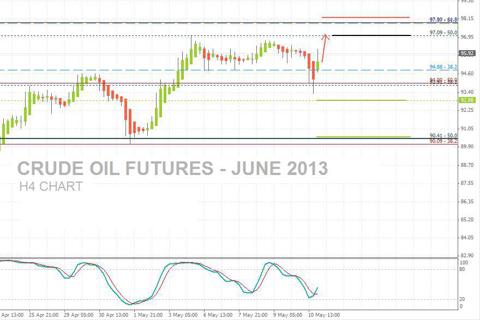 In the interim, we see a single bullish bar being formed (Heiken Ashi Candles), which indicates in a corrective pullback. Price is likely to touch back/re-test the 97.09 region and the same is confirmed by the upward move of the Stochs cross-over. We call it a corrective pull back because the Stochs cross happens above the 20 line.
A good entry point to short Crude Oil futures would 96.70, with a protective stops placed just above 97.89. If the downward move should indeed happen. The initial target price would b 92.88 followed by a move down to 90.41
Bullish on a weekly scale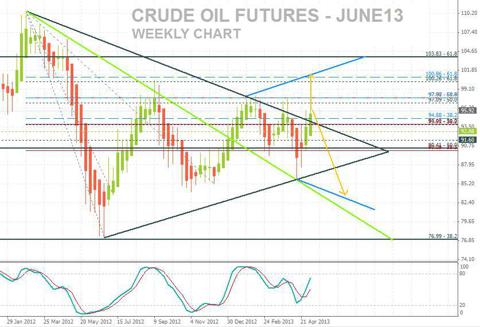 If we scale to a higher time frame, weekly; we notice a kind of congestion taking place and its clearly evident that the region of 97-100 is proving to be a strong resistance level. The Stochastics also show an interesting fact that after the strong bearish signal, we see quite a few weak bullish and bearish signals being formed. There are basically two scenarios to look at:
Bullish Continuation of Stochs: This would indicate a rally being formed. The triangle pattern is nothing but Wolfe Waves in action and we are currently in the Wave 4 complete, beginning of Wave 5. The upward pointing parallel of trendline 2, 4 shows the likely area of reversal for Crude Oil, which could very well be between 97/98 and 103.83.
A bearish turnaround of Stochs: Should this happen, then it would indicate that the Wave 4 is incomplete. As such we can expect price to drop to the regions of 85 before we can expect to see a rally again.
As always, the fundametals are going to dictate the direction of Crude Oil, so it is imperative to keep an ear out for any news relative to the Oil and Energies markets. At the time of writing, the fundamentals point to an increasing supply amidst diminishing demand along with a strong US Dollar.
The coming week's economic diary is packed and as such traders should pay attention to key US economic data which would paint a more clearer picture on the bullish strength of the US Dollar and also the weekly crude oil inventories report to monitor supply/demand.