The daily charts for USDCAD paint an interesting picture from a Wolfe Wave perspective. If going by the current conditions, (a strong Greenback), the USDCAD seems to have run its course with a possible decline (and one that is large) seems to be just around the corner.
In order to understand this, let's take a look at some charts.
In the first chart below, we have a bullish Wolfe Wave formed, which shows that it is failing. By failing, there are two points to consider.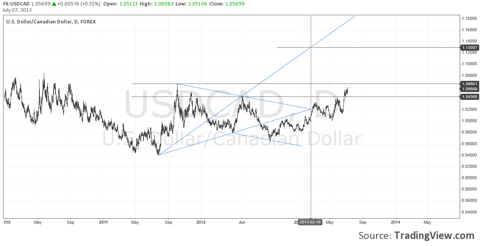 1) Price failed to reach its projected estimate of 1.13007 around the estimated time of 18th February 2013.
2) We can see that price struggled quite a bit to firstly reach the first target of 1.04365 (Point 4 on the WW triangle)
From the looks of it, we can expect to see exhaustion near the price point of 1.06601. If we extend the line from Point 1 (Wolfe Wave) back in time, we see that this price point is in the region of a strong resistance.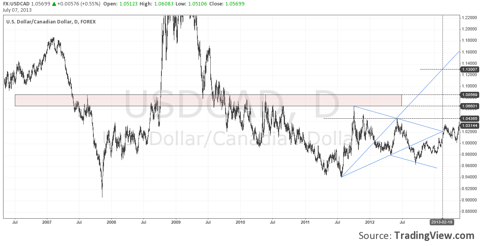 While it has acted as support, we can notice that the price region shows more strength as resistance rather than support. In three instances in the past, we notice price being contained within 1.06601 - 1.08569.
So if our bullish wolfe wave does have some more strength left, we could see a test of 1.08569 expecting price to fall from this region.
Now to the interesting part....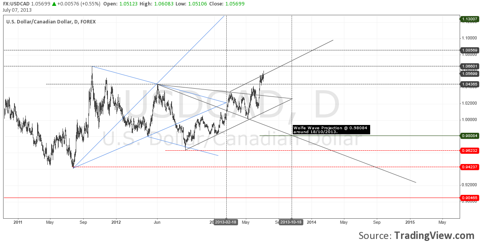 We have a bearish wolfe wave formation (illustrated by a Grey triangle with projections). Price is currently hovering near the upper parallel line showing us a resistance region. While this line is not set in stone, we have seen in the past, price cut through this limitation line and in most cases, notice price consolidation around the region.
As such, this gives us the conviction that USDCAD could possibly be ranging between 1.04365 - 1.06601 - 1.08569.
From these three levels, a preferred entry to short this pair is most likely 1.06601 (but should be done on the way back). In other words, waiting for a breach of 1.06601 and then shorting the pair after it moved a few pips above would be ideal, with stops set around 1.08569.
On the way back down, our projected price 0.98084 to be reached around 18th of October. But knowing how the pair failed to reach the previous bullish wolfe wave, it would be fair to apply caution and expect the same. So the obvious question would be, what should the targets be?
As pointed out on the chart, there are three key price points to consider.
Target 1 @ 1.02126 is the apex of the bullish triangle which is a price point where prices are likely to react.
Target 2 @ 1.00088 is the point 4 of the bearish wolfe wave
Target 3 @ 0.90084 is the final price projection.
Playing the USDCAD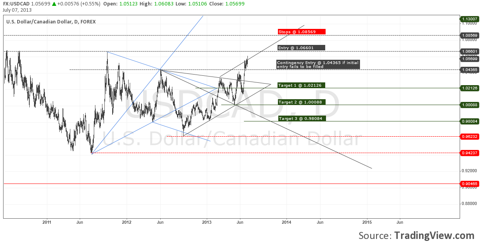 Entering short around the region of 1.06601 with stops at 1.08569 (+some pips) would the initial game plan. [If price fails to reach 1.06601, then we short at 1.04365] Once price moves closer to and hits Target 1, closing 1/3rd of the trade with stops moving to break-even would ensure us some small gains. At target 2, we close out 2/3rd of the trade, with stops moved to 1.04365 would put us in a risk free trade.
The final leg of the trade would mean, moving our stops to T1 in hopes that price could be reached.
To conclude, USDCAD has seen some bullish moves for most part of this year. What gives me the conviction that a bear rally is around the corner is by looking to the weekly charts, which has a classic bearish Wolfe Wave pattern being set up.
What's even more interesting is the price projection and time. We expect USDCAD to drop to 0.816 region confirming a continued bearish selloff that is likely to extend well into early-mid 2015.
For the moment, we expect to see the upside moves contained within the ranges of 1.08514 - 1.06553.
The formation of another Wolfe Wave within the weekly charts gives some kind of confirmation that the bull rally is nearing exhaustion.