ETF ASSET CLASS QUICKVIEW: 11/11/2016
Tactical ETF investors are taking advantage of new leadership in another leg up in the bull market. Last week, equity markets did a complete U-turn on election night, as the Dow was down as much as 800 points before rallying hugely on Wednesday.
MARKETS BEGIN TO EVALUATE TRUMP
Markets began to seriously look at Trump policies and the impact on the economy and equity prices. They had been pricing in a Clinton victory and had already forecast the economic outlook for equity prices. The Trump victory forced market participants to digest the effect of lower taxes, regulatory relief, renegotiation of trade agreements, the repeal of Obamacare and infrastructure spending.
The "Trump Trade" was especially seen in ETF sectors that will benefit from these programs such as banks, biotech, healthcare, defense and infrastructure. Momentum has clearly shifted to the upside and Stanley Fischer from the FED has confirmed that the December rate increase is solidly in play.
PAY ATTENTION TO BONDS
The bond markets, however, were a different story. Yields spiked and bond prices fell sharply wiping off over $1 Trillion in global bonds. The bond vigilantes that had been repressed from relentless central bank interventions have emerged. This is a VERY healthy sign that the central banks see the Trump victory, with Republicans controlling both houses of Congress, as having the power to actually break the gridlock in Washington allowing the fiscal policies they have been calling for to finally take place.
Having a tactical manager in place for the bond portion of portfolios is critical moving forward. Last week we sold 4 of 5 muni-bond funds in our Tactical Muni-Bond strategy as long-term signals triggered a sell for the first time in a very long time. It may be harbinger to come for the ETF bond asset classes over the next few weeks.
AN END TO GRIDLOCK
It looks like Democrats and Republicans may actually be coming together on the infrastructure bill that both Trump and Hillary agreed upon and are positively moving forward. Paul Ryan might be a roadblock. With Reince Priebus on board as the President's Chief of Staff, the objections of House Representatives for more infrastructure spending could be overcome.
If we see positive economic developments, hopefully the media will find the good and report it that way. Unless of course they respond negatively to feed their ratings. That will only succeed in making media stars rich.
ETF BRIEF
Markets are continuing their Trump rotation as we mentioned in What We're Watching. The Dow Jones Industrial Average has now set a new record high as it approaches 19,000.
With the rally, several ETF sectors jumped into the black for the past month. Small caps and financials are up over 6% suddenly. Industrials are up over 5% on anticipation of President-elect Trump pushing infrastructure spending. Basic materials are up over 4%. Biotechnology has also quietly gotten a bump of over 6%.
Emerging markets are falling hard as the impact of higher interest rates and inflation set in. In particular, emerging market bonds are getting crushed on the prospect of an even stronger dollar. This is an occurrence that we have discussed and foreshadowed in quarterly letters.
The money market has fallen to a rank of 25 indicating that at least some sectors and asset classes are more attractive. However, a ranking of 25 still validates the idea that markets have underlying weakness despite the rally.
WHAT'S WORKING NOW
The trend is your friend is a favorite saying of ours. We believe that by sticking with the strongest trends and avoiding the most negative trends, we can manage risk and make profits over time.
Our algorithms and analysis are telling us that small caps, financials, industrials and basic materials are the new leaders under President Trump.
We have greatly reduced cash holdings as we take part in this rally. As we noted last week, when markets trend sideways, that often indicates a strong movement either up or down once the range has narrowed sufficiently. We are seeing the up move now.
Many thought the Presidential election as a binary event. We were not so sure. While the U.S. market is historically overvalued by 20-30% as noted in our quarterly letter, there doesn't seem to be a catalyst to cause a correction imminently. In fact, while we expect that 20-30% correction in the next year or two, there is every reason to believe that very short-term, this market could break out to the upside.
We are now into the seasonally strong period of the stock markets. November and December could see a solid rally. January brings more earnings which could be disappointing after the recent solid quarter.
In January, we are also going to see year 2 of the Baby Boomers taking Required Minimum Distributions (RMDs) from their retirement plans. This is part of the aging demographics mega-trend we keep discussing. Unless Millennials can offset the Boomer withdrawals from the stock market, we will see more pressure on stocks early next year. The markets will likely foreshadow that reality before there is a mass sell-off. We will continue monitoring so that we are among the first out at signs of trouble.
TACTICAL ASSET ALLOCATION ADVANTAGE
For tactical asset managers and informed investors using ETFs, knowing the relative strengths within markets is important. Observing how sectors and asset classes are moving, can give us important information about which ETFs offer the best risk versus reward. This data is vital not only for returns in rising markets, but also for risk management.
If you believe our approach might benefit you or your clients, contact us to discuss how we can work with you.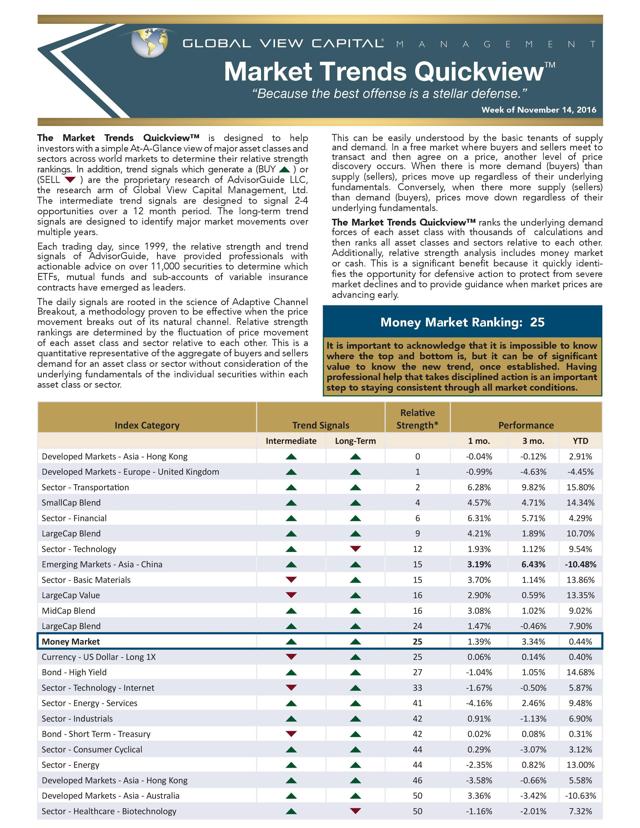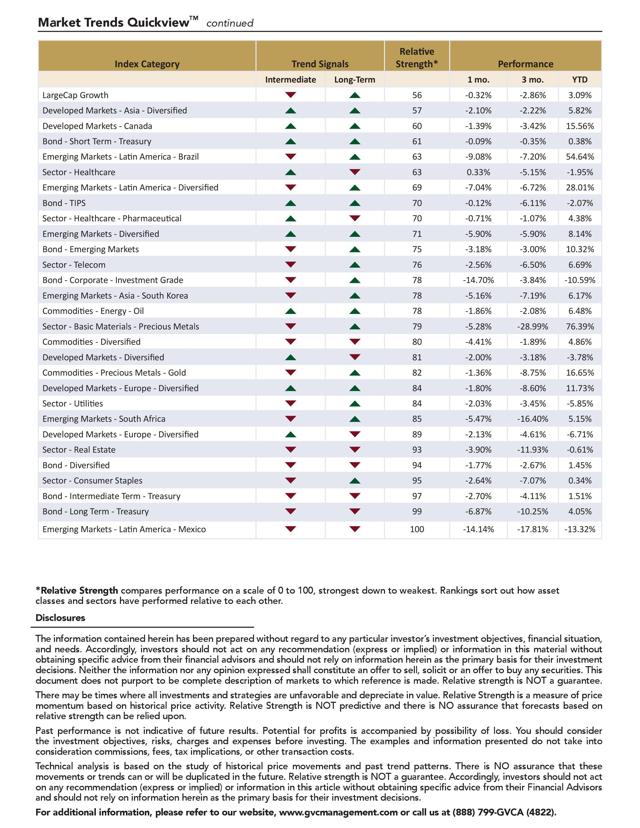 Follow us on Twitter: @globalviewcap