Oil is firm on the supply-cut deal and pending production declines in deep water. Scotland has made it known they could seek to leave the United Kingdom if cut off from the Eurozone. China is meeting fire with fire in a relationship with President-elect Trump.
OIL REMAINS FIRM
Traders are making their most bullish bets on oil since 2014 on the supply-cut deal by OPEC and non-OPEC members. Many are skeptical however that the deal will hold, at least not completely, which is fueling some to take profits in oil stocks.
One item that has not been at the front of the news is the issue of deep water oil decline rates. Offshore oil decline rates, as we mentioned last week, will be about 3mbd. That is enough to offset virtually all oil production increases globally in 2017. Per the U.S. Energy Information Administration's Short-term Energy Outlook, global fuels production and consumption will come into balance around 98mbd in 2017.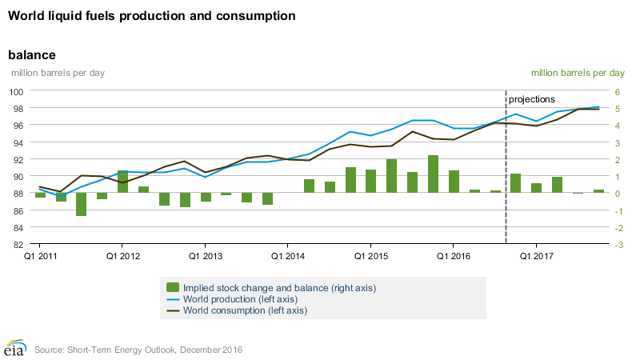 The above projections do NOT take into account the recent supply cut agreement. If the full 1.8bmd cut to oil production comes to pass, then there would in fact be an under-supply of oil by late spring. This leads right into the heavy driving season in the U.S.
The supply reduction agreement runs only for six months. It would not be surprising to see the cuts adjusted such that OPEC "uncut" their production going into the U.S. summer. This would gain OPEC market share while enjoying any price increases that do occur.
BEING TACTICAL WITH OIL INVESTING
The difficulty in predicting oil prices is that inventory is at a long-term high. The U.S. has about 500 million barrels of oil in storage. Other OECD nations around 375 million barrels. China has over 400 million barrels of oil in storage and is seeking to reach 500 million. Still, that amounts to only a little over 2 months supply of oil, so any major shock would still have an impact.
It is important for investors to understand that OPEC has no intention of letting their low-cost oil sit in the ground as the oil age very slowly ends the next few decades. They are fully committed to maintaining their profitability. That does not bode well for companies leveraged to deep water drilling.
Deep water mega-projects take many years to payback investors. That is a lot of risk in a world where we will wake up someday and be told that electric vehicle batteries are now cheap and efficient enough to compete more fully with internal combustion engine cars on economics. So, while existing mega-projects in oil sands and deep water oil provide solid economics, new projects probably do not.
Ultimately, OPEC retains much of its power in the oil markets. The U.S. shale industry also could be a winner as oil markets continue to shake out more expensive oil producers that require large upfront investment and long payback periods.
Investing in oil will require being nimble. If prices fall, then there is a lot of room for give back of the gains already made. If oil prices rise, then the lower debt parts of the industry could do exceedingly well while the entire industry is at least partially carried.
EUROZONE TREMORS
In Europe several pieces of news add to the overhang of a generally unhealthy economic and political environment. First, we saw the referendum in Italy go down with a no vote on reducing the scope and scale of their Senate. As a result, Prime Minister Renzi resigned. However, an election for a new government was not held. Instead, a caretaker government formed to appease financial markets as Italian banks struggle to recapitalize.
In Greece uncertainty continues. The EU put several debt relief measures on hold for Greece that increased friction once again. This happened as apparent retaliation for Greece's decisions to add some bonus payments for pensioners while exempting several islands from a new sales tax. Greece had hoped that the moves would go unchallenged, however, were wrong. German irritation with Greece was enough to offset French support that is waning as Francois Hallande's mandate ends. The risk of Greek defaults are once again on the table.
In Scotland, what was expected, happened. The Scottish gave the U.K. an ultimatum that if they lost their access to the Eurozone, they would likely leave the U.K. First Minister Nicoloa Sturgeon publicly proclaimed and published that Scotland is seeking to secure its place in the Eurozone.
Said Nicola, "Our hope is that the UK will remain within the single market. The advantages of doing so are clear and obvious. Unfortunately, the rhetoric emanating from a UK government that appears ever more in thrall to hardline Brexiters does not inspire great optimism that this option will be chosen."
Keeping an eye on Europe is once again near the top of the investor's list. Banks are running into liquidity issues, growth is slow, populism is on the rise. All threaten the Eurozone and the Euro currency. Tactically, the sector is a clear laggard behind the U.S. right now.
CHINA RATTLES ITS SABERS
Donald Trump's call with Taiwan, as well as, tweets about trade and currency, continue to rub China the wrong way. While in the long run Trump's approach might be effective, it is raising the concern of the Chinese. Chinese state controlled Global Time's said that:
"Trump is not behaving as a president who will become master of the White House in a month… He bears no sense of how to lead a superpower."
A few days ago, China seized a U.S. Navy drone that was collecting information in the South China Sea. The drone was not classified, however, was taking not only sea readings, but searching for Chinese subs. This prompted a twitter response from President-elect Trump.
China was also found to have installed armaments on several of the built up reefs in the South China Sea. That clearly started some time ago however, which might be stronger indication of China's motivations.
The build up of tensions between the U.S. and China is significant as investors plan for 2017. If a trade-war or currency-war develops beyond the norms we already deal with, then being tactically able to adjust portfolios will become even more important. It is vital that investors do not underestimate the impact that an economic, or God-forbid, military conflict with China could have.
ECONOMIC CALENDAR
The economic calendar is back-loaded this week.
On Wednesday we get to see existing home sales which are forecast to fall a bit. More importantly we will see crude inventories. Any unusual draw down could push prices higher.
On Thursday we get the leading indicators which are forecast to be flattish. This implies no new growth to the economy until the new administration's measures are enacted.
Also on Thursday will be personal income and spending, as well as, initial jobless claims. We get to see just how strong the jobs market is and if consumers are continuing to spend. A slow spending number could imply a weak start to next year as well.
The Q3 GDP estimates could be updated on Thursday as well, however there is not much news expected. It would take a dramatic change to concern or excite markets.
TACTICAL THOUGHTS
The Trump rally stalled a bit last week but the U.S. markets continue to lead globally. Financials and oil equipment, which our research partner Ned Davis notes; are leveraged to higher oil prices and value stocks are topping the trend charts and appear likely to continue to do so short-term. Small caps are still doing relatively well but fell off a bit.
While we are always concerned about the impact of the economy on markets, we realize that the markets are either forward or backward looking. It seems to us that the markets are looking forward to lower taxes, less regulation, repatriation and an improved healthcare system. We will see if the international concerns impact American markets anytime soon.
As we've already noted, the monkey wrenches that could get in the way of the stock market rally are valuations, secular aging trends, global debt issues and potentially trade impasse with China. We have covered the first three of those rising risks in our last quarterly letter.
As tactical investors, we will go with the flow as long as trends remain viable. Our goal is to allocate money where it is treated best. Visit our ETF Asset Class Quickview to see the strongest sectors and asset classes in the markets.
To talk more about "What We're Watching" and how it might impact you, contact us to set up a time to talk.