Pacific Biosciences (NASDAQ:PACB) is likely to drop a lot in 2016.
I am not an expert on emerging technologies. I have no idea what the next big scientific breakthrough will be. I have little understanding of what exactly Pacific Bio does (SMRT sequencing). However, none of that matters when the fundamentals and technicals are so out of line.
Let's go to Finviz.com to pull up the chart and do a simple run-through of some basic value metrics for Pacific Bio. Book Value per share of 0.55, Cash per share of 0.76, EPS next year expected by analysts to be -0.85, and the stock is currently trading at 13.10 with a market cap of $1 billion. With numbers like this, a capital raise and dilution event is quite possible next year.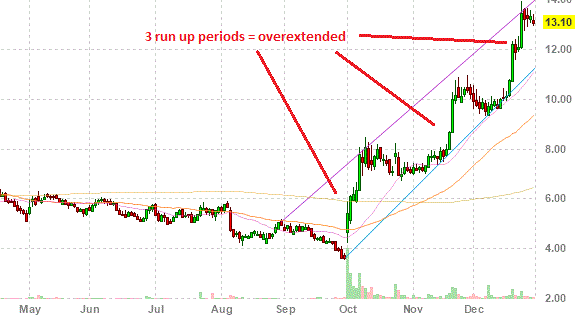 If you look at the price action and technicals, it's even crazier. Only 3 months ago the stock was trading below 4. Now it's over 13. Each of the past 3 months has seen a period of 5-6 days of a roughly 30% or more increase in price. Most stocks do not sustain such a rally over the next few months. The 14-period RSI is currently at 76, which is overbought. Add that to the recent run and poor fundamentals and you have a stock that is likely to tumble over the next 3 months and probably the rest of 2016 as well.
PACB may be a disruptive innovator in its field. Some people may be pricing it based on future market share. But this is a flawed approach which leads to pie in the sky valuation models. Technology changes rapidly and competition is never that easy. If the company continues to lose money, especially considering the recent run and current fundamentals, it's not a good sign for the stock next year.
Disclosure: I/we have no positions in any stocks mentioned, but may initiate a short position in PACB over the next 72 hours.
I wrote this article myself, and it expresses my own opinions. I am not receiving compensation for it (other than from Seeking Alpha). I have no business relationship with any company whose stock is mentioned in this article.