For researching small cap biotech stocks like OHR Pharmaceutical (OHRP), I have come up with a groundbreaking and magnificent hypothesis test to help me in my analysis. I call it the Eric Simpson Hypothesis Test of Small Cap Biotech Stocks:
Assume it is trash until proven not to be trash beyond a reasonable doubt.
Can I prove that OHRP is not "trash"? Let's see.
Competition
Wet AMD is an advanced form of macular degeneration which can result in vision loss in older adults. There are already a couple of drugs which have been FDA-approved for treatment of Wet AMD: Eylea (by Regeneron) and Lucentis (by Roche). OHRP is currently in the process of testing Squalamine eye drops for treatment of Wet AMD. Even if Squalamine gets approved, how is OHRP going to compete with these behemoth companies? Unless they can demonstrate that their drug is a revolutionary leap forward in AMD treatments and get bought out (miniscule fraction of a chance), they will probably get squashed. Getting a drug approved does not mean a successful business can be built around it. Here is a basic illustration of what OHRP is up against: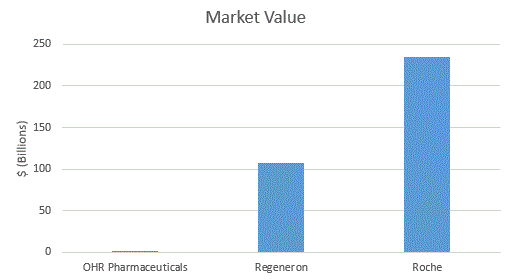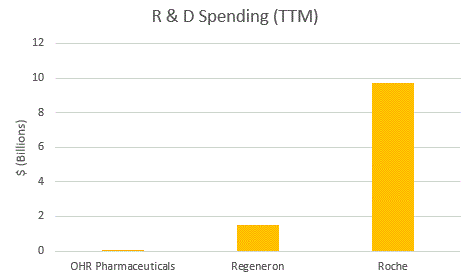 OHRP is not a small fish in a big pond…it's a microscopic fish in an ocean. Regeneron and Roche are hundreds of times larger than OHRP in terms of size, resources, and marketing. To top it off, OHRP has 16 employees, Regeneron has 2925, and Roche has 88,509. For OHRP to stand a chance, their employees better have a combined IQ many orders of magnitude higher than those working at Regeneron and Roche. This is even with the assumption that only a fraction of the people at Regeneron and Roche are working on AMD treatments.
Fundamentals
Simply put, OHRP's fundamentals are a joke. I prefer to look at fundamental factors in per share values when possible. The company has a book value of 1.40, and 0.95 in cash. Analysts expect EPS of -1.97 next year. I'm no rocket scientist, but to me it smells like a capital raise might be needed soon.
If you read the 10-K, the company anticipates that it will incur additional losses, may never achieve or sustain revenues, and that the failure rate is high for late-stage clinical trials. Obviously I'm just going over the risk factors, but these points should never be ignored, even if it's common for OHRP and other small cap biotechs to be in this position. These companies should not be given a free pass for staking everything on "potential blockbuster" drugs which are years away from approval.
Conclusion
OHRP will find it almost impossible to compete with larger companies such as Regeneron and Roche even if their eye drops are approved by the FDA. They simply don't have the manpower or resources. I cannot prove that OHRP is not "trash" beyond a reasonable doubt, and I have a bearish outlook for the stock over the next 3-6 months. All I see is a company burning through the tiny amounts of cash they have left and gambling with their existence on eye drops which there might not be a demand for anyway. I have seen this story play out many times, and it usually doesn't end well.
Disclosure: I am/we are short OHRP.