Cypress Semiconductor Corporation (NASDAQ:CY) is a little followed stock in the social media world, so it doesn't garner much attention. However, being an investor, I like to keep tabs on some of the businesses that I see doing well in the future. This article (or more specifically, a quick little blog post) is not about why I think CY is worth owning going forward. This has to do with an odd trade someone put on going into the earnings. A trade that was for all intents and purposes appears to be a gamble.
The Trade:
Over the days leading up to CY earnings on Thursday 4/18/2013, a trader bought 15,000 CY April $10 puts expiring 4/20/2013 for .1 average per contract for a total of: $150,000.
At the time CY was trading a little over $11 meaning that they bought short term puts betting the stock would drop over 10% in a week. CY doesn't normally move a lot on EPS and after a good number was reported it opened at 11.3 and traded as high as 11.4 on the morning of Thursday, April 18, 2013.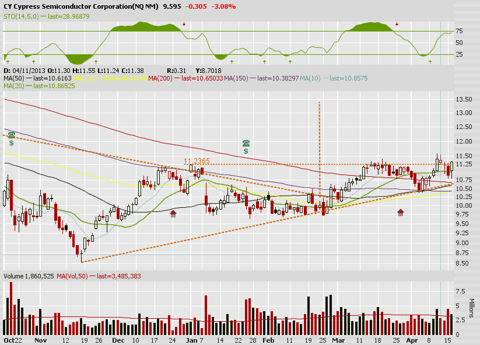 The Outcome:
Following the good EPS, the conference call began at 8:30 AM PDT and as soon as guidance was announced CY began to tank. 1.5 million shares sent it from 9.7 to 9.4 and another 3.5 million shares pushed it the rest of the way to below $10. Today, the pressure continues in CY as it has broken below early Q1 consolidation down to $9.6 where, I believe this trader is currently exiting his trade via long stock (buying common stock at $9.6 limit as I write.)
This trader, on $150,000 of risk (and if he didn't know about the weak guidance, it would be an insanely risky trade to put on) netted $450,000 in profit. Not terribly large profit, by any means for an institution willing to bet on weak earnings guidance via short term options.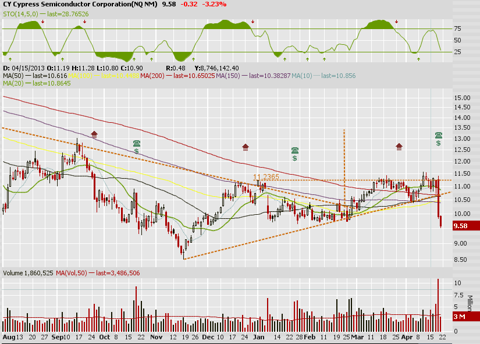 My conclusion:
There are three possible scenarios behind who put this trade on:
A Very Sophisticated Trader at a large institution.
Someone with inside knowledge who knew guidance would be weak before it was announced.
A lucky gambler with a lot of money to throw around.
I'm going to rule out a lucky gambler with a lot of money to throw around because, while it certainly could be the case, that sort of trader loses in the long run even if he gets lucky every once in a while. So that leaves us with either a large, sophisticated, institutional trade desk or someone with inside knowledge.
Both an insider and an institutional trade desk would have the resources to know or at least estimate that guidance would be weak. Heck, even I knew guidance would be weak, but I didn't expect just how weak or how extreme the "carnage" in the reaction to earnings would be.
The main bit of evidence for me in determining which sort of trader put this trade on is the strike that the trader chose. They chose the $10 strike. Even if you knew earnings would be weak, unless you knew it would be extremely weak, there is no way of knowing that the reaction to those earnings would drop CY by more than 10% to make the trade profitable.
This leads me to believe that it was a sophisticate trader at a large institution who was able to start start selling massive amounts of shares to break the technical pattern post CY guidance. The question then becomes, what did the option position have to do with it? It required far more than $150,000 to force it down, and the position itself would have paid off more than the $450,000 that this trader made.
Thus I conclude it is a mix of both a sophisticated trader at a large institution and an insider. I would bet that the person behind this trade works at a large institutional firm and had inside knowledge that the firm was going to dump a small part of their position after the number was released. This "insider" at the firm decided to front-run his institutional order via $10 put options. Netting himself a decent sum while dumping the position for his firm.
Disclosure: I am long CY.
Additional disclosure: This article is not meant to be fact. The author has no way of knowing the real story behind the 15,000 puts bought or the recent sell off. The article is just one possible theory the author has decided to share with the community. In other words: "Conjecture, your honor!"