Everyone knows Zynga (NASDAQ:ZNGA). It's a favorite of retail traders everywhere even though it has been dead money for almost a full year now. Perhaps that's because during it's reign as the dead money king it has put in 10% moves in either direction only to revert back to the mean.
But what do you expect form a company with over a billion in cash on the books, running net losses, and no good ideas in the pipeline. Zynga is a company that acquired other companies for growth, but with social/mobile companies seeing the social bubble at the moment, why sell to Zynga for pennies, when they could go to Facebook or Google and make billions (or turn down billions, I'm looking at you, Snapchat).
So when Zynga put in a 28% move from November 12 to November 21 (7 trading days), and people were just starting to get bullish, it caught my eye. Some smart traders had already been bullish from $4 and were exiting $4.4 (Scott from T3 traders comes to mind). However, as I looked to my sentiment gauges (twitter, stocktwits, some of the traders on my floor *cough* *cough*) many people were just starting to turn bullish and buying at $4.4 for a move to the high $4 and even $5.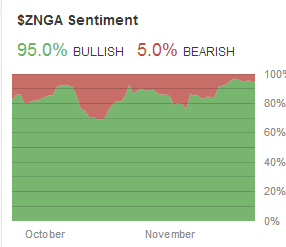 So here's the picture: Zynga had extreme sentiment. Message volume in Zynga was peaking. And retail traders were buying ahead of a breakout at $4.55 for an expected move to the high $4s or $5 level.
When you see retail traders (or other retail traders as the case may be) buying an issue for an expected breakout after the issue has already put in a measured move, it's time to run.
So I decide to take the other side of the trade. I post much of my idea flow to Twitter/Stocktwits to share how our fund tends to analyze short or long term trades. Obviously we don't post all our ideas or all our trades, but we do post on a small "social" account that is easy to keep it liquid in the names. Here's what I wrote on November 22nd after a 28% move in 7 trading days.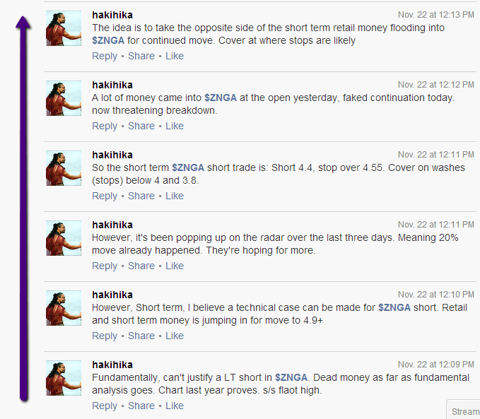 Then I posted the order entry and when it was filled nine minutes later: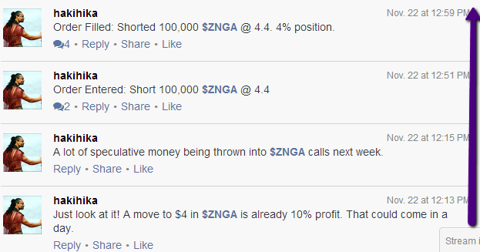 Immediately, I got people responding to my tweets saying that I was crazy, or I was in trouble. This is confirmation to me that I may be onto something with this trade. People are emotionally invested in this breakout (which means that price action will likely shake them out).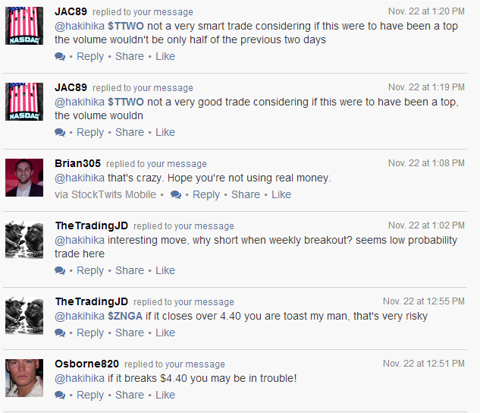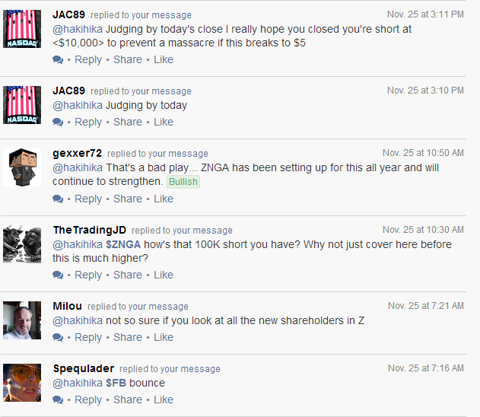 In these tweets that I received in regards to my Zynga short (not TTWO), I can see my competition and a lot of these people are either making common retail mistakes or recommending I make retail mistakes, but more on that later.
When price failed to break above 4.55 over the next four days, but failed to break below 4.4, it was beginning to look like consolidation. The price action even made it look like Zynga may break over 4.55. However, on 11/27/2013, there was a massive seller at 4.55, so I shorted 4.54, 4.53, and 4.52, pushing into it. There were other institutional sellers at 4.55 level, and retail traders were getting long for the breakout.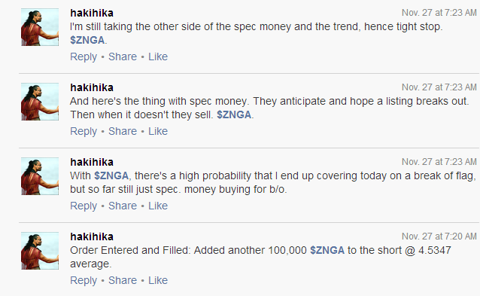 I still wasn't sure about the trade, as you can see, there was a high probability I would have decided to cover. If other institutional traders were buying at 4.55 for the breakout, I would have exited. However, it was still at that point only retail money pouring in.
Over the last few days, Zynga has pulled back and while the chart looks like a nice simple pull back to the 20 day moving average after a bullish move (it has pulled back 10%!) People on Twitter and Stocktwits continued to "hope" for the turnaround. Even at 4.35, people were saying "Zynga will be over 4.55 today!" or "Bear raid will be over soon." "Shorties going to have to cover soon!" the whole nine yards that you expect from the drudge that is retail social stock trading. Here are some examples: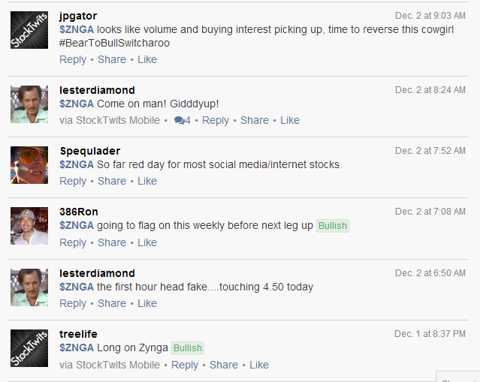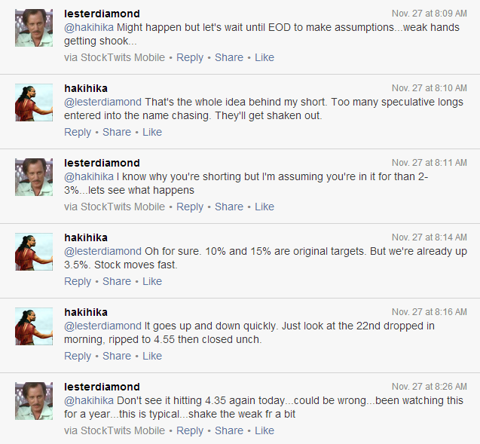 But today, the sentiment kind of changed. Now there were some annoying bears (ignore 7777 or whatever his name is). But there were also some bulls who were starting to get a bit tired of being down.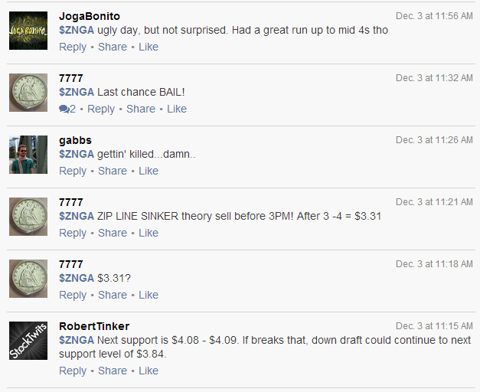 And so, because I had an oversized position (8% short vs. the original 4%) and because ZNGA is down more than 10% from my entry, I took this as a sign to cover half the position at the intraday fib extension from the morning range at 4.11.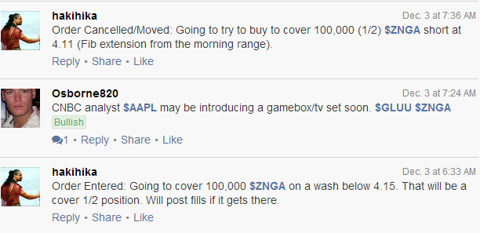 And about 4 1/2 hours later, I got filled.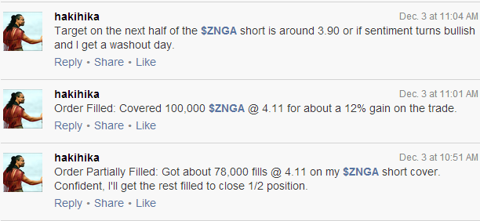 I still hold Zynga short and my next target is around 3.9 (5% more--crazy because that move can happen in a day). But I wrote this review because I wanted to give an overhead view of what I saw, and how I analyzed the trade for people who follow my stream. Can't exactly show all this on the stocktwits or twitter platform. Hope some people find the ideas that I mentioned helpful in their effort to learn how to navigate the market.
Disclosure: I am short ZNGA.
Additional disclosure: I also may cover within the next 72 hours.