Summary:
Ferguson, Missouri has the nation in a tizzy over police reform. This is driving inquiries into wearable cameras up "five fold" according to CEO Stanton Ross (USA Today)
Mr. Ross went on in CEO fashion to say that Michigan's $1.1 million order, coupled with other sales, will push fiscal 2014 revenue to $22.5 million with more orders expected by year's end.
The company's legal team, in legal team fashion issued an 8k saying there can be no guarantees Mr. Ross' guidance will be realized (SEC 8k)
When analyzing these Overhyped plays, I prefer to take the hype at face value, but even assuming $22.5 million 2014 revenues, DGLY is currently overpriced.
Digital Ally has a long history of overpromising and underdelivering, leaving disappointed shareholders in its wake. It is a company that unfortunately overleveraged going into the 2008 market crisis and has been treading water ever since. But for the sake of this argument, I am going to give the CEO benefit of the doubt and say that they will deliver $22.5 million 2014 revenue.
DGLY closed Friday at 18.66, trading to a high of 19.86 and currently sits at a market cap of about $50.5m.
I'd go into a lot of details, but when presenting our theses to the public, I prefer just to get to the conclusion as quickly as possible. Most people aren't interested in the nitty gritty and I firmly believe that if you can't explain your thesis to the average man on the street in under a minute, it probably needs some work. So let's keep it short and sweet:
In 2009, DGLY was trading at a split adjusted price been about $18 and $22 on average. This was on $32.6 million in revenue in 2008 (realized) and as of then unrealized 2009 revenues of $26.3 million.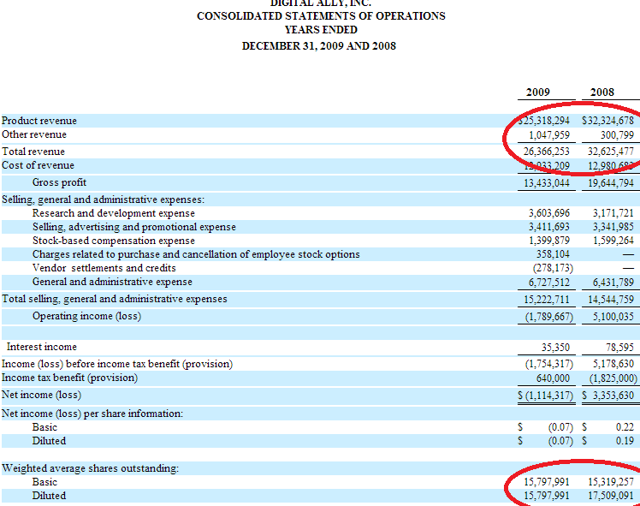 The company currently has an accumulated deficit of $17.6 million and a history of raising money though dilution. Increasing the float to 2.7 million shares from an adjusted 1.97 million shares; An increase of 37%. In fact, just a day after the CEO came out and informed the public that the company receives many buyout offers, they raised another $4m through warrants which can be converted at any time into common (source):

So even while Stanton Ross is busy claiming buyers or better guidance, the company is busy raising money. The companies actions contradict Ross. I won't really hold this against the company. It is just smart management to raise money when your stock is hot like it is at the moment, but it is still another case of overpromising and underdelivering.
I digress.
The end of the story is this:


Even if DGLY is able to achieve $22.5 million 2014 revenues due to Ferguson hype, why should they trade at more than twice what they historically trade at given superior revenues? Especially given that they have a history of not being able to bring that top line down to bottom line profit. With little institutional support, do the retail public really believe that "this time will be different?"
My investment philosophy, as those who follow me on my previous articles and on Twitter/Stocktwits know, is "Bet on what is happening; not on some hypothetical could happen." The corporate actions, despite Ross' optimistic interview is that nothing has changed. The company will continue to dilute shareholders and disappoint with underdelivery.
Conclusion:
Fair value for Digital Ally (NASDAQ:DGLY) assuming $22.5 million 2014 revenue is: $9.7. This number is based on trading at a 1.2x EV/Sales that DGLY has traded at on the high end the last 6 years. But again, that's assuming they actually deliver (which in this case, I think they actually probably can deliver on that guidance--the hype is real; police really do want body cams).
After being the top trending ticker on Stocktwits many days last week with message volume up to over 3k per day from nothing and trading more than 8x the float on average the last 5 days, DGLY is overhyped.
Currently trading at 3.4x EV/sales and 2.3x EV/guided sales, Digital Ally is about 65% overvalued.
Up over 500% the last 10 days and again trading more than 150% of the float on average, DGLY is overextended.
Disclosure: The author is short DGLY.
Additional disclosure: The author believes the information in this report is accurate, but can make no guarantee to the accuracy of the information. He plans to adjust his position at any time.