U.S. Infrastructure Development
Please Note: Blog posts are not selected, edited or screened by Seeking Alpha editors.
Summary
The U.S. infrastructure needs a major overhaul.
The existing infrastructure, often built decades ago, is causing increasing delays due to deferred maintenance and investment that is holding back the country's economic performance.
Primarily driven by the government's plans to upgrade the country's depleted infrastructure, U.S. infrastructure construction output value is projected to grow to $396 billion in 2022.
Introduction
The U.S. economy, with GDP of nearly $20 trillion, relies on a vast infrastructure network of roads, bridges, tunnels, freight rail, ports, electrical grids, internet supply networks, and more. But these existing systems were often constructed decades (or more than a century) ago, and delays and rising maintenance costs are increasingly holding back the country's economic performance.
The domestic grade for U.S. infrastructure is a D+[i]. This is the same grade that the nation got in 2013, showing little progress in restoring America's facilities over the past six years. For instance, an estimated 17% of American dams — more than 15,000 — are regarded as high-risk, meaning failure would probably result in loss of life[ii]. Approximately 10% of roads are in bad condition[iii], leading to harm to vehicles, traffic delays and the waste of billions of gallons of fuel and billions of hours of worker productivity each year. Overall, delays caused by traffic congestion alone were estimated to have cost the economy over $300 billion in 2017[iv]. Airports are another choke point: international tourism supports 1.2 million U.S. jobs and brings in hundreds of billions of dollars of tax revenue annually. But some studies have discovered that delays and avoided trips owing to the bad state of airports in the nation costs the economy billions of dollars every year. The studies also suggest that there is a total "infrastructure gap" of nearly $2.0 trillion needed by 2025[v]. The United States also increasingly lags behind its peers in the developed world. According to the World Economic Forum's Global Competitiveness Report, in 2016 the United States ranked 10th in the world in a broad measure of infrastructure quality—down from 5th place in 2002. That places it behind countries like France, Germany, Japan, and Spain.
Unsurprisingly, infrastructure is a hot topic in the US these days on both sides of the political aisle. President Donald Trump met recently with state leaders to discuss national infrastructure improvements as infrastructure is an increasingly critical financial and social issue for the country. A contemporary infrastructure system not only increases financial efficiency and creates employment at the domestic and state levels, it also increases safety for the American public. For reasons of national security too, infrastructure is also vital, including being able to help critical manufacturing sectors efficiently. The U.S. Department of Homeland Security has recognized a number of manufacturing industries that are of particular importance to national defense or threat and disaster response, including energy, iron and steel, power transmission machinery, aerospace and railroad rolling stock manufacturing sectors — all of which must be supported by modernized facilities.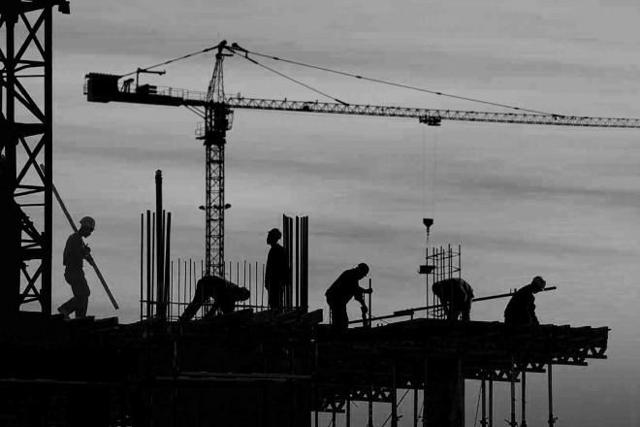 Investing in both new infrastructure and current maintenance of existing infrastructure would have a number of beneficial economic impacts. It would boost U.S. competitiveness on a long-term basis and isolate the economy from shocks by improving efficiency and reliability and lowering transportation costs. It would also immediately add demand and employment.
Growth of U.S. Infrastructure Sector
The US development agenda of President Trump positions the modernization and expansion of the nation's infrastructure as a priority to move forward with on many fronts, including job creation and more rapid financial development. Mr. Trump outlined the plans of his administration to initiate a $1 trillion investment in the nation's funded infrastructure through both government and private capital in an address to Congress in February 2018. The total output value of the infrastructure construction market in 2017 amounted to $326.6 billion, up from $321.2 billion in 2012, and is expected to increase to $396 billion in 2022 (in nominal value terms), corresponding to a CAGR of 3.9%[i]. This growth is expected to be primarily driven by plans of the government to revamp the depleted infrastructure of the country. In addition, investment in residential, commercial, healthcare and academic infrastructure projects in the government and private sectors is anticipated to promote the industry's development.
The electricity and power sector accounts for the biggest share of the needed projects, with a total value of $422.9 billion; followed by rail projects, airport and other infrastructure projects, $110.9 billion road projects and $86.8 billion worth of water and sewer projects[ii].
The public sector is anticipated to finance 48.3% of the complete value of its needed pipeline infrastructure projects, while the private sector (most of which are electricity and energy projects) is anticipated to finance 31.6%. The remaining 20% will be funded through a mixture of government and private sources[iii].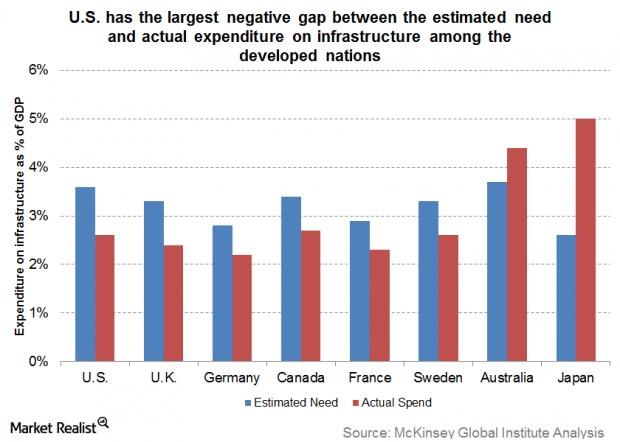 Bearing all the above in mind, a strong argument can be made that US infrastructure sector is one of those rare "gems" that has tremendous growth potential and, given the President's desire to keep the economy firing on all cylinders as the American political machine is already preparing for hard-fought races in 2020, investors could profit by banking on future infrastructure plans.
Indxx U.S. Infrastructure Development Index
The Indxx U.S. Infrastructure Development Index is designed to measure the performance of companies that provide exposure to infrastructure development in the United States. This includes companies involved in the construction and engineering of infrastructure projects; the production of infrastructure raw materials, composites and products; producers/distributors of heavy construction equipment; and companies engaged in the transportation of infrastructure materials (collectively, "U.S. Infrastructure Development Companies"), as defined by Indxx.
The index has been licensed by US-based ETF provider Global X Funds as the underlying benchmark for the 'Global X U.S. Infrastructure Development ETF' (Ticker: PAVE).
---
[i] Research and Markets- 'Infrastructure Insight: The US' report dated August, 2018
[ii] Research and Markets- 'Infrastructure Insight: The US' report dated August, 2018
[iii] Research and Markets- 'Infrastructure Insight: The US' report dated August, 2018
---
References:
[i] 'American Society of Civil Engineers (ASCE)' Report dated 2017
[ii] Smartnews- 'Failure at One of These 15,000 American Dams Would Be Fatal' article dated March 7, 2019
[iii] Autoinsurance.org- ' The State of Federal Highways and Bridges' study dated 2019
[iv] Citylab.com- 'Traffic's Mind-Boggling Economic Toll' article dated February 7, 2018
[v] 'American Society of Civil Engineers (ASCE)' Infrastructure Report dated 2017
Seeking Alpha's Disclosure: Past performance is no guarantee of future results. No recommendation or advice is being given as to whether any investment is suitable for a particular investor. Any views or opinions expressed above may not reflect those of Seeking Alpha as a whole. Seeking Alpha is not a licensed securities dealer, broker or US investment adviser or investment bank. Our analysts are third party authors that include both professional investors and individual investors who may not be licensed or certified by any institute or regulatory body.