Last seven days worth of precipitation. One word: Amazing!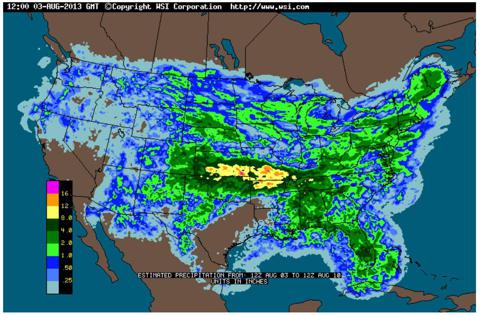 Kansas, Oklahoma, Missouri, and Arkansas have seen between 16 and 8 inches of rain in the last seven days.
These areas are guaranteed to have stunted growth, if not severe damage to the crops.
---------
Other states with dark, medium, and light green have had between 8 and 2 inches of rain.
These areas will be somewhat slowed, and more likely of damage in the dark green areas.
---------
Farmers usually pray for 1 inch of rain a week. Given this much rain that we have had, I bet the farmers are sick and tied of rain. Especially when so much sunlight has been blocked during the most important growing period.
---------
We see the soybean crop being estimated at 2.9 billion instead of the 3.3 billion everyone thinks.