Two factors: 1. Autumnal Equinox, Sept. 22 & 2. Winter Jet Stream
1. We are fast approaching the autumnal equinox which means nights are getting longer (less short) and will be always longer than days after this important date. Take away is that temperature will cool up until this and then will continuously cool during winter.
2. Winter jet stream is upon us in the next 2 weeks. Attached is an image from NOAA's long-term forecast which has been paused on the day of Sept 5th. This is when I see us getting our winds in-line for the upcoming early frost. All it takes are the right conditions (wind, surface configuration, and timing) for a huge arctic blast to shoot down. (Also note that the arctic Ice is much more than last year, so the potential for this is much higher)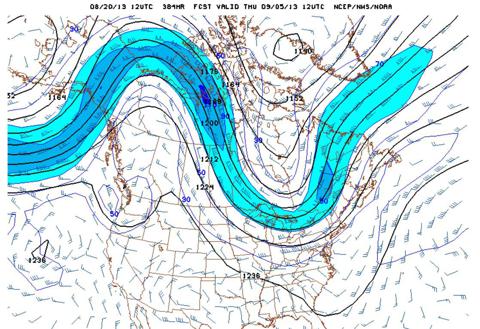 In closing, do your own research and you will see the same conclusion I do:
- early frost
- bad timing for crops
- soybean most prone to damage (when compared to corn)
- low soybean harvest (when compared to the over planting in corn)
- $16.00 soybean market price before September 22nd given these factors.
- Chart shows technical support from early summer highs of $15.50 (so our numbers are more than realistic)