What a fascinating time to be alive. You can now purchase the stock of your favorite professional athlete and hopefully earn a return on his lifetime earnings. This is made possible through Fantex (OTC:VNDSL), a brokerage firm that markets itself on the brand and image of the athletes that it signs to its contracts. The company has thus far worked with several high-profile players in the NFL such as Vernon Davis, Arian Foster, and E.J. Manuel, but upon looking at the company in detail, it does not seem like a safe and sound play for investors to make. There are numerous risks associated with the investment such as injuries and off-the-field trouble and the entire idea is driven solely by hype and fan enthusiasm. This leaves room for astute investors to capitalize on the largest weaknesses that Fantex's business has. The company appears as if it will ultimately never take off or become successful, making it a keen short for investors.
The Vernon Davis security is currently trading at 10.70 after falling from the initial hype surrounding its IPO. It has a market capitalization of 4.5 million with 420,000 shares outstanding.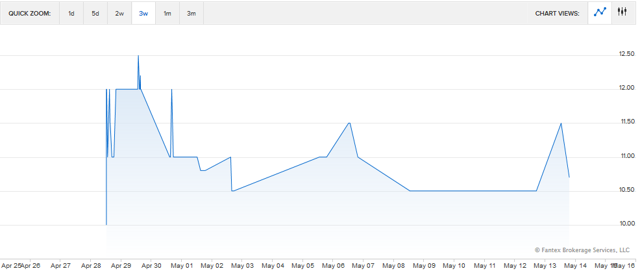 Business Description and History
Fantex is currently a development-stage brand acquisition and marketing company whose focus is on acquiring minority interests in the income generated from the brands of high-profile professional athletes, entertainers, and other individuals. The company's attention is centered on three core functions, including researching potential individuals and their brands, acquiring minority interests in an individual's income, and further developing the brands of those people through marketing and strategic partnering expertise. To date, the company has very little operational history, limited assets and resources, and has never generated any revenues.
The company's first IPO was originally planned to be under the Arian Foster brand. Foster is a successful running back for the Houston Texans, winning accolades such as Offensive Player of the Year and multiple Pro Bowl appearances. However, due to his season-ending back injury during the 2013 NFL season, the IPO was postponed until further notice. Fantex CEO Buck French said in a statement,
"After consideration, we have made the decision to postpone the offering for Fantex Arian Foster. We feel that this is a prudent course of action under the current circumstances. We continue to support Arian and his brand, and we wish him well in his recovery. We will continue to work with him through his recovery and intend to continue with this offering at an appropriate time in the future based on an assessment of these events."
Foster had agreed to receive $10.0 million in exchange for a 20% stake of his generated income. The deal would have proceeded only if the stock sold, but the placement of Foster on the Texans' injured reserve list prohibited that from occurring.
Fantex Series Vernon Davis
In October 2013, the company entered into a contract with Vernon Davis, a professional football player for the San Francisco 49ers in the NFL, agreeing to pay him a one-time cash amount of $4.0 million for acquiring a minority interest of 10% of his generated income. Fantex Series Vernon Davis began trading on April 28, 2014 with 429,000 outstanding shares and has been trading within the 10.00-12.50 range.
Vernon Davis' brand income currently includes amounts from his NFL player contract and several endorsement agreements, with most of it coming from the former. 77.3% of the player's total estimated brand income is derived from anticipated future contracts, and because of this, the success of the investment depends entirely on Davis' ability to perform well on the field and enter into at least one more multiple-year agreement with a team in the league.
His current contract ends in 2015 and the brand income generated from it amounts to $12.62 million ($3.57 million in 2013, $4.70 million in 2014, and $4.35 million in 2015). Fantex will receive 10% of this amount, or $1.26 million. However, the 49ers may terminate Davis' contract at their sole discretion. This may happen due to reasons such as his declining performance on the field, salary cap regulations that require the 49ers to free up roster space, off-the-field conduct that negatively affects the images of Davis and the 49ers, and even poor physical or mental health conditions that the team could deem unacceptable. The investment, therefore, is held tightly by uncertain risks that could occur during the course of Davis' career. The fact that his contract is at the whim of the 49ers also makes this incredibly risky for investors.
In addition to his player contract, Davis is also engaged in multiple endorsements with companies such as Hungry Fish Media, New League Productions, and Krave Pure Foods. These endorsements end in 2015 and will together give Davis a total compensation of $403,423. In the future, Davis can pursue additional endorsements, but this may be limited due to potential changes to the NFL's regulations regarding endorsements and advertisements.
Prospectus and Future Earnings
In the stock's prospectus, the company forecasted that Davis will earn approximately $40 million throughout the rest of his life (after applying discount rates), including earnings from both the rest of his professional career as well as whatever he goes into afterwards. What strikes me is that this does not even meet the necessary requirements it takes for Fantex Series Vernon Davis to even be viable. With a market capitalization of 4.5 million and the company receiving 10% of Davis' lifetime earnings, the player will need to earn at least $45 million from here on out for the company to break even. The fact that Davis' future earnings in the company's prospectus, which are already very bullish as they stand, do not meet that speaks volumes.
Furthermore, on what basis will the 49ers sign Davis to a lucrative contract extension in the first place? When his contract runs out following the 2015 NFL season, Davis will be 31 years of age, a very old number considering the average retirement age for most players in the league hovers around the mid-30s mark. It does not make much sense for the team to offer him a lengthy extension especially when 1) there are plenty of younger tight ends that could emerge between now and 2015 ad 2) Davis is part of a system where his success has been due to the 49ers recent dominance.
The tight ends used for comparative purposes in the stock's prospectus are Tony Gonzalez and Antonio Gates, who both signed lucrative contracts when they were in their early 30s. However, these guys were monsters for numerous years. Gonzalez, for example, made the Pro Bowl consecutively in every single year from 1999-2013 (2009 being an exception). Gates accomplished the same feat only from 2004-2011. Davis, on the other hand, has only made the Pro Bowl twice, in 2009 and 2013, and has been by and large merely an "above average" tight end during the other seasons.
The fact that Fantex expects Davis to receive a contract comparable to Gonzalez and Gates is crazy, especially as the latter are of a completely different caliber of player than the former. Furthermore, it also does not make sense considering the 49ers salary cap is as tight as it is, the team is focusing on building depth in its wide receivers and defense, and the emergence of signal-caller Colin Kaepernick has caused new contract demands on his part.
To me, the projected player contract earnings figures that Fantex used in its prospectus seem very bullish and are probably not representative of the actual figures that will be seen in the future. For this reason, the investment continues to look bleak, as a majority of Davis' lifetime earnings will depend on his player contract and even those earnings do not hit the necessary amount for the investment to break even.
Why People are Buying Vernon Davis
For the most part, much of the enthusiasm surrounding Fantex Series Vernon Davis comes through the support of fans of Davis and the 49ers, who go into the investment thinking that they will make a lucrative return by taking a slice of the player's lifetime earnings. For astute investors, this presents the opportunity to capitalize on the mistakes of these people by initiating a short position on the stock.
Davis has done tremendously recently with the emergence of the 49ers dominance in the NFC, but will this success continue is the question. There is a huge hype train surrounding the tight end, especially after his team's performance in the NFL playoffs the past season, but no team in the league is invulnerable from quickly crumbling from one season to the next, meaning that interest in Davis is hugely tied up in the 49ers' success.
Investment Risks
There are numerous risks surrounding this investment such as risks to the company's operations, risks to the brand contracts, and risks to players such as Vernon Davis who are signed to those contracts. The risks present a triple-edged sword to the investment, and the company even makes it clear in its prospectus that such an investment is incredibly risky and should only be taken by people who can afford a total loss. However, as shares of the stock are still being traded, it seems as if this is being ignored by many fans out there.
The company's operational risks are standard at first glance, talking about how Fantex has very little operational history in the industry and is only starting out in its brand acquisition business. The company has never generated revenues before and is taking a bold risk by going into this venture. In addition, general operational risks such as macroeconomic events are taken into consideration. Risks to the company's brand contracts in the NFL include the possible declining popularity of its signed athletes, potential work stoppage in the league, and a change of rules that govern the players.
Regarding Vernon Davis, it has already been mentioned that a very large majority of his future lifetime earnings depends on the numbers in his contract. So for the investment to become successful, Davis himself will have to be successful on the field. Also, the 49ers or any other organization will have to deem him worthy enough to receive a lucrative deal. This means that he will have to try his best to avoid injury in the league or off-the-field trouble that could tarnish his image. The second part of that is fine, as Davis is a likeable figure in the locker room and to fans. However, injuries are hard to prevent. Many leading tight ends in the NFL get injured each year (recently stars such as Rob Gronkowski and Heath Miller), and tight ends such as Todd Heap and Tony Gonzalez who were in a similar position as Davis in their late 20s and early 30s ended up seeing their careers collapse right in front of them due to unfortunate injuries. Heck, even Arian Foster saw his own IPO tarnish because of injury. This puts Davis very at-risk, and for the investment to even come close to working, he will have to be one of the few tight ends in recent history who are able to continue plowing through the league until their retirement.
Additionally, since the investment is based off of a minority interest in Davis' lifetime earnings, Davis will have to have the ability to continue making payments to Fantex for the idea to work. With this in mind, he will have to strive towards avoiding bankruptcy following his retirement in the league. As the stock is not secured by any collateral, any amount that Davis owes to Fantex and stockholders may only be paid out after all of his secured debt. With a recent statistic showing 78% of all NFL players going bankrupt within two years of retirement, one has to question whether or not Davis has his personal finances in order.
Wrap-Up
As a commenter on NBC Sports put it, "It is like an interest-only MBS bond. You buy it cheap and hope the coupon payments last long enough for you to earn a profit before the asset defaults (retirement)." This is certainly the case with most of the future earnings coming from Davis' contract. Overall, the Fantex Series Vernon Davis stock is overvalued and is an incredibly risky investment for people to make. In the long-run, it will probably not pay off and you are better off taking your money elsewhere.
If you are looking to buy a birthday gift for your kid and do not want to shell out the money for the upcoming edition of Madden, then Vernon Davis stock at $10 per share is something that he will love. Otherwise, stay away or short.