I recently posted my quarterly look at the credit and quality ratings and rankings for the companies in my portfolio, and announced its publication in the comment stream of Chowder's article, "Differing Outlooks on the Market".
seekingalpha.com/article/3244406-differi...
Chowder made the point that there's a difference between credit and quality ratings. I agree with that, but his point raises the question, how do Value Line, S&P, and Morningstar actually define their ratings and rankings? I consulted their definitions when I began tracking them, but I don't believe I've ever compiled those definitions in a blog. I'm doing so today so that those who are interested in these ratings and rankings can better assess how much weight or attention they'd like to give each. As you'll see, even the assessments called "safety" and "quality" take into consideration the company's financial condition.
My own preference, as shown in previous blog posts, is to compile the information and look for general agreement among the ratings firms. Here's a sampling from my portfolio; these companies show pretty strong consistency of ratings and rankings across the board.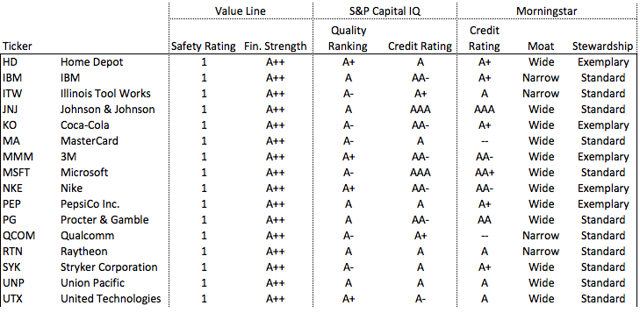 Following are the definitions for Value Line's safety and financial strength ratings; S&P's quality ranking and credit rating; and Morningstar's credit rating and moat and stewardship assessments, along with links for further reference. These assessments are generally proprietary in nature, so analyst firms only provide the broad overview of their approach.
Value Line Safety Rating
"Safety is a quality rank, not a performance rank, and stocks ranked 1 and 2 are most suitable for conservative investors; those ranked 4 and 5 will be more volatile. Volatility means prices can move dramatically and often unpredictably, either down or up.
The major influences on a stock's Safety rank are the company's financial strength, as measured by balance sheet and financial ratios, and the stability of its price over the past five years."
Value Line Safety Rating: 1 (safest) to 5 (riskiest)
http://www3.valueline.com/vlu/4-safety.html
http://www3.valueline.com/pdf/The_Value_Line_Ranking_System.pdf
Value Line Financial Strength Rating
"Quite a few ingredients go into Value Line's Financial Strength ratings. Balance sheet leverage, business risk, the level and direction of profits, cash flow, earned returns, cash, corporate size, and stock price, all contribute to a company's relative position on the scale. The amount of cash on hand, net of debt, is an important consideration."
"Value Line classifies 1,700 companies' Financial Strength ratings (located at the bottom right of every Ratings & Reports page) from A++ to C, in nine steps."
http://www.valueline.com/Tools/Educational_Articles/Stocks/Financial_Strength.aspx#.WOjMsVPyu-o
S&P Capital IQ Quality Ranking
"A ranking of the growth and stability of the company's earnings and dividends over the past 10 fiscal years."
http://marketintelligence.spglobal.com/stockreportguide/
The following was copied from the "Glossary" section of a Capital IQ report I accessed through my account with Fidelity:
"S&P Capital IQ Quality Ranking
(also known as S&P Capital IQ Earnings & Dividend Rankings) - Growth and stability of earnings and dividends are deemed key elements in establishing S&P Capital IQ's earnings and dividend rankings for common stocks, which are designed to capsulize the nature of this record in a single symbol. It should be noted, however, that the process also takes into consideration certain adjustments and modifications deemed desirable in establishing such rankings. The final score for each stock is measured against a scoring matrix determined by analysis of the scores of a large and representative sample of stocks. The range of scores in the array of this sample has been aligned with the following ladder of rankings:
A+ Highest
A High
A- Above Average
B+ Average
B Below Average
B- Lower
C Lowest
D In Reorganization
NR Not Ranked"
S&P Credit Rating
"An S&P Global Ratings issue credit rating is a forward-looking opinion about the creditworthiness of an obligor with respect to a specific financial obligation, a specific class of financial obligations, or a specific financial program (including ratings on medium-term note programs and commercial paper programs). It takes into consideration the creditworthiness of guarantors, insurers, or other forms of credit enhancement on the obligation and takes into account the currency in which the obligation is denominated. The opinion reflects S&P Global Ratings' view of the obligor's capacity and willingness to meet its financial commitments as they come due, and may assess terms, such as collateral security and subordination, which could affect ultimate payment in the event of default."
S&P Credit Ratings: AAA, AA+, AA, AA-, A+, A, BBB+, BBB, BBB-; ratings of BB and below are considered to have significant speculative characteristics.
https://www.standardandpoors.com
https://www.standardandpoors.com/en_US/web/guest/article/-/view/sourceId/504352
Note that as I tested the above link, it sometimes went to the site and sometimes did not. If the link doesn't work for you, try Googling "S&P Global Ratings Definitions".
Morningstar Credit Rating
"Morningstar's corporate credit rating methodology is both quantitative and qualitative. Four key components drive the Morningstar credit rating methodology and Credit Ratings Model:
1) Business Risk, which encompasses the proprietary Morningstar Economic Moat™ and Uncertainty assessment along with six other country and industry risk factors.
2) Morningstar Cash Flow Cushion™, a set of proprietary, forward-looking measures based on our analysts' forecasts of cash flows and financial obligations.
3) Morningstar Solvency Score™, a proprietary scoring system that incorporates a firm's leverage, liquidity, coverage ratios, and profitability.
4) Distance to Default, a quantitative model that rank-orders firms based on their likelihood of financial distress using market-based inputs."
http://news.morningstar.com/pdfs/corporate-credit-rating-methodology-aug-2016.pdf
Morningstar Moat Rating
"The idea of an economic moat refers to how likely a company is to keep competitors at bay for an extended period. One of the keys to finding superior long-term investments is buying companies that will be able to stay one step ahead of their competitors, and it's this characteristic--think of it as the strength and sustainability of a firm's competitive advantage--that Morningstar is trying to capture with the economic moat rating."
http://www.morningstar.com/InvGlossary/economic_moat.aspx
"To help investors identify companies that possess a moat, we assign one of three Economic Moat Ratings: none, narrow, or wide. There are two major requirements for firms to earn either a narrow or wide rating: 1) The prospect of earning above average returns on capital; and 2) Some competitive edge that prevents these returns from quickly deteriorating. A firm must have a competitive advantage inherent to its business in order to possess a moat. Great management, size, dominant market share, easily-replicable technology or efficiencies, and hot products are advantages to any businesses, but none of them is a structural advantage that can sustain high returns over a long period of time."
https://corporate.morningstar.com/us/documents/MarketingOneSheets/INS_EQR_Moat_Onesheet.pdf
Morningstar Stewardship Rating
"Our corporate Stewardship Rating represents our assessment of management's stewardship of shareholder capital, with particular emphasis on capital allocation decisions. Analysts consider companies' investment strategy, history of investment timing and valuation, financial leverage, dividend and share buyback policies, execution, management compensation, related party transactions, and accounting practices."
http://www.morningstar.com/InvGlossary/stewardship_rating_for_stocks.aspx
http://advisor.morningstar.com/Principia/pdf/Fact-Sheet_Stewardship-Rating-for-Stocks.pdf
My Take
If you've seen my previous blogs about the credit and quality ratings of the companies in my portfolio, you've seen the spreadsheet I use to record these ratings. For every rating or ranking that's lower than what I would like to see, I shade the box in orange. Conditions meriting orange shading are:
VL safety 3 or lower
VL financial strength below B++
S&P quality below B+
S&P credit rating BBB or lower
M* credit rating BBB or lower
M* no-moat rating
M* poor stewardship rating