Happy New Year!
There's never a wrong time to stop and reflect on where you've been, where you are, and where you're headed; but when the calendar changes over, it seems to be the time many people actually do stop for a moment and think things over.  In reviewing our investments, we might take a hard look at the companies we feel a little iffy about, assess how the actions we took over the year played out, and think about next steps.  I'd suggest that one valuable piece of portfolio review at this time of year is figuring out how much quality you hold!  Each quarter I review a range of quality assessments offered by three respected sources -- Value Line, S&P, and Morningstar -- and I report the information I've gathered here in my blogs on the chance it might be helpful to someone else.
Some are Gone, and Some Remain
Each quarter, I pull together a summary spreadsheet of where the portfolio stands and then pass it along to my husband.  He isn't investing-averse, but his job prevents him from closely monitoring it; a quarterly recap is a nice way to help him keep one foot in it.  As a result, I've been building a nice series of portfolio snapshots that began at the end of the 4th quarter of 2014.  This weekend I compared that first summary spreadsheet with the new one I just produced and found a couple of interesting facts:
Our portfolios of 2014 and today have 41 companies in common, with 11 exited positions and 16 initiated.
Of the 41, 8 have had only positive changes in quality measures:  CSCO, CVS, DIS, MDT, RTN, SWKS, VTR, and WBA.  Four have had no changes at all in the intervening 3 years:  DLR, ITW, VZ, and WTR.
Only 12 of 41 had no or only positive changes in their quality assessments!  So 29 suffered some kind of deterioration along the way -- sometimes an acquisition forced a negative change in credit rating; sometimes a new analyst took over the analysis of a company and rethought some of the ratings; sometimes a company or its entire sector hits a slump, and it shows up in quality assessments.  High quality companies very often find their way out of the wilderness, and their long-term track record of success gives the investor confidence to keep holding during the rough times.
Lower Yield, Lower DGR
Many of my fellow dividend growth investors have noted lower yields of late, as well as declines in dividend growth.  I've kept track of my portfolio's weighted average of both since the end of 2014, and the lament of lower yields and lower dividend growth is reflected in the figures: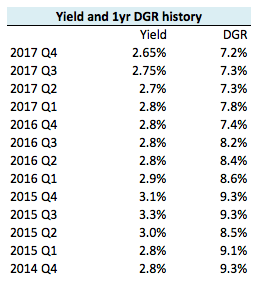 If you buy today for higher yield, chances are excellent you'll be sacrificing higher dividend growth rates (or quality).  If you buy today for the promise of greater dividend growth in the future, you're likely sacrificing current yield (or, again, quality).  This is the market reality we face and probably will continue to face for awhile.  Companies like D, PG, PEP, WEC, LNT, O, SPG, possibly even IBM, ETN, and KHC potentially offer a good combination of current yield and future growth of the dividend.  If you have other ideas, please share them in the comments.
Portfolio and Rating Changes
This quarter the only change to the composition of my portfolio was the addition of HCN.  I bought a starter position as a potential replacement for OHI, which is facing challenges on a number of fronts, chief among them tenant troubles and a new zeal in Washington for cutting Medicaid and Medicare.  It seems to me that tenant troubles are something OHI has the power to manage; legislative initiatives in Congress, less so.  I still hold my small position.  I don't need the cash right now, and I'm willing to wait a little bit to see if sentiment is able to change for the better.
Below is a summary of this quarter's ratings changes.  As is so often the case, acquisitions played a role in pushing a couple of credit ratings down.  I'll call attention to T with its credit rating downgrade and note how very down on the company Morningstar's analyst appears to be (see the summary table below).  This analyst really, really does not like the acquisitions T has made!  On the upside for my portfolio, GIS, KHC, and WBA saw improvements this quarter.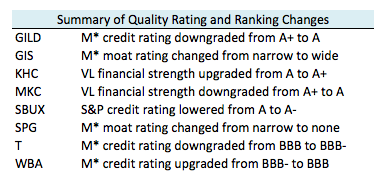 Summary Table
Below I provide the summary table of my holdings.  For every rating or ranking that's lower than what I would like to see, I shade the box in orange. Conditions meriting orange shading are:  VL safety 3 or lower; VL financial strength below B++; S&P credit rating BBB or lower; M* credit rating BBB or lower; M* no-moat rating; and M* poor stewardship rating.  As I've noted previously, I regard these assessments as individual pieces of a greater whole that together give a picture of the company's quality.  I prefer to see overall agreement, but because each data point has a backstory, I tend not to let any one assessment make or break my decision on the company's role in my portfolio.
I hope the information provided here is helpful.  Wishing us all a successful 2018!