Inspired by David Van Knapp's well received article "What are the Highest Quality Dividend Growth Stocks?", found here, I decided to run a dividend-neutral screen to find high quality stocks that may represent good (or at least acceptable) opportunities right now.  Although I identify as a "dividend growth investor", it may be more accurate to characterize myself as a "quality investor" with well-defined dividend goals for my portfolio.  I encountered David's work early in my equity investing journey, and the emphasis he placed on identifying the best companies -- those that are financially solid, with great business models and sustainable competitive advantages -- played a key role in my development as an investor.  Thanks Dave!
To conduct this screen, first I consulted the Value Line screener to identify all the stocks in its coverage universe that rate a 1 for Safety and either A++ (the highest) or A+ for Financial Strength.  Then of those results, I identified all the stocks to which S&P gives a credit rating of at least A- and eliminated the rest.  (Note that S&P's credit ratings start with AAA and proceed as AA+, AA, AA-, A+, A, and A- before getting into the B ratings.)  I then checked the Morningstar fair value star ratings for each and eliminated anything with a 2- or 1-star rating.  All data points were gathered after the end of trading on March 29.  The results may be considered high quality companies that are in fair value or better. 
Please note, I decided to include 3 companies that have no S&P credit rating:  CHKP, GPC, and TROW.  CHKP and TROW have no long-term debt and thus no credit rating.  GPC does have long-term debt listed on its balance sheet, so I'm not sure why it has no rating; I include it because I know many dividend growth investors are interested in this Dividend Champion.
The point about GPC notwithstanding, let me also note that I performed no dividend screen; the results here may pay no dividend, or a dividend that doesn't meet your needs.  Finally, also note that your own estimation of fair value may differ (sometimes significantly) from M*'s.  As always when conducting a screen of stocks, conduct your own screen of its results! 
Here's what I found: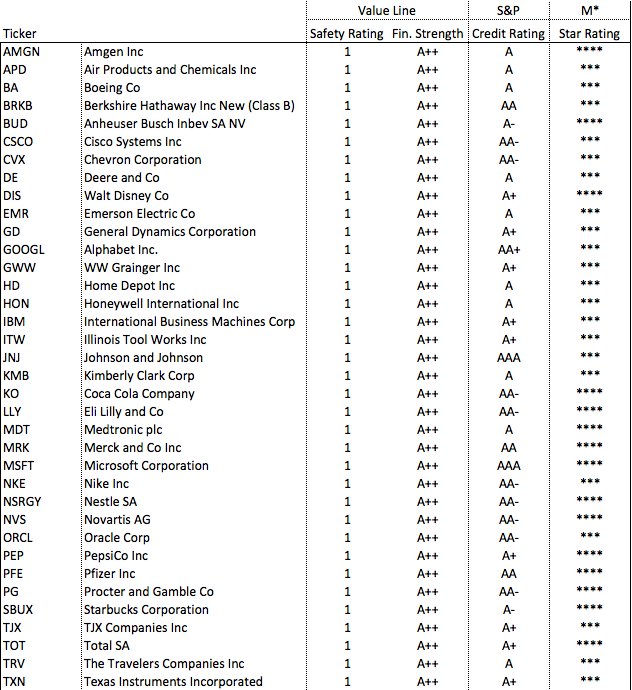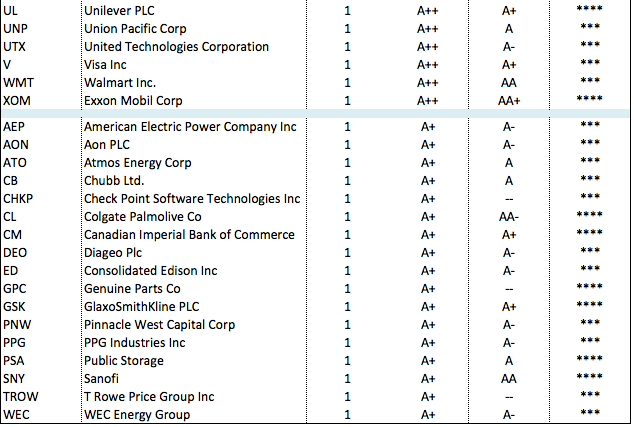 This table is loaded full of outstanding companies; hopefully it will give you some ideas for deeper research.
Portfolio and Rating Changes
As for my own portfolio, I'm pleased to note that the first quarter set a new record for dividends received.  With the slight market downturn, an average yield of 3.4% for my Q1 buys, and the renewed enthusiasm for high dividend raises among many dividend payers, our portfolio now yields 2.9% with a weighted average 1-year dividend growth rate of 8.3% -- a positive turn of events from my blog at the end of 2017 Q4, when my portfolio yielded 2.65% with a 1-year DGR of 7.2%.
This quarter I sold OHI (a lower-quality holding with too much trouble among its tenants for my taste), sold ESRX (took my small profit when share price had a little revival and plowed the proceeds into dividend payers), and I initiated a position in CLX when it reached the 3% yield point.
Here's a quick summary of the rating and ranking changes this quarter:

Glad to see the two upgrades; my sense is that the downgraded companies are going to be stressed for the foreseeable future.
Below is the complete table.  I use orange shading to flag ratings/rankings that are below what I want to see, as a reminder to keep aware of that company's actions and perhaps revisit whether I still want the company in my portfolio.  The growing number of orange-shaded entries is unmistakable, but I remain solidly confident in most of them and willing to allow the story to play out for the others.
As always, I hope the information provided here is useful!  May we all achieve and enjoy prosperity.