My investing strategy can be summarized very simply:  identify high quality companies and buy more shares of them when the combination of yield and anticipated dividend growth is adequate to support my goal of income replacement. In my blogs, I address the quality piece because I feel that quality is indeed job #1 if one wishes to buy and hold for the long term.  
To that end, I track various quality ratings and rankings offered by Value Line, S&P, and Morningstar.  It's admittedly an imperfect system!  That having been said, we small investors must work with imperfect information all the time in our investing.  And I've found that when you look for the companies that enjoy high ratings from all 3 of these firms, you end up identifying worthy candidates for your portfolio.
An Addition to the Table
This quarter I decided to add Morningstar's Financial Health grade to the table of my holdings.  I'm not sure I'll continue tracking this information, but I added it this time because their credit rating coverage is spotty at best.  You can see on the table (below) that there are several companies in my portfolio without such information, and I've learned that these credit ratings can suddenly disappear for no apparent reason.
Here is Morningstar's short description of their Financial Health grade:  "To get a high grade in this area, a company should have low financial leverage (assets/equity), high cash-flow coverage (total cash flow/long-term debt), and a high cash position (cash/assets). Also, companies with improving financial health are rewarded, while those with deteriorating health are punished."  A grade of C is average, so for my purposes, I'm looking for As and Bs, and I've shaded in orange anything below that.  http://screen.morningstar.com/StockInsightsDefinitions/StockGrades3.htm
For more information about Morningstar's Financial Health methodology, see https://gladmainnew.morningstar.com/directhelp/Methodology_StockFinancialHealth.pdf
And here's how they describe their A through F grading system:

Here's this quarter's table.  As always, a rating that is below what I want to see is shaded in orange: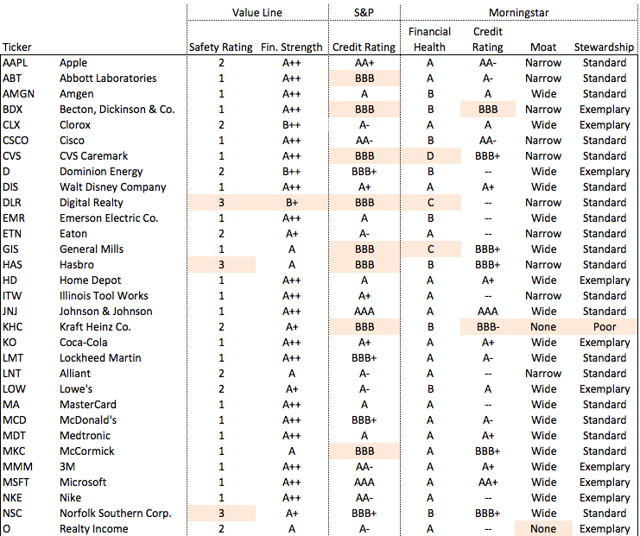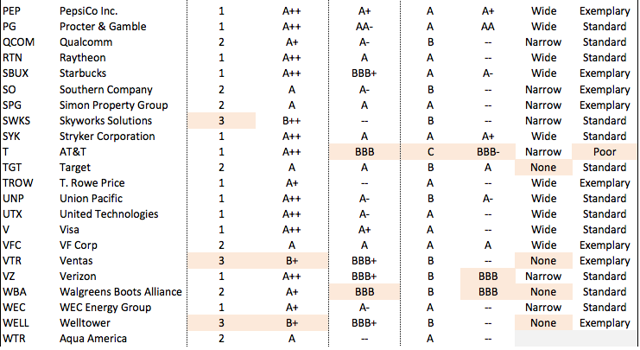 KHC really took it on the chin this quarter, with downgrades in both moat and stewardship ratings.  It becomes the 2nd of my holdings to be rated poor for stewardship.  In adding the M* Financial Health grades, I noted with interest that they give CVS a D, while Value Line is sticking with their A++ rating for financial strength.  I don't dispute that CVS is in rocky territory right now; I look for convergence of opinion, so the notable disagreement between these firms raises a flag.  The same can be said for T.
This quarter's ratings changes, summarized: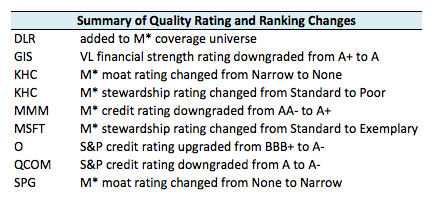 I note 5 negative changes, 3 positive changes, and one neutral change.
This quarter I sold out of 3 positions:  IBM, GILD, and JWN.  Although I held IBM for several years, I was never really able to get a good fix on their path forward.  News has rarely been good in the past few years, unfortunately, although maybe the recent uptick in revenue is a good sign...?  Nonetheless, I decided to let them go.  Both IBM and GILD are good yielders with some room to grow the dividend, and their quality ratings are good too; but both are projected to have flat earnings for the foreseeable future.  JWN froze the dividend a couple of years ago, and their quality ratings are adequate but not outstanding.  I do believe they're the best retailer out there, however; and unlike IBM and GILD, analysts expect the company will see decent growth.  I've used the proceeds of these sales to add to my positions in CLX, ITW, MMM, QCOM, and MCD.
Bonus Screen
I decided to run a screen of top quality companies as defined by VL Financial Strength ratings of A++ or A+ and S&P credit ratings of A- or better that are not already in my portfolio.  I first used the VL screener, then checked all the results against S&P credit ratings as listed in FAST Graphs, deleting anything that didn't have at least A-.  I also deleted any company FAST Graphs showed as having debt but listed no credit rating.  Those that had 0-4% debt/cap and no credit rating are marked as "(no debt)".  I also deleted anything that I hold, so as not to duplicate the previous table.  You can see that my portfolio holds a significant number of companies that would fit on the list below.
Note that these companies may have issues unrevealed by these ratings, or may be dealing with things that you would be uncomfortable with; they may be overvalued; they may not have the yield or growth you seek; they may not be in industries you want to invest in.  In short, this table is in no way a set of recommendations; it's merely a first screen to identify companies that are potentially interesting.
And there are some really good ones here.  Hope it helps!