After a weak May, the S&P 500 has rallied yet again to deliver a dramatic comeback from the drop in December, achieving a new all-time high.  At these times, dividend growth investors are often hard pressed to find investment opportunities that meet their requirements.  For this quarterly review, I decided to see what's available right now that meets high standards for quality.
High Quality Companies that May Currently Be Undervalued
I ran a Value Line screen to find stocks rated A++ or A+ for financial strength and 1 or 2 for safety.  From that list of 134 companies, I then found those that Morningstar currently rates either 4 or 5 stars for value, which indicates that Morningstar considers these stocks undervalued.  (Others may disagree with M*'s assessment.)  Of those, I eliminated any company with an S&P credit rating below A- as well as those with no credit rating.  The remaining 20 companies are listed in the table below.  Then I consulted FAST Graphs to provide each company's current yield, payout ratio, and projected earnings growth for this fiscal year and the next.  This will give you a quick look at whether any of these companies could potentially be worth further investigation.  Note: I don't follow all of these companies, so there may be headwinds, challenges, pitfalls, etc. that you would only discover in conducting your due diligence.  In a rallying market, anything undervalued could be suspected of having some sort of issue.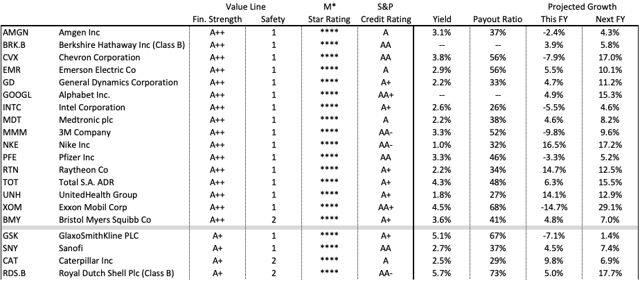 Summary of Portfolio and Rating Changes
This quarter I didn't exit any positions, although I did significantly reduce my holding in KHC after their debacle.  In the wake of that mess, I went in search of a stronger consumer staples company to add to the portfolio.  I decided on Unilever and initiated a position this quarter.  Value Line rates it 1/A++, its S&P credit rating is A+, and M* considers it to have a wide moat and standard stewardship.  I bought shares at a yield of 3% ttm.
I also have a new company in the portfolio by virtue of the VF Corp. spin of its jeans business into Kontoor Brands.  Kontoor intends to pay an annual dividend of $2.24.  No dividend has officially been declared yet, but at Friday's close of $28.01, the yield would be 8%.  The corporate leadership stated an intention for this company to yield about 5%, implying a fair value of about $45.  I haven't decided whether to add to this small holding, although I did decide just to hang onto what I own for now.  Any buys would be speculative in nature; the S&P credit rating is only BB- (not investment grade).
This quarter there weren't many changes to the ratings and rankings:

Table of Ratings and Rankings
This quarter I decided to present my table of portfolio holdings organized by sector.  When I review my holdings or conduct due diligence on potential new additions to the portfolio, I like to see how the company stacks up against others in its sector and take particular note of its ratings compared to those of its direct competitors.  I often use this information to help me determine relative position size, particularly when I hold 2 companies as a combined full position (such as with UNP/NSC, VZ/T, HD/LOW, and CVS/WBA).
Note that although I don't presently own VTR and WELL, I include them here partly because I might in the future, and partly to illustrate how these popular REITs compare to the ones I currently hold.  Digital Realty's ratings and rankings are in the same ballpark as VTR and WELL, but DLR offers growth that VTR and WELL do not.  My other 2 REITs, O and SPG, are rated much higher overall.
As always, hope this helps and GLTA!