I-Failure of Check Point inhibitors on Head and Neck patients
A recent event brought very bad news for patients with non-metastatic Squamous Cell Carcinoma Of The Head And Neck ("SCCHN") : Interim results of the phase III JAVELIN head & neck 100 study in locally advanced squamous cell carcinoma of the head and neck showed no improvement in survival (link). The clinical trial was shut down at the recommendation of the IDMC.
While this is very sad for the patients in this condition, there are still hopes. The failure of this trial could be a good new regarding another study that was taking place in the very same time, almost under-cover, in more than 120 sites throughout the world. This study is the IT-MATTERS trial from CEL-SCI corporation.
In previous discussions, and additional blogs on Seeking Alpha, we highlighted the reasons why we think CEL-SCI's (CVM) IT-MATTERS clinical trial should be successful on head and neck cancer patients population, based on survival evidences.
As a reminder, our assumptions are that 1) Standard of Care ("SOC") has not improved in years when the trial was running 2) Dropouts are limited and 3) Clinical trial effect is limited.
The SEER database helps us to assess survival of patients undergoing SOC treatment. So far, SOC has shown no visible improvement in survival until the latest known survival data (1 year OS from 2017 patients).
On the other hand, we have highlighted in this previous articles that the patients population in the IT-MATTERS trial is surviving longer than they should. According to the SEER data, this clinical trial should have stopped 2 years before it ended in late April 2020.
II- IDMCs do stop trials when Drug is shown inefficient
As explained in this previous article, had the IT-MATTERS data been shown non-significance in latest Independent Data Monitor Committee ("IDMC") meetings, it would have recommended the trial to stop. This is what happened to Javelin 100 trial, it did not happen with IT-MATTERS trial.
III- A Shorts thesis taking on water : Check-Point Inhibitors are not Efficient for those patients.
Some investors of the Short Community have relentlessly argued that Check-Point inhibitors ("CI") could be the cause for this longer survival as they were introduced in 2016.
Patients taking CI could live longer because of this drug and not because of Multikine. One typical example of a Clinical Trial falsely claiming that a population was living longer due to an experimental compound was Vical's Allovectin-7 Trial on Melanona, which ended with no significance. We studied thoroughly Vical's population and found that this population survival was increasing significantly year after year as proof that Standard of Care was improving. We could have easily stated, by looking at SEER data, that this trial would likely not show improvement in survival. In previous articles we explained why it was unlikely, due to past results of concurrent drugs like CI (Namely Keytruda / Opdivo), that it would be the reason for what we observe here.
Reasons are mainly that :
1) They only improve survival by a few weeks as proven by two phase III trials : CHECKMATE 141 and KEYNOTE 040 (link to the study)
2) They were likely not available to patients population from this trial which is a multi-country clinical trial with most of the sites being out of North American where CI were not approved yet.
A recent event confirms what we already knew, bringing very bad news for patients with non-metastatic Squamous Cell Carcinoma Of The Head And Neck ("SCCHN") : Interim results of the phase III JAVELIN head & neck 100 study in locally advanced squamous cell carcinoma of the head and neck showed no improvement in survival (link). Trial was shut down at the recommendation of the IDMC.
These are NOT fast dying patients with median around 7 months. The Median is over 60 months. CI in prior trials (i.e. Keytruda and Opdivo) increased metastatic recurring patient median by a mere 1 or 2 months, the effect of CI on those longer living patients was a question mark. That is very unfortunate for all the patients because Avelumab did not offer any benefit. On the contrary, Progressing Free Survival ("PFS") curve on the test group was shown worse than Standard of Care. We believe this is because of high toxicity related to Checkpoint Inhibitors.
While this is poor news for those patients, there is still a lot of hope for the future patients because of CEL-SCI's IT-Matters clinical trial.
IV - Shown survival are following SEER pattern
The JAVELIN trial's inclusion criteria is very similar to the IT-Matters trial with the following differences : it is a bit more inclusive as in includes first diagnosed and not treated STIV + Oropharynx and as well HPV + patients in various locations and stagings (see CT database). We expect that if JAVELIN trial survival data follows SEER data, then IT MATTERS trial data will follow SEER data as well. Nevertheless, a much higher survival is expected from this population as HPV+ patients have much better hopes to be cured.While JAVELIN trial has shown many (one third) patients discontinue the cure due to Adverse Events, the Intent to Treat design makes that only will be censored Lost To Follow Up Patients (LTFU or considered as Dropouts for the OS and PFS) and Patients who did not experience any event at the time of the Interim Analysis. LTFU will be negligible, hence dropouts will be considered as negligible.
At the time of the interim measure, the number of Overall Survival events was stated to be 131 while PFS events 224.
Hence, the Overall Survival was around 81% for this population at interim.
OS = (697-131) /697 ~ 81.2%
At risk patients analysis (0 patients at risk at month 32 and 90 censured at month 2) allowed us to infer that the median follow time was about 15 months for those patients whose recruitment spanned from Jan 2017 till April 2019. Some knowledgeable people in the medical field have contested the 15 months median and argued that 30 months was what was to be read. Consequently, as a confirmation, we reached out Pfizer executives who provided us the following information (NB: more findings from this trial will be made public in pair reviews in the following months).
"Median follow-up time for PFS based on Investigator Assessment by Kaplan-Meier estimates of duration of follow-up in months was 14.6 months in the avelumab + SOC CRT arm and 14.8 months in the Placebo + SOC CRT arm."
With this information, we have been able to retrieve SEER survival data for this patient population. Inclusion criteria from CT Site, mainly :
"Histological diagnosis of squamous cell carcinoma of the oral cavity, oropharynx, hypopharynx, or larynx"
HPV negative disease, Stage III, IVa, IVb; non-oropharyngeal HPV positive disease Stage III, IVa, IVb, HPV positive oropharyngeal disease T4 or N2c or N3
No prior therapy for advanced stage SCCHN; eligible for definitive CRT with curative intent."
We selected in SEER Database the specific patients population for this staging, we removed HPV+ from Stage III patients in the required locations, we selected only those patients who were treated through CRT (Chemo Radio Therapy).Here is the outcome: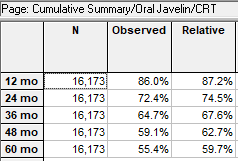 NB : Overall Survival is much above SEER population survival for IT-MATTERS, (5 to 10 points above) mainly due to the fact that HPV infected aeras are included in this trial with a high prevalence and a high cure rate and not included in IT-MATTERS (Base of Tongue, Tonsil).
With 86% Observed Survival at year one, we extrapolated those data to month 15 and we obtained precisely 81.5 %, in line with what was observed in this trial (81.2%).
At this point we do not have from the study the Overall Survival KM curves, therefore we do not know whether this population will follow a similar path as SEER survival data after month 15, however we can state that this trial data is not contradicting available SEER data on hand which bodes well for the IT-MATTERS Trial, as we have assumed CEL-SCI SOC patients are following the SEER survival pattern.Therefore, there is increased confidence that the test arm in IT-MATTERS Trial is helping the whole cohort live much longer than they should as measured survival from this trial is above what SEER indicates.
There is no unusual survival in this trial cancer population as opposed to existing benchmarks. There is no "Clinical Trial Effect" measured in the initial years of the trial, this population has followed rigorously the expected pattern as shown in SEER database. There was no miracle as well as unfortunately the drug did not help.
Interesting to note as well that  Northwest Biotherapeutics, Inc. (OTCQB:NWBO) has apparently recently changed it SAP by changing its enpoints, putting OS as primary endpoint and removing the control arm. If we understood well, NWBO will now compare the whole population of the study who took immunotherapy to an historical control (eg litterature). We believe NWBO will do for its survival pattern exactly as we have done for Cel SCI   : they will use SEER data to compare to GBM survival in their clinical trial and put it forward as a proof of drug efficacy. SEER is a legit source.
IV - In Summary
The JAVELIN 100 trial failure is an indication that PD-L1 Inhibitors, such as Avelumab, are not helping patients with locally advanced (non metastatic) Squamous Cell Carcinoma of the Head and Neck to survive longer.
The JAVELIN 100 trial initial results are in line with SEER survival data for this cancer type, staging and localization.
Therefore, we believe the unusual survival pattern VS SEER data as measured for IT-MATTERS Trial population to be due to longer survival in the experimental arm.
We are still suggesting a fair valuation between $120 and $270 per share if Multikine is successful. We believe this drug will be a blockbuster.
V - Immunotherapy Biotechs gaining visibility and momentum
In the last two years, CEL-SCI stock price has witnessed an impressive come back from less than $1 in July 2018 to more than $15 in October 2020. This is mainly due to the Independent Data Monitoring Committee ("IDMC") and FDA removing all the holds and the successful end of the arbitration with the previous Contract Research Organization ("CRO"). While the stock has been in bearish territories for years, it looks like the bulls have come back to support the price.
Cel SCI hopes that this drug will be part of Standard of Care. If effective it will allow some patients to live many more years. If Phase II results are replicated in this Phase III _in particular total response rates_ some patients might witness a total disappearance of the tumor, a total cure. If shrunk significantly, other patients will be able to avoid a painful and disfiguring surgery. If survival improvement is proven as good as it seems to be, it will dwarf results obtained by other immunotherapy drugs such as Merck's Keytruda or Bristol-Myers Squibb's Opdivo which are very toxic drugs and relatively not so effective (median overall survival being only improved by a few months). Those are billion dollars blockbuster .
Therefore, if survival benefit is confirmed, we firmly believe that this drug will be part of Standard of Care.
There are 165'000 new HNSCC cases each year in the U.S., Canada and Europe. Of these, 110'000 are "advanced" Stage III or IV, and are MK eligible. The average new oncology drug cost is between $200K and $400K. Let us assume a market penetration between 20'000 and 50'000 a year and MK only receives $75k per treatment. Annual sales would be between $1.5B and $3.8B.
Assume a multiple of 4x sales, which is extremely conservative, value of the company would be between $6B and $15B. Fully diluted by all possible shares plus future potential dilutions (55M shares) this equals around $120 to $270 per share.
We are suggesting a fair valuation between $120 and $270 per share, if MK is successful. We believe this drug will be a blockbuster.
As primary endpoint is the open door to approval by the FDA, we believe there is a fair probability of success for this drug
In the meantime another similar company in the immunotherapy field which has been neglected by investors for years _ Northwest Biotherapeutics, Inc. (OTCQB:NWBO) _ is gaining considerable traction as it revealed that it had achieved Datalock for its promissing DCVAX Dendritic Cells vaccine. We have are now witnessing NWBO reaching over 1B in market cap. Given that CVM drug can potential address a far wider market than the target market for GBM by NWBO, we believe CVM stock will follow a similar or better bath prior Top Line Data publication which we expect will be published before the end of the year. Therefore we expect CVM price per share to reach above the 20 $ value prior any result is published, positive or negative, as the odds are in favour of success and its valuation in case of success will be very high.
VI- Risks
While we strongly believe that this trial should be a tremendous success in terms of survival, there are many aspects of a Clinical Trial that we did not factor-in and could be the cause of failure.
Failure could be due to many factors, such as, but not limited to:
Standard of Care showing an extraordinary capacity to heal patients that we have not enough anticipated. This could happen for instance if the inclusion criteria for patients recruitment has not been well respected or if the investigators have systematically selected patients with the least lethal form of the cancer (Lower Staging)
A very high level of dropouts during the study (well above 20%)
Violations of the protocol not detected or reported properly by the investigator with consequences either on survival or on the whole study
All those risks do remain, and a wise investor will consider them before making an investment decision. If the trial fails, we would expect the share price to be close to $1