Stocks Take Wild Ride, Google Tops $1,000
The past week was a wild ride for market sentiment as investors faced a scenario where the US treasury could default combined with a partial government shutdown. As the clock ticked toward October 17th, which was Secretary Lew's deadline for attaining enough funds for the government to continue to pay its debts, volatility climbed to the highest seen in the past 3-months. There were a few economic data points released, but all were view with a quizzical eye given nobody in advance can determine the effects of the shutdown on US economic performance.
On Thursday the Labor Department released jobless claims. Initial claims benefits fell 15,000 to 358,000, according to the BLS. Economists had expected first-time applications to fall to 335,000 last week. The weakness in the number seems to have come from claims in California, which has experienced technical problems during a conversion to a new computer system.
Earnings results throughout the week were mixed. While IBM (NYSE:IBM) notched up weaker than expected number especially on the top line, Google and Morgan Stanley hit the cover off the ball which pushed Google's stocks price above $1,000 per share in it's history. According to a new york based proprietary trading group found here.
Google's (NASDAQ:GOOG) shares jumped more than 12% after the search giant's third quarter earnings topped consensus. The company enjoyed a notable increase in mobile, and although the trend continues to pressure ad prices, it's also giving a lift to search volumes. Net profit rose 36% to $2.97 billion, adjusted earnings per share was $2.18 billion and revenue climbed 12% to $14.89 billion.
Morgan Stanley (NYSE:MS) bucked the trend of financial earnings which have shown overall weakness in fixed income sales and proprietary trading. Morgan Stanley reported earnings per share of 50 cents beating analyst estimates of 40 cents. Third quarter adjusted revenue came in at $8.1 billion also beating estimates of $7.66 billion.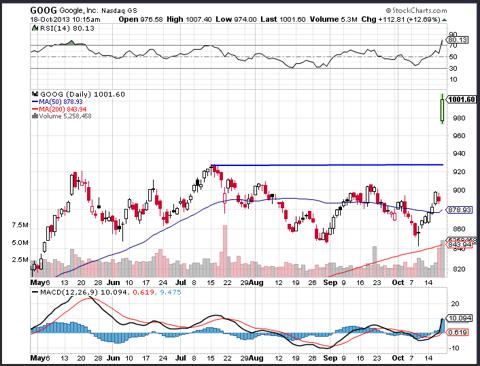 Google's share price gapped on the open and continued to move higher through the morning session on Friday. Momentum on the stock price is very strong with the MACD (moving average convergence divergence) index surging to the highest levels seen this year. The trajectory of the MACD is strong pointing to higher prices. The RSI (relative strength index) surged higher and is sounding a warning alarm that the stock price is overbought printing at 80 well above the overbought trigger level of 70.
Next week will begin the process of the government releasing data that has been on hold during the government shut down. On Tuesday the BLS will release its September non-farm payroll report which will be followed by PPI and CPI later in the week.