Stocks Continue To Rally Notching Up A 3rd Consecutive Weekly Gain
The week that followed the end of the US government shutdown was good for stock investors as major indices such as the S&P 500 hit new all-time highs. The Nasdaq notched up a 13-year high while that Dow was capped by the poor performance of benchmark technology stock IBM. Earnings throughout the week were better than expected. With nearly 60% of the S&P 500 index already reporting earnings, 66% of the companies that report where better than expected. This compares to the average historically which is approximately 61% producing better than expected reports.
Economic data during the week continued to show relative weakness, which will likely keep the Federal Reserve on the sidelines until at least mid-2014. On Tuesday the Department of Labor reported September's non-farm payrolls which were delayed nearly 3-week giving the US government shutdown. According to the BLS non-farm payrolls increased by 148K compared to the 180K expected by economists. The unemployment rate declined from 7.3% to 7.2% which was slightly better than expected, while the participation rate remained steady at 63.2%. July and August payrolls were revised generating a net increase of 9K jobs.
Earnings during the week were better than expected, with Microsoft (NASDAQ:MSFT), Amazon (NASDAQ:AMZN), Boeing (NYSE:BA), and General Electric (NYSE:GE) all beating expectations. Caterpillar (NYSE:CAT) was one of the few detractors from the Dow, as the giant industrial reported worse than expected top and bottom line and painted a negative view of future earnings. In the coming week, earnings will continue to dominate the equity landscape with earnings expected from Apple (NASDAQ:AAPL) and Facebook (NASDAQ:FB).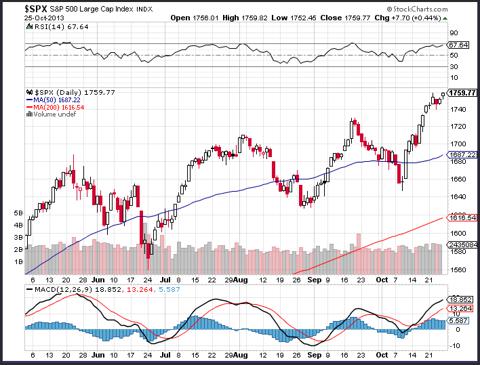 The S&P 500 large cap stock index closed at a new all-time high on better than average volume. Momentum is strong with the MACD printing at its highest levels since July 2013. The RSI is printing at 68, which is on the upper end of the neutral range and slightly below the overbought trigger level of 70.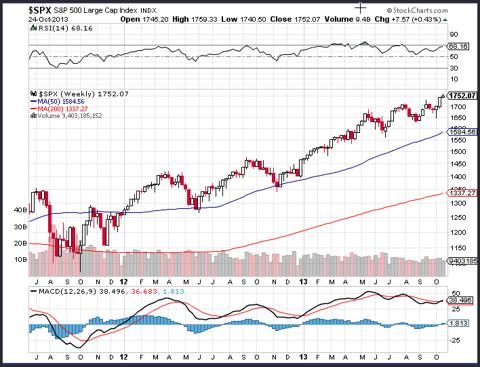 The week outlook for the S&P 500 index is solid with the MACD (moving average convergence divergence) proprietary trading index generating a buy signal. This occurs when the spread (the 12-week moving average minus the 26-week moving average) crossed above the 9-day moving average of the spread. The index moved from negative to positive territory confirming the sell signal.
Next week there are a number of US economic data points which could drive price action including:
•Monday October 28, 2013 - US Pending Home Sales (1400 GMT)
•Tuesday October 29, 2013 - US Retail Sales (1230 GMT), US PPI (1230 GMT)
•Wednesday October 30, 2013 - US CPI (1230 GMT), FOMC Interest Rate Decision (1800 GMT)
•Thursday October 31, 2013 - Department of Energy Natural Gas inventory report
•Friday November 1, 2013 -US ISM Manufacturing (1400 GMT)