Fed Action Erodes Gold's Value
The Federal Reserve concluded its two day meeting this week surprising the markets with a change to monetary policy. The Fed changes took many by surprise driving riskier assets higher and gold lower. Despite claims from the Fed that they will target inflation along with unemployment gold prices declined toward 2013 lows. The S&P 500 index closed up 2.45% for the week, the Nasdaq closed up 2.6%, and the Dow was the best performer closing up 2.96% for the week.
Gold prices tested the 2013 lows made in June after the Fed released their monetary policy decision. The Fed coupled a 10 billion tapering of its bond purchase program with dovish forward guidance. Most analysts did not think the Fed would begin the process of removing stimulus at the December meeting.
The Fed coupled their reduction of bond purchases with forward guidance that was dovish. The guidance consisted of telling market participants that they would not increase rates or remove stimulus until the unemployment rate drops well below their target of 6.5% unemployment.
The FOMC also discussed the need to increase inflation. They stated that there could be problems with the economy if inflation remains well below their target of 2%. The current gauge of inflation which is the PCE reported by the Commerce Department shows a level of 1.1% year over year.
Economic data was in the US was relatively weak which makes the Fed decision palatable. In the housing space, the National Association of Realtors reported that existing home sales fell 4.3 percent to an annual rate of 4.90 million. That's the weakest pace since December 2012. The median sales price of an existing home was $196,300 in November, a slight decrease from October.
In Asian, Japan reported a 1.293 trillion yen trade deficit for November, following the slightly revised 1.093 trillion deficits in October. Japan has been running a persistent trade deficit for nearly a year and a half. Faced with an 18.2% year over year depreciation of its currency, many economists would have expected a stronger trade performance.
In addition, Japan's experience is also a reminder that the import side of the equation should also be considered. Japan's exports were up 18.4% year over year in November, while imports rose 21.1%. Exports to China were up 33.3% from a year ago and at 1.1426 trillion exceeded Japanese exports to the US which were up 21.2%.
Next week will begin a two week period of light volume where stocks are likely to perform well as many expect a Santa Claus Rally.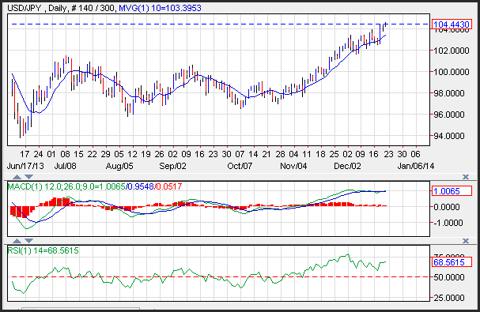 The USD/JPY broke out and continued to rally above 104. Momentum on the currency pair is higher with the MACD printing in positive territory with an upward slopping trajectory. The RSI (relative strength index) is printing near 68 which is on the upper end of the neutral range.