Stocks Notch Up Robust Gain; Bonds Hit 3 Percent
Stocks experienced a smooth ride higher this week as the Santa Claus rally took full advantage of positive investor sentiment. While the S&P 500 and the Dow Industrials hit all-time highs the Nasdaq composite hit levels not seen since September 2000. Social Media technology stocks lead the way higher with Twitter (NYSE:TWTR) moving above 73, as investors clamored for shares that are in low supply. Facebook (NASDAQ:FB) also notch up solid gains this week, also racking up a new all-time high. For the week the S&P 500 Index closed up 1.27%, the Dow Industrials closed up 1.59%, and the Nasdaq composite settled up 1.26%
Economic data continues to come out better than expected, which has pushed the 10-year yield up to the 3% level. The euphoria over stocks will begin to fade into the New Year as investors begin to worry that the higher levels of interest rates begin to take their toll on stocks. It is unclear whether stocks can withstand higher interest rates, but bullish investors will likely be tested when traders come back from their holidays in January.
Japanese stocks continued to perform well but economic data has also come in better than expected. On Friday, the government reported that Japanese November consumer price index came out in line with expectation at 1.5% year over year but core, which excludes fresh food, was slightly higher than expected at 1.2% year over year. This is the highest CPI level since 2008 and the inflation gauge is moving toward the Bank of Japan's target of 2.0%.
Japanese Industrial production data for November came in at 5.0% year over year, lower than the 5.4% expected by economists. Retail sales surprised on the upside, however, rising 1.9% year over year, compared to forecasts for just 1.0%.
Next week is a short trading week again as most stock exchanges is closed on New Year's Day. The most significant data point is the ISM Manufacturing survey which is scheduled to be released on January 2, 2014. PMI surveys have recently come in stronger than expected, with Novembers hitting 57.3 which is the highest since 2008.
The technical picture for the S&P 500 index which is the benchmark index for US stocks is very solid.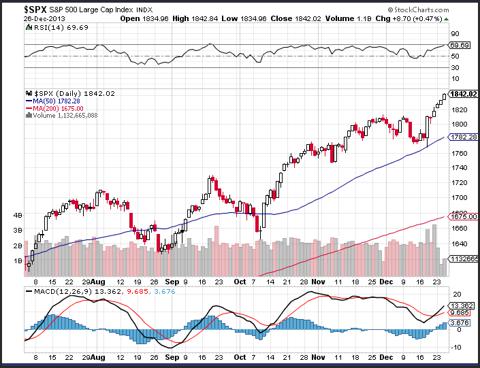 Momentum is very strong as the MACD has recently generated a buy signal. This occurs when the spread (the 12-day moving average minus the 26-day moving average) crosses above the 9-day moving average of the spread. The index moved from negative to positive territory confirming the buy signal. Additionally, the relative strength index (RSI) is moving higher along with price action reflecting acceleration momentum. The RSI is printing near 69 just below overbought territory at the top end of the neutral range.