Finding a Trend is the Key to Trading Success
An interesting fact that most traders are not aware of is that broader markets generally trend approximately 30% of the time and the rest of the time they consolidate and trade in tight ranges. The issue with this phenomenon is that trading in choppy directionless markets is a huge performance killer as it fails to generate upward or downward price action that allows a trader to generate gains. To enhance performance a trader needs to find a momentum style trading strategy that helps them avoid choppy market conditions and take advantage of market trends.
A trend can be defined as a period when upward or downward market conditions exist and price action continues to move in the same direction for a period of time. For example, if the price of an ETF moved from $15 to $20 over a period of 1 month, the direction of the trend is higher.
The best and most efficient way to find momentum and a trend is to use a system that removes the emotion from trading and pinpoints with consistent accuracy signals that reflect market momentum that will generate a trend. One of the best performing systems is Trend Alerts.
TrendAlerts is a momentum-based algorithmic signal alert system designed to identify potential trends given the market conditions. Unlike other alert systems which scan hundreds of stocks using price-pattern recognition technology, TrendAlerts narrows down the scope of securities traded simplifying your trading experience while increasing your profitability.
One of the key benefits of a system is its ability to remove emotion from trading. It's a common human condition to exit positions that are moving against you in an effort to eliminate the pain of a losing trade. With a system like trend alert, a trader can rely on the historical performance of the trading strategy and avoid stopping out of position to early.
Most systems also ignore one of the most important aspects of trading which is risk management. Managing risk is probably the most important aspect of trading. Risk management helps traders determine how much they should risk on each trade and pinpoints areas where a trade should be removed because profits have reached their maximum potential. TrendAlert finds the optimal level where a trade should be terminated based on an analytic approach to the capital markets.
TrendAlerts focuses on exchange traded funds (ETF's) because they provide exposure to a large range sectors and trade like stocks. Exchange traded funds have extensive liquidity and allow traders to enter and exit positions without generating unwanted slippage.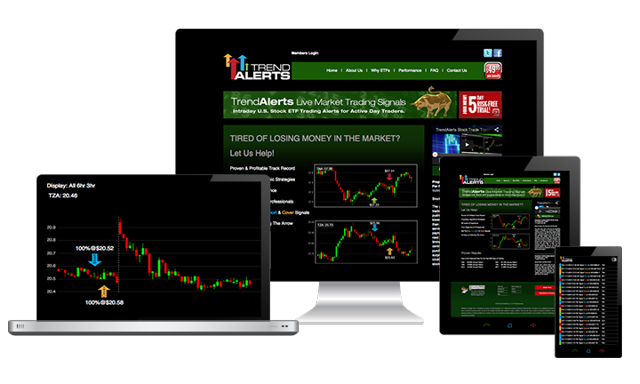 In a nutshell, finding a trending market that is experiencing momentum is the key to making money in the stock market. By focusing on ETF's TrendAlert allows their clients to enter and exit positions and benefit from increasing momentum while removing any emotion from the process of trading.