S&P 500 Hits All-time High; Yields Tumble to 50-week Low
The final week of May saw the S&P 500 index notch up fresh all-time highs while yields tumbled to a 50-week lows. The rally in stocks was met with complacency, while many market participants where focused on the decline in yields. The 10-year yield hit support levels near the 200-day moving average, but held steady as stronger than expected Chicago PMI data released Friday could foreshadow robust economic gains for May. For the week the S&P 500 index hit an all-time high of 1,923.
Another driver of the strong proprietary trading markets is the anticipation of potential rate cuts in the coming week by the European central bank. Again, the markets are set to explode to the upside if Mario Draghi delivers on his rhetoric, but he has proven before that he is a wordsmith with immense talent, and will likely have a bark that is stronger than his bite.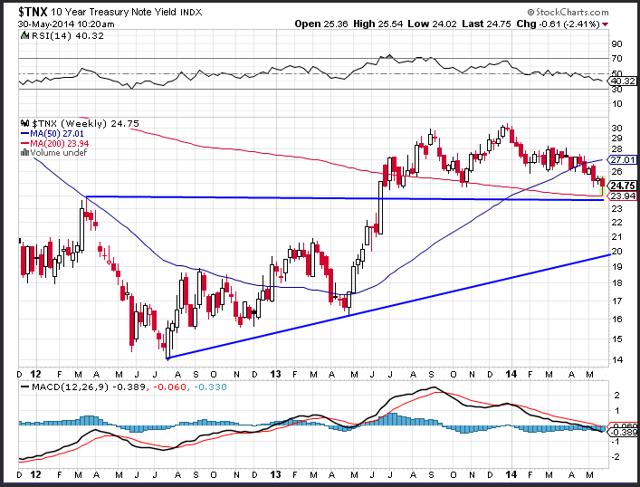 The two most interesting economic releases during the weak were the weak than expected second look at Q1 GDP in the US, and the stronger than expected Chicago PMI report.
The commerce department reported that Gross domestic product shrank to an annual rate of 1% in the first three months of the year. This compared to an initial reading of 0.1%. Expectations were that the economy would contract, but the decline of 1%, was greater than expected. Stock investors seemed to ignore this data point and instead looked forward to May economic data.
US Yields reversed their downtrend Friday following the jump in Chicago ISM for May, which gave a more contemporary positive spin on the data, though the employment component sank. The Chicago PMI climbed to 65.5 in May, the highest level since October. This beat expectations for a fall to 61 and is up from 63 in April. The increase in the Barometer chimes with other economic data, which has shown a continued recovery in the economy.
The final data point of the week was U.S. consumer sentiment, which fell 2.2 points to 81.9 in the final May reading from the University of Michigan survey. That shaves off about half of the 4.1-point increase in April to 84.1, and it's little changed versus the preliminary May reading was 81.8. Most of the weakness was in the current conditions index, which fell to 94.5 from April's 98.7. The outlook index slipped to 73.7 versus 74.7 in April.