Stocks Hits All-time highs Follow Robust Proprietary Trading
U.S. equities continued to surge as the S&P 500 hit a fresh all-time high this week closing up 1.25% for the week at 1,985. The Dow Industrial Average added 1.28% while the Nasdaq Composite increased by 2%. Strong economic data released throughout the week was the impetus for strong gains, following a solid first half to 2014.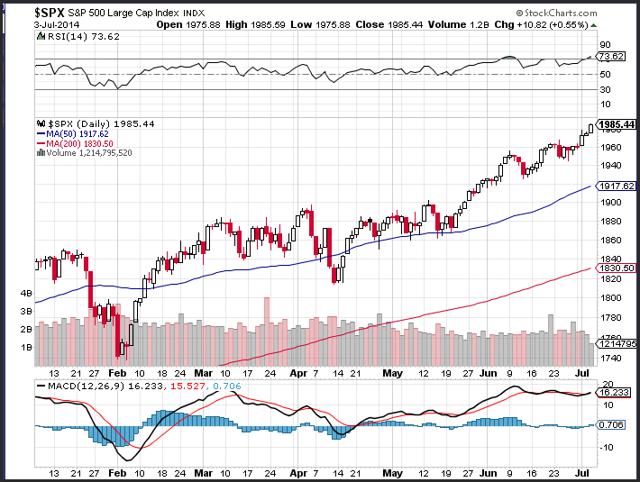 Manufacturing for June started the week with a strong number that was slightly less than expected. U.S. ISM manufacturing index slipped to 55.3 in June from May's 55.4, contradicting market expectations for an small increase. However, the expansion has been accelerating since February, so the modest slowdown is not surprising and the index is still the second highest going back to December. The internals were decent as well. The employment component was unchanged at 52.8. New orders rose to 58.9 from 56.9. New export orders fell to 54.5 from 56.5. Production declined to 60.0 from 61.0. Prices paid fell to 58.0 from 60.0.
U.S. ISM services index dipped to 56.0 in June from 56.3 in May, in line with market estimates. The business activity index declined to 57.5 from 62.1. Employment component improved to 54.4 from 52.4, the best since January. New orders edged up to 61.2 from 60.5, the highest since January 2011. Export orders climbed to 55.0 from 53.0. The expansion in prices paid slowed slightly as the index slipped to 61.2 from 61.4.
On the private employment front, the ADP reported private payrolls surged 281 in May after the disappointing 179k gain in May. Gains were broad-based but paced by a 231k rise in the service sector. The goods producing sector added 51k workers. There was a 36k gain in construction workers. Manufacturing jobs were up 12k. Financial activities added 11k jobs, with professional and business employment rising climbing 77k and trade/transportation up 50k.
The week culminated with a strong jobs report from the Labor Department. According to the Department of Labor, U.S. non-farm payrolls, surged 288k in June from 224k in May and 304k in April. The unemployment rate fell to 6.1% from 6.3% previously. The labor force rose 81k, while household employment increased 407k. Average hourly earnings increased 0.2% following a 0.2% May gain. Private payrolls climbed 262k, consistent with the ADP number, with the goods producing sector expanding 26k, while construction rose 6k, with manufacturing up 16k. The service sector expanded 236k. Government added 26k. Treasury rates are skyrocketing higher.
The workweek sustained the bounce since March to 34.5 from a weather-depressed 34.3 in February, versus a 34.6 cycle-high in March of 2013. Hours worked increased by 0.2% in June, following gains of 0.2% in May, 0.3% in April and 0.7% in March.
Earning season for the second quarter will begin in earnest in the coming weeks. With a strong macro backdrop now driving stocks, investors will see if earnings expansion can take over the reins and push stocks even higher