There may be sharks in the water, but it might still be safe to swim.
See our original thesis on Zenabis here.
Introduction
Zenabis Global Ltd. ("Zenabis") (OTCPK:ZBISF) (TSXV-ZENA) shares have been under steady and relentless selling pressure causing a dramatic (but orderly) decline in the company's share price through the month of March and so far in April. Since announcing its recent convertible debenture financing on March 4th, 2019, shares are down ~25% from the closing price that day of $3.44/sh.
We speculate and theorize that certain market participants are currently engaging in a basic short-term trading strategy called debenture hedging, which we believe is the main factor contributing to Zenabis' share price weakness. 
What the heck is debenture hedging? And why do I care?
Convertible debenture buyers and their associated hedging strategies have been common in the cannabis sector, and the short-term influence they have on share prices often causes prices to deviate meaningfully from underlying value. We believe this is currently the case with shares of Zenabis.
Convertible debenture hedging is an unsophisticated, basic financial strategy that involves purchasing convertible debenture securities of a company, and contemporaneously selling short that same company's common shares. This renders the purchaser of the convertible debenture risk-neutral on their principle investment in the debenture, allowing them to collect the attached interest coupon risk-free. As well, warrants are often attached to these debentures, which similarly are in effect obtained for 'free'.
Here is an example:
Buy: $1,000 of convertible debentures of Company X at a conversion price of $1.00/sh (i.e. convertible into 1,000 shares of Company X). The convertible debentures carry a 6% coupon, and have warrants attached to purchase 100 additional shares at $1.50/sh (15% 'warrant coverage'). Cash outlay: $1,000.
Sell short: contemporaneously sell short 1000 shares of Company X at $1.00/sh. Cash inflow: $1,000
Outcome: the convertible debenture purchaser in this scenario has a $0 net cash outlay, receives a 6% coupon and has obtained warrant rights to purchase 100 shares of the company in the future at $1.50/sh, effectively for free. The convertible buyer's common share short position in Company X can be closed out either through open market purchases of Company X shares, or through conversion of its debentures into shares of Company X.
Additional explanation can be found here:  https://bit.ly/2uTr1ey 
Lastly, we care because this type of short-term behaviour can cause wild deviations between price and underlying value.
How might this be currently affecting Zenabis?
Zenabis closed the first $15m tranche of a total of $75m of available convertible debentures on March 27th, 2019. Those debentures are convertible at $3.62/sh and attached are 825,000 warrants with a $3.62/sh strike price. The balance of the debentures can be issued at the company's sole discretion, and the conversion price will be 15% above the-then trading price.
Zenabis announced today, April 10th, 2019, that as part of this financing arrangement, the purchasers of the convertible debentures have borrowed  4,968,644 common shares from certain key Zenabis shareholders. (note: this is a typical requirement of such debenture financings, and the shares will eventually be returned to those Zenabis shareholders who still retain all upside/downside of these shares currently on loan).
In any case, the 4.97m shares loaned approximately covers the amount of shares that would be issued upon conversion of the $15m of debentures ($15m / $3.62 = 4.15m) and upon exercise of the 850,000 warrants attached (that have a $3.62/sh strike price).
Key theory: the purchasers of these convertible debentures who have also simultaneously borrowed 4.97m Zenabis shares may now be able to sell those shares short. Although the Zenabis share price is currently below the first $15m debenture conversion price of $3.62/sh, there are $60m of potential further debentures to be issued; the lower the price for those future debentures, the better for those intending to purchase them. In other words, there may be an incentive to put pressure on the share price using the 4.97m shares now on loan. Additionally, these debenture purchasers may feel further protected in a short position with an ability to cover should the company announce bought deal equity financing. Also, note that there are other convertible debentures in the company's capital structure, the holders of which could also be hedging their positions.
The following is the latest short sale data readily available to us: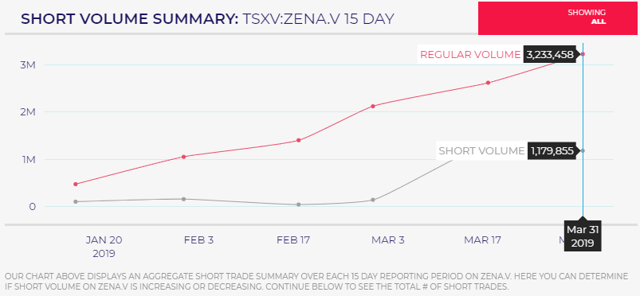 (source: shortdata.ca, IIROC data, please note accurate net short position data is not readily available to us at this time)
We think it is entirely plausible for this type of activity to have an out-sized impact on the share price of Zenabis in the short-term; the company's average trading volume is ~450,000 shares per day vs. the 4.97m shares we now know are on loan (10x the average daily volume!). However, as interest in Zenabis grows and as it lands on the radar of more and more investors, trading volume should increase (as it has in the last few days) and may render these hedging strategies less and less impactful. Further, this could drive a more positive virtuous share price cycle allowing the company to raise capital at prices that better reflect its underlying value.
Are there precedents for this theory?
Debenture financing of this type and the related sequence of events has been commonplace in the cannabis industry. The below article is illuminating and helps further contextualize the discussion herein. It shines some light on the short-term nature of these arrangements and how it can cause short-term price fluctuations that long-term are not meaningful: How a handful of hedge funds cornered cannabis financing - and made a killing in the process
Conclusion
Although Zenabis shares have been under immense pressure lately, hopefully we have provided some context and a theory for why it may be short-lived and why it might be "safe to swim", even though there may be sharks in the water. We continue to ascribe a $21.00/sh intrinsic value estimate to Zenabis shares as detailed in our first report on the company, found here.