Hi Everyone,
I am very excited to share with you that, as of two weeks ago, I voluntarily left my corporate job. I was employed in my last position for 3.5 years and enjoyed the safety and security of a steady salary, annual pay raises, modest annual bonuses, 401K match, and health benefits. I was well regarded by my peers and most of my credit memos landed on the desk of the company's CFO. However, and as my long-time followers are aware, I have been moonlighting as a writer on Seeking Alpha since Q1 2014. Since high school, I have been passionate, bordering on obsessed with financial markets, investing and trying to figure out the value of businesses. I have finally gathered the "Courage and Conviction" to take the plunge and become a full-time investor and writer.
Although I launched Market Adventures in May of last year, I am excited to share that I have learned from mistakes made during the first year, and as a result, I have enhanced the offering. Given these significant changes and the fact that I will be doing this 50 hours per week, I'm writing this today to announce the launch of Market Adventures 2.0.
The New Stuff
The biggest change is that I'll be expanding my coverage universe to include a live portfolio of mostly dividend stocks, which I call the "Conservative PA". You may have noticed on the free site, my recent piece about Pepsi (see here). Well, in addition to Pepsi, I have written three detailed piece on other Blue Chips contained in the Conservative PA. 
This is in addition to my long-term buy and hold portfolio called "My PA" (and now I have a lot more dry powder because I rolled over my 401K) and the "High Octane PA".
The cumulative value of these portfolio is half a million dollars.
In terms of the Conservative PA, this is a diversified portfolio of mostly dividend stocks. No single security will have an initial position sizing of more than 10% and most positions are in the 5% sizing range. I do have the limited (up to 15%) flexibility to include securities that I deem attractive for capital appreciation. However, these are sized modestly. Moreover, I am happy to report that this Conservative PA is up more than 7% in 2018. And that 7% return was achieved although no more than 50% of the portfolio was invested at any one-time period. In other words, I maintain a lot of cash as I opportunistically wait to buy good companies at good prices.
Here is a Fidelity snapshot of the account value of the Conserative PA. As you can see, it was valued at $169,400 on December 31, 2017. As of today, June 22, 2018, it is valued at $182,300.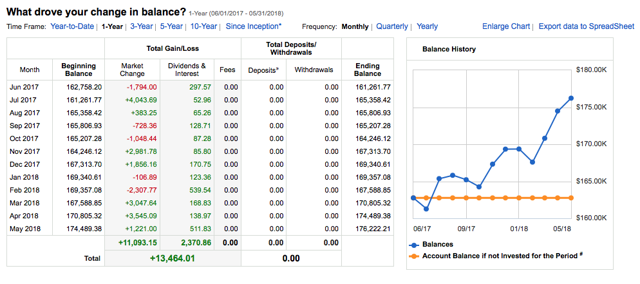 Here is today's snapshot value. As you can see, the Conservative PA is up 7.6% YTD. 

Mistakes Made During My First Year
Having worked on the buy side for five years and having developed friendships with few institutional portfolio managers, I recall their sage advice that if you can be right 60% of the time, you make it to the Hall of Fame in the investment business. No question, I got too concerned with getting every call right and spending too much energy on ideas that were not working. However, notwithstanding the fact that GNC is down 50% from where I viewed it as a great buy, don't forget that I have written up many winners. Back in late December 2016 and early January 2017, I wrote some extensive articles on Weight Watchers and we bought shares in the $11s (see here). Yes, we sold it way too early. However, if readers want to cherry a miss, like GNC, then let's cherry picked that WTW shares recently reached $105 (that is a biotech type return). Another idea that I championed and loved back in 2014, World Wrestling Entertainment, Inc. (WWE) has really been a late bloomer in 2018.
Superior security selection measured over the long period of time can create outsized returns.
My long-winded point is that if you purchased an equal weighted basket of my write-ups, you might be surprised at how well that basket would have performed.
For more recent tangible evidence, here are six ideas — all shared first on Market Adventures — that have worked well. Again, all of these ideas were presented in 2018. And we bought every one of them, as I always eat my own cooking. Now candidly, I sold some of these too early, but again, if you took a diversified basket approach, these ideas have performed nicely and there were detailed write ups to explain to readers why I recommended them.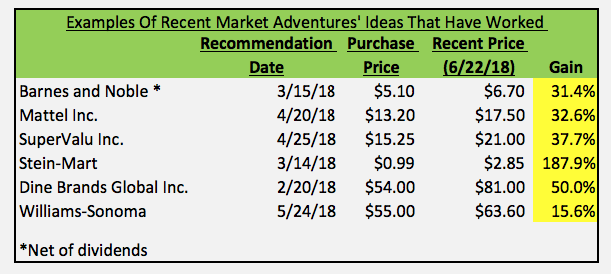 In closing, I have plenty of skin in the game and am really excited to be doing this full time. Are you really to join me on a Market Adventures journey?