On the morning of March 7, 2018, about an hour before the opening bell, on Market Adventures, I sent out an alert and buy recommendation on Medifast, Inc. (MED) (see here). That morning, in pre-market trading, the stock was indicated to open $75 to $77, up sharply from the previous day's closing price of $66.94. The reason for the big leg up was that the company dramatically raised FY 2018 guidance.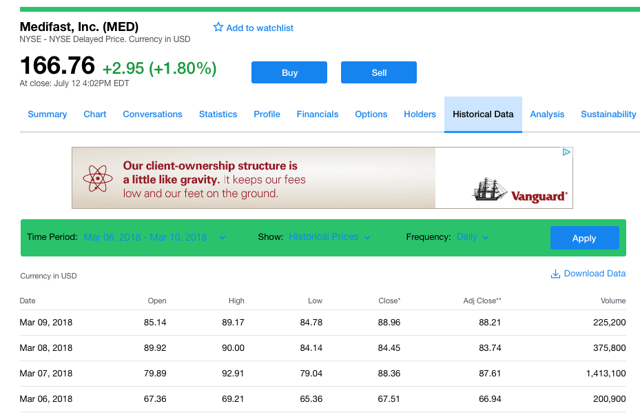 Source: Yahoo Finance
As I wrote that morning, the morning of March 7, 2018:
After the bell, the company posted strong results and BLOW OUT FY 2018 guidance!
Here is guidance: FY 2018 revenue of $355 million (mid-point) and E.P.S. of $3.20.

As you can see, consensus estimates were calling for revenue of $327 million and E.P.S. of $2.75.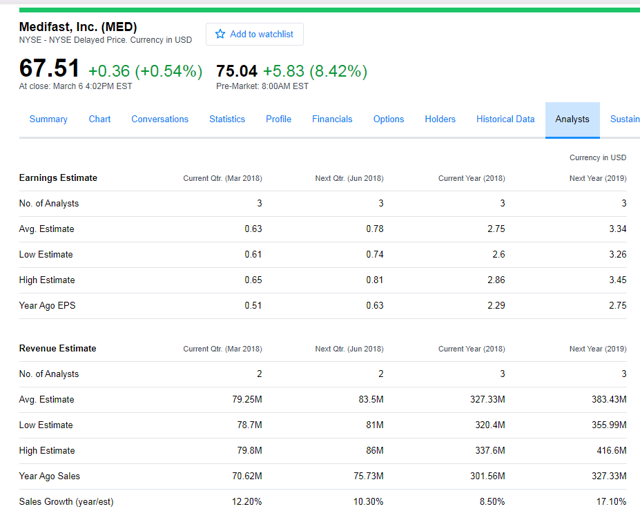 Source: Yahoo Finance
Lo and behold, Medifast, Inc.'s strong business momentum continued into Q1 2018 and on May 4, 2018, they dramatically beat Q1 2018 numbers and raised full year guidance for the second quarter in a row.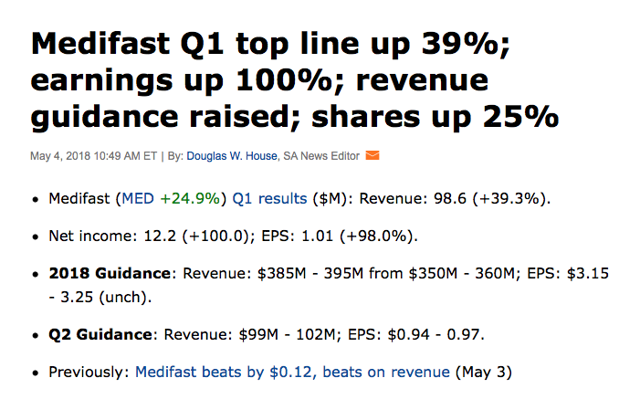 Over the past few years, growth and growth stocks have been en vogue and because the U.S. stock market is enamored with anything and any company sporting strong growth characteristics, shares of Medifast, Inc. have continued their big leg up. So from a 52 week low of $43, to trading just under $180, a few week ago, MED shares are on a tear.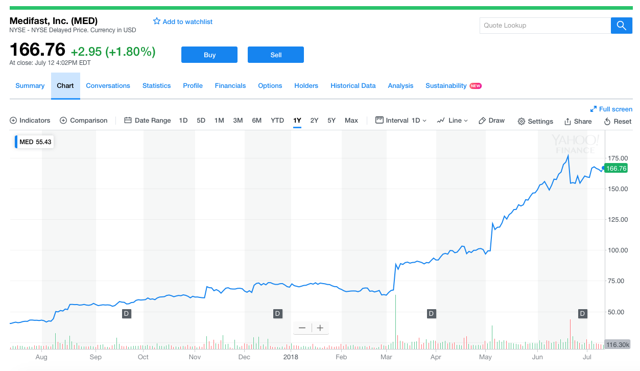 Source: Yahoo Finance
Inflection Point
If you look at Medifast, Inc.'s financials, this has been a stable and profitable business, but again, the inflection point occurred in Q4 2017 and this escape velocity business momentum is recent phenomenon.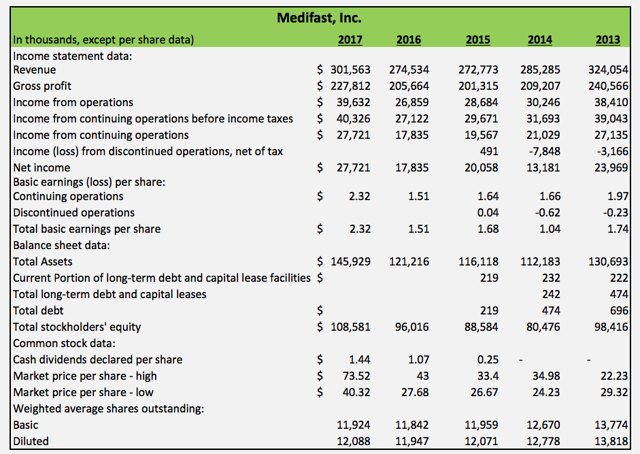 Source: Medifast, Inc.'s FY 2017 10-K
Consensus estimates for FY 2018 are now calling for E.P.S of $3.71 per share. This would be 60% YoY E.P.S. growth. In terms of revenue, $402 million would mark 33% growth.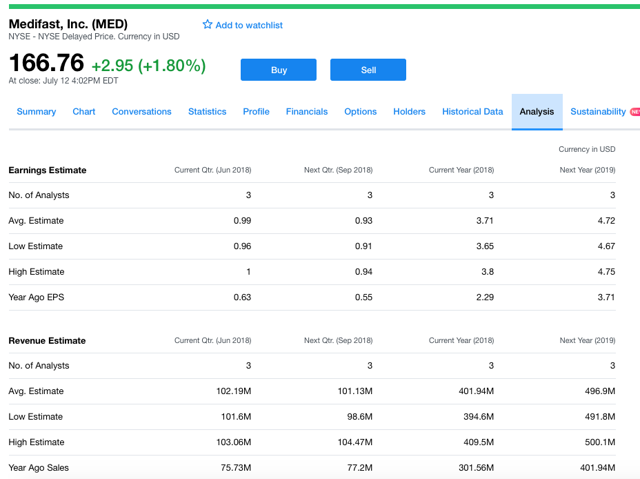 Source: Yahoo Finance
What Medifast, Inc. actually does.
The company made a dramatic pivot and started selling its services directly to consumers through word of mouth and through its OPTAVIA coaches.
Per the company's Q1 2018 conference call (see here), note the following:
We ended the first quarter with a record of 16,700 active earning OPTAVIA Coaches to support the clients in achieving their health goals.

The growth of our OPTAVIA Coach base along with improved revenue per active OPTAVIA Coach combined to deliver financial results that exceeded our expectations for the first quarter. Quarterly year-over-year revenue growth accelerated from a 25% growth in the fourth quarter of 2017 to nearly 40% growth in the first quarter of 2018.

As Dan mentioned, we ended the quarter with a record 16,700 active earning OPTAVIA Coaches compared to just 13,000 in the prior year and 15,000 in the fourth quarter of 2017.
So as the number of coaches that generate revenue grows, and these coaches grow their own small businesses, that is how the company makes money.
Average revenue per active earning coach for the quarter increased 18.3% to $5,278 compared to $4,463 for the first quarter of last year.
Economics of the business
In Q1 2018, gross margins were 75.9% and SG&A was 61% of revenue. Therefore, operating margins were a record 14.9%.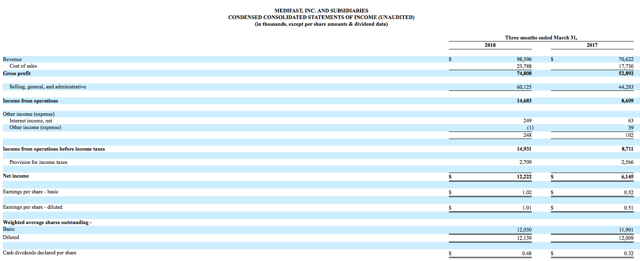 As management shared on the call, commissions are most of the SG&A expense, and OPTAVIA coaches get 42%.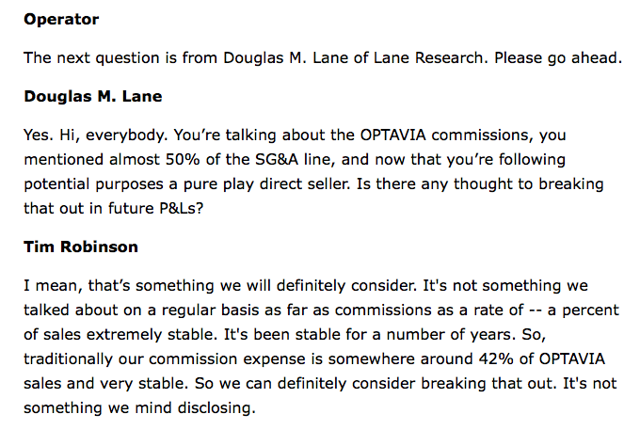 Essentially, unlike a Nutrisytem (NTRI) that spends a ton of money on celebrity endorsements and media spending, Medifast, Inc. empowers its OPTAVIA coaches with knowledge and incentive (42% commissions) to growth their business. This is a really savvy business strategy move to Medifast, Inc.'s management.
Here is a snapshot from Medifast's website.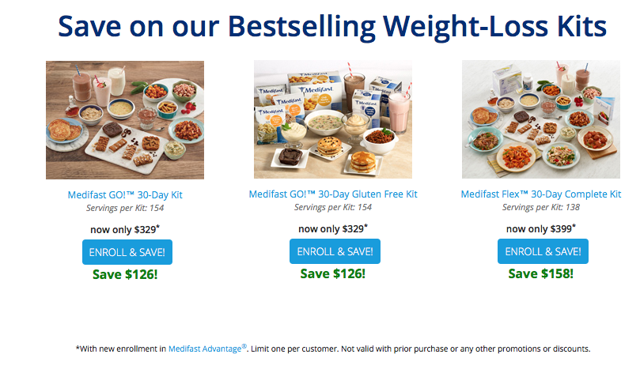 Source: Medifastinc.com
Valuation
At $167 per share x 12.1 million shares, Medifast, Inc. is sporting a $2.1 billion market capitalization. The company pays an annual dividend of $1.92 per share, which works out to be a 1.15% dividend yield as MED's stock has done so well over the past year. The company is debt free.
Takeaway
Medifast, Inc. turned the traditional business model of spending a ton of money on celebrities or traditional media and instead empowers its coaches (sales people) to go spread the gospel. These coach in turn help people eat better, lose weight, and earn themselves 42% commissions for their efforts. As the company controls its own branded products, the gross margins are a health 75% to 76% and net of SG&A, even with the big 42% commissions, the parent company is left with great operating margins and operating income. Although I really like this business model, the diet space is very crowded and who is to say other competitors don't try to copy Medifast's smart business model. Let's face it, the power of a warm lead and recommendation is much stronger than watching another Nutrisytem commercial. Weight Watchers (WTW) has had a lot of success with Oprah, but WTW makes its money through its online user growth, as its meeting business hasn't grown that fast.
That said, despite Medifast, Inc.'s impressive revenue growth, operating leverage, and record operating margins, I just can't get excited paying 45X FY 2018 E.P.S. So I can't recommend shares here at $167. Clearly, they were compelling at $76, back in early March.