The Best Trading (Idea) Week Of My Life
Please Note: Blog posts are not selected, edited or screened by Seeking Alpha editors.
Hi Everyone,
I hope everyone is having a good weekend. I haven't been super active on SA's free site this year, as I have been focused on Second Wind Capital. That said, I am still trying to share some ideas on the free site.
As I remain cautious about the broader market, and have been concerned since the last week of November 2020, I have adopted a hybrid strategy. I am long 3 to 7 investment ideas (sized 6% to 10%) and then I trade the rest of my capital. Currently, I have five core investment ideas and everything is more trading oriented. Trades are based on an actual catalyst, earnings event, or special event and I pay attention to technicals (for direction). 
Enclosed below I share a good recap and the highlights of the trading week. And I recognize this was like catching lightning in a bottle and it won't happen again. At least it was fun to pitch a no hitter once in my career : ) 
Monday (March 22nd)
Buy Mechanical Technology, Inc. (OTCQB:MKTY) at $11.30 to $11.50 (bid/ ask spread).

Lo and behold, MKTY (OTCQB:MKTY) closed on Monday at $14.70 and briefly spiked to $18.90 on Tuesday morning.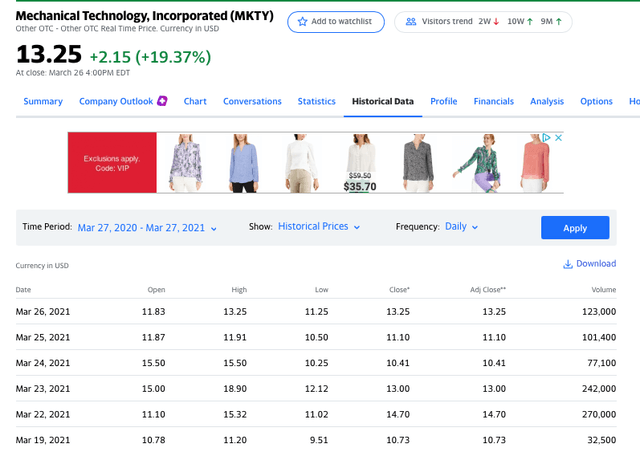 Tuesday (March 23rd)
At 9:51 am, I mentioned Dolphin Entertainment (DLPN), on live chat, then trading at $12. This was a pixie dust/ magic bean type idea on the NFT fever. That said, I didn't feel comfortable recommending it in an 'at all alert' as the optics would be bad, as it was then already up 100% on the day.

Lo and behold, DLPN goes onto close at $18.33. The next morning, in pre-market, it trades up to $34 and $35 and briefly trades in the low $30s during regular trading.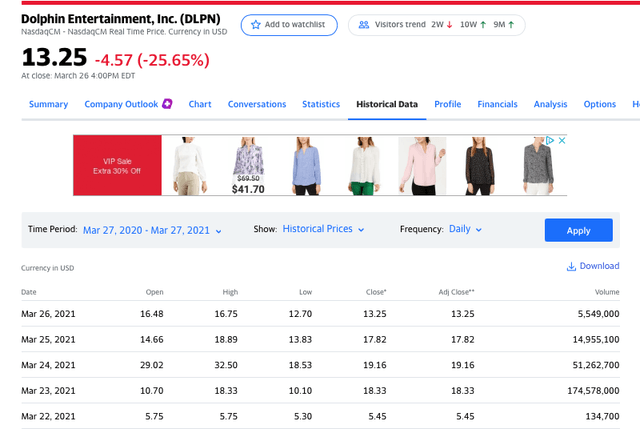 Wednesday (March 24th)
I mentioned WISeKEY (WKEY) on Wednesday morning as my 'Pixie Dust/ Magic Bean' idea. I did send an 'at all' alert.

Lo and behold, WKEY opens at $10.77 and closes at $20.52.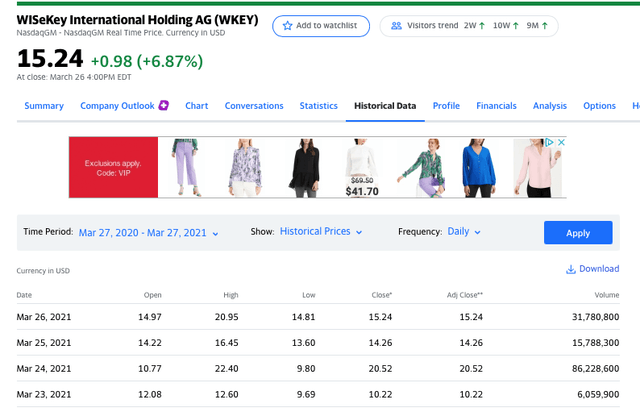 Also, on Wednesday, one of our readers mentioned Funko (FNKO), which I recommend, a week or two prior, at $15.50.

I briefly bought 500 shares in pre-market and then talked myself out of it (so I never sent an alert).
FNKO opens at $18.58 and spikes to $24.72 in a few hours.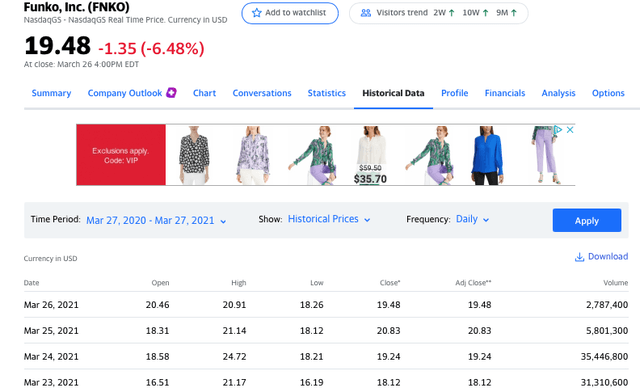 Thursday (March 25th)
I got stopped out of two positions for 10% losses. The Russell 2K enters an intra-day correction and then bounces aggressively off the 2,100 level. The market starts to look a lot firmer and momentum builds during the afternoon.
On 'live chat', I mentioned that I was buying a modest 500 shares of DLPN, at $15.58, for a dead-cat bounce trade only. As far as I know, upwards of 5 to 10 readers joined me. The stock bounces hard (we got lucky) and we all sold it in the $18s.
Friday (March 26th)
Friday was all about ViacomCBS Inc. (VIAC).
If you were on 'Live Chat' on Friday afternoon, about 2pm, I got a little loose (I wasn't drinking but took some risk). I am hemmed and must adhere to a very strict risk management system. I can't have drawdowns and I need to be right 7 out of 10 times. In this system, when you are wrong, you have to kick out the idea for a 10% loss as you can't let a 10% loss spiral into a down 30% to 50% loss. Doubling down or tripling down on weakness is off limits and not how this system works.
Anyway, I was about to shutdown my computer for the week, and call it a good week, despite the big sell-off from Monday - Wednesday, notably in the Russell 2K. Then I just happened to notice that VIAC was scrolling across CNBC, down $20 points, at $45 per share. I sprung into action and checked for news.
The only thing that I saw was that Goldman was shopping a block of 30 million shares. I know Viacom had just priced its $2.7 billion secondary offering (the equity at $85, consisting of 20 million shares, and a convertible preferred that was a mandatory convertible in 2024).
Incidentally, the prior week, I had a spirited discussion with a reader that VIAC was an easy short at $89. He dared me to short it since I felt so strongly about it. I can't buy calls or buy puts in my main account (I can only sell covered calls and recently got access to sell covered puts). So in a small other account, I bought one VIAC $80 May 2021 Put on March 17th.
Lo and behold, VIAC ripped from the high $80s back to $100 in my face, so I took my medicine and loss on the put. I figured what would stop it from going to $120.

Then on Friday afternoon, VIAC tanked and is scrolling across the screen at $45.
I have passionately been at this game for 20 years. I worked on the buy side for 5 years (on a bond trading desk/ fixed income research role, albeit as a junior member of the team) and have friends who had great careers on the buy side.
I would like to think I know a fat pitch when I see one.
At 2:12pm, I alerted the group via an 'at all' alert that I was buying up to a 5% sized stake in VIAC around $44.

If you were tuned into 'Live Chat', the more I thought about it, I got really, really excited about this bet. VIAC started dropping in my face and I didn't hesitate, I started to buy more.
I sensed that a big hedge fund was blowing up.
See here: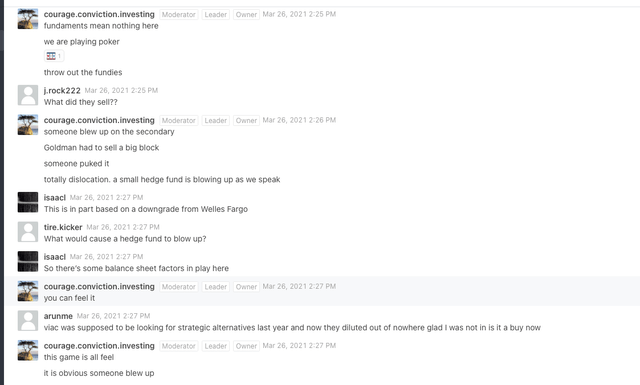 I started to get really, really excited. My spidey sense was tingling. I was playing the sequence of events in my mind. The stock was $96 on Tuesday and Mr. Market was offering it to us in the low $40s and there was no fundamental news and this isn't a Biotech stock that's only drug just failed its Phase II-b trials.
Again, VIAC priced a $1.7 billion secondary at $85, on Wednesday, and now Second Wind Capital members were loading our baskets from $41 to $44.
At my max sizing, intra-day, I was long 900 shares at 44.33 and sold 2 puts. I was at my 15% max sizing. I realized I was just over my limit and bought back the 2 puts and keep it at roughly 15% sizing (900 shares at $43.33).
If you go and look at the 'live chat' stream, I was fired up. It almost felt like being transported to one the world's most elite hedge fund trading desks and we got our fat pitch and the group was taking a shot. In my mind, my imagination said this stock rebounds to $48. It turns out it got over $49. Anyway, I ended up selling 400 shares between $47.90 and $49 and I sold 2 VIAC $45 3/26/21 calls for $2. Obviously, those 200 shares got called away this morning.

So going into Monday, I am only long 300 shares.
A lot of SWC members who happened to be logged in on Friday afternoon joined the party. The atmosphere was electric. We all collectively made some money. One member made $5k in VIAC call options in an hour.
If you are more trading oriented and looking for idea generation, you might want to try Second Wind Capital. 
Happy Trading/ Speculating. 
Analyst's Disclosure: I am/we are long VIAC.
Seeking Alpha's Disclosure: Past performance is no guarantee of future results. No recommendation or advice is being given as to whether any investment is suitable for a particular investor. Any views or opinions expressed above may not reflect those of Seeking Alpha as a whole. Seeking Alpha is not a licensed securities dealer, broker or US investment adviser or investment bank. Our analysts are third party authors that include both professional investors and individual investors who may not be licensed or certified by any institute or regulatory body.