This article is selected chapters from my book the Turbo Turtle, where I attempt to explain in detail how trend following is the only way to speculate in the forex markets.

There are several books on trend following and Turtle trading but none of them approach this simple yet lucrative trading style with the small trader in mind. The biggest and most successful hedge funds employ the trend following method but nobody has ever tried adopting this system for the average, smalltime trader or investor.

A while ago I purchased the Turtle Trading System from Michael Covel via his web site. It cost me approximately nine hundred dollars and set me on a true path of discovery for the truth behind this elusive methodology. At the time of my purchase the Turtle System was still very much a secret, a secret in regards that all traders who employed this have made a solemn vow of secrecy to Richard Dennis upon their induction to the course.
Naturally, I was curious if Mr. Covel was a "Turtle" himself and chose to disregard this promise of secrecy or, had he learned it second hand?
I was a little disappointed with the material I have received from Mr. Covel in regards of direct application of the system as it was impossible for an average trader. Did I just waste nearly a thousand dollars on some internet scam? Or was this system indeed one of a kind and possibly the answer to struggling traders everywhere?
At the time of purchasing Mr. Covel's Turtle trading course I was a veteran trader and I must admit I was not a most successful one. I have tried my hand at professional trading on the Chicago Board of Trade and of course on Wall Street.
To my dismay most people, even close associates, steer traders into trading for the short term, darting in and out of the markets, ignoring the longer term moves hence sacrificing bigger profits.
Long-term Currency Trading as an Inflation Hedge
The rule of 72 says that if we have 4% inflation, our currency will be worth half of what it is today in 18 years. Of course inflation sometimes runs faster. In 1975-1985 the dollar was halved in that 10 year period. I think our currency will be halved in the next few years. 20% inflation would mean our currency would be halved in 3.6 years. I am not in custom to predict the future, but knowing these facts could help the reader navigating in the coming perilous financial times.
Currency values are exchange rates between pairs. The same, more or less, as is the inflation in Europe or Asia. The trick is to identify the strongest currency for the long haul and trade it on the long side and short the weaker ones against the strong.
The Demise of the Dollar
The dollar, due to "We The People" and a few politician's inability to curb government spending, is on a long downward spiral. This move has not manifested itself more as we gauged the US dollar against its main competitor, the Euro or the British Pound Sterling. This is, in part, due to the poor education the average currency trader gets from Forex brokers and self appointed "experts".
Since these major currencies (along with the issuing courtiers) suffer from the same maladies the greenback suffers, the mutual weakness of these other currencies hide the true weakness of the dollar.
In addition to this fact, the dollar historically enjoys the reserve status. Where in any political and economic uncertainty, the dollar, no matter how weak it may be, gets propped up by investors fleeing their own currencies.

The Turtle method does work, and it works well especially for long trending currency moves. Here are the caveats with it:

1. The majority of people don't have the discipline to follow it because only about 5-10% of the trades are really big winning trades; sometimes that is only 1 or 2 trades a year. If you miss these trades, the system will lose you a lot of money.

2. People prefer day trading because it offers more action and thrill.

3. Most novices ignore "position sizing" which is the most important aspect of trading.

Before we go further let me give you a little folklore in Chicago trading history.

The pivotal personality to the Turtle legend is the oversized figure of Richard J. Dennis
, a commodities trader, also known as the "Prince of the Pit."
Richard was born in Chicago, January, 1949. In the early 70s, he borrowed several thousand dollars and reportedly made $200 million in about ten years.
Dennis earned a bachelor's degree in philosophy from DePaul University, then accepted a scholarship for graduate study in philosophy at Tulane University, but then changed his mind, and returned to his trading on the floor of the Chicago Board of Trade.
In a stark contrast to the vast majority of floor traders, who quickly "scalped" trades in and out of the market, repeatedly throughout a trading day, Dennis held positions for much longer periods, seeking to profit from riding along with a trend. He traded commodities from the floor like institutional mutual fund managers invest in securities — riding out short term fluctuations and instead of scalping, holding over the intermediate term to capture significant moves. Dennis often pyramided his positions. In time he realized that moving off the floor would enable him to monitor more markets with more comfort, so he opened an office upstairs in the Chicago Board of Trade.
Dennis prospered enormously, and early, in an era in which "anyone with a simple trend-following method and a dart board could make a million dollars," a period of repeated crop failures, and such consequent events as the "Great Russian Grain Robbery" of 1972, when Russian agents secretly purchased 30% of the U.S. wheat crop in the space of a few weeks, which set the stage for solid, sustained price trends in both directions for the next several years.
Dennis firmly believed that successful trading could be taught. To settle an argument on that very point with William Eckhardt, a friend and fellow trader, Dennis recruited and trained 21 men and 2 women, in two groups, one from December 1983, and the other group from December 1984.
Dennis trained his "Turtles", as he called them, for only two weeks. He then gave each of them a million dollars of his own money to manage, and proceeded to turn each one loose on the markets. When his experiment ended five years later, his Turtles reportedly had earned an aggregate profit of $175 million. Some of those Turtles began and continued careers as successful commodity trading managers.
Dennis managed pools of capital for others in the markets for a while, but withdrew from such management after his clients suffered heavy losses. In the Black Monday stock market crash of 1987, he reportedly lost $10 million, with a total of $50 million reportedly lost in 1987-88. In 1990 his firm settled investor complaints of his failure to follow his own rules, for over $2.5 million, without admitting any wrongdoing.
Later Dennis published op-ed articles in The New York Times, The Wall Street Journal, and the Chicago Tribune. He is the president of the Dennis Trading Group Inc. and the vice-chairman of C&D Commodities, a former chairman of the advisory board of the Drug Policy Alliance, and a member of the Board of Directors of the Cato Institute.
Eckhardt never finished his PhD in mathematics, claiming that he left graduate school for the trading pits after an unexpected change of thesis advisors. Despite leaving academia prematurely, Eckhardt had published several papers in academic journals.
William Eckhardt later founded Eckhardt Trading Company ("ETC"): an alternative investment management firm, specializing in the trading of global financial futures and commodities, which manages over $1 billion in managed accounts, domestic and offshore products. The firm's international clientele includes "fund of funds", corporate, private, and institutional investors.
Rich and Bill trained his Turtles in the Union League Club in downtown Chicago, an unlikely place for the group where the ambiance was in direct conflict with Dennis and his Turtles.[1]

Top earning former Turtles (now hedge fund managers);

Jerry Parker  at Chesapeake Capital
Paul Rabar at Rabar Market Research
Liz Cheval  at EMC Capital
Howard Seidler at Saxon Investment
Tom Shanks at Hawksbill Capital
Jim DiMaria atJPD
Michael Dunn
Salem Abraham
Bob Pardo
Bernard Drury
Mike Shannon
There was/is a minor controversy amongst the vendors and systems sellers who are the most outspoken promoters of the Turtle System. There was a lawsuit involving the use of the now trademarked Turtle Trader name. There was a fight and as I have heard an additional lawsuit between the two Turtle authors, Mr. Covel and Curtis Faith. The core of the controversy was the alleged lack of trading records of Mr. Faith and the fact that Mr. Covel was never a Turtle or a trader for that matter. He is a self described financial journalist/author. This being said, Mr. Covel is a very knowledgeable author who wrote a very readable and detailed book of the subject.

There is also a controversy of the Turtle rules of these two authors such as how many units they traded per market? What constitutes being "loaded"? The rule Curtis states is 4 units, according to Covel is 5 units.
In addition, there are discrepancies in the two books of what were the portfolio management/diversification methods. The original rules state 6 units in closely correlated, 10 in not correlated and 12 long/short overall. And… there is the issue of pyramiding - both Mr. Faith and the original rules state pyramiding every 0.5N - Covel claims it was every 1N to keep the 2% risk.

In his book, the "Complete Turtle Trader", Mr. Covel alludes to this apparent discrepancy.

"However, as long as the risk Faith was taking was within the parameters, this was not considered a big deal. DiMaria was quick to correct that view: "No, not within the parameters. That was sort of the standing joke. There were parameters and then there were Curtis parameters. He just got to do whatever he wanted. It's as if the whole thing was decided on the 'who knows what?' criteria. Who were going to be the good traders and who weren't? And returns be damned! It was totally fundamental. It was, 'Mike Cavallo, he's like the smartest guy in the program. We got to give him a lot of money.'
I was at the other end of the spectrum. Maybe because I was a control person and they thought I wasn't going to be anything." Mike Cavallo, who viewed the allocation process as a meritocracy, did end up having some questions, too. He thought Dennis was partly awarding trading aggressiveness, placing bigger bets with Turtles he thought were trading better, but even Cavallo could not understand Dennis's decision- making logic when it came to Faith.
He said, "It seemed like Curt was trading too aggressively and too riskily and yet was getting rewarded for it. He was making the most, although probably not on a risk- adjusted basis. So at the time, it was just sort of puzzling. I'm not particularly a jealous person, so I wasn't too worried about it." Cavallo knew Dennis had become very successful as a very young man by taking big risks.
The implication was that Faith was Dennis's chosen one. Others said the C&D brain trust were enamored with the fact that Faith was so young. It became increasingly apparent that the whole subject of allocation issues was just an entry into the central sticky issue of the program: favoritism. The disparity began almost out of the gate. There was a heating oil trade only weeks after the Turtles' initial training in 1984. The Turtles were supposed to be trading much smaller sizes.
They were supposed to be trading "one lots" or just one futures contract. Faith apparently traded much larger and made more money than all of the other Turtles. Cavallo thought Faith had exceeded what they were allowed to trade, but he also thought an arguably reckless or "go for the jugular" attitude may have elevated him in Dennis's eyes.
It kept coming across loud and clear from assorted Turtles: Faith's trading didn't reflect what they'd been taught. Cavallo, the Harvard MBA, was brutally honest: "It wasn't at all what we were taught. In fact, you could say it was slightly counter to what we were taught."
Even though Cavallo was making millions and was easily considered a top- grossing Turtle at the time, the fact that Dennis gave more and more money to Faith perplexed him. Cavallo had no ax to grind in talking about Faith. In fact, years later he served on the board of directors of a firm Faith had started. Why was Cavallo concerned about Faith's style of trading?

He worried that Faith was risking so much that he could ultimately be ruined (as in mathematical risk of ruin). From that first day of class Eckhardt had pressed home the point of managing risk, but many Turtles saw it almost immediately being ignored by one of their own. DiMaria, who was only eighteen months older than Faith, saw everyone playing by the rules during the program except Faith. He said, "That would go to position sizing, markets traded . . . he was the special boy wonder. So he could do things that the rest of us couldn't. He probably doesn't realize that. Did he have special rules ahead of the game, or did he change the game and then ask if those new rules were okay?"
[1] From "The Way of the Turtle" chapter 3 The First Two Million is the Hardest.
---
Conclusion

For quite some time the battle has been raging on; what brokers are better than others?
To answer those points, let's first define what ECN brokers are.
ECN means Electronic Communications Network. Those type of Forex brokers works in a way to enable their clients, whether they are other traders, banks, business makers, to compete, namely to trade, against each other in a system where those same clients can send and receive bids and offers.
The rules are but simple: those clients are matched according to their needs and they simply get the best offers for their real-time trades.
The ECN broker is only covering a small fee for this market service. This commission is the only revenue an ECN broker will receive. They do not earn money for the bid/offer difference (commonly called 'spread' in the Forex market). Thus those brokers do have variable spreads all the time.
So since a while traders noted that ECN were doing better than others.
Are they really the market saviors?
As we know, the market is always changing and who has not heard someone complaining 'why are my spreads so wide? 'Or 'I never got slipped that way, what is happening?' and so on.
Of course, all Forex market strategies are ever-evolving. Anyone looking at some economic reports from those firms can see where some good profits can be done. Those involved in the retail trading market either joined some data release signal clubs or are getting news services or simply are going, just before a release, for their favorite pair. All those small retail markets do get on the data game. Lots of virtual profits are possible with them.
Before taking it further, let's talk about the other types of brokers.
The STP Broker
While the STP Forex broker (Straight through Processing) will send all the orders being received from their clients to the liquidity providers. The traders have access to the real market; and can do the trades right away without any dealer intervention.
As such, one can find lots of banks and liquidity working with them so there are more advantages for the customers.
People will refer to STP brokers as if they were ECN brokers: but to be a true ECN broker, one must:
·       provide the DOM (Depth of the Market) in a data window
·       enable their clients to show their own order size in the system
·       permit other clients to get those orders
Of course, the traders are able to see where the liquidity is and to execute trades
Such Forex brokers (STP ones) are paid through the spread. These spreads can be variable or fixed.
Variable spreads are done leaving the spread at zero then letting the market take the best bid/ask from all the banks involved. So the more, the better! All client orders are directly forwarded to the liquidity providers (banks) at the original spread quoted by those providers.  Usually a pip, or half a pip or any other amount, are added to the best bid and a pip is subtracted at the best ask of the liquidity provider. The STP broker gets the spreads from the banks on the Interbank market. Note that most banks offer fixed spreads.

The broker will then add his/her own small markups to that spread. This is how they are making money and in no way are they trading against their customers.

Next, let's talk about a major category in the Forex market: Dealing Desk brokers and Non Dealing Desk ones.
Dealing Desk and Non Dealing Desk

The first kind (DD for Dealing Desk) Forex brokers will put their orders though the DD (Dealing Desk) and will give fixed spreads to their customers.
Such brokers make money via the spreads and by trading against its customers.
They are literally called 'Market Makers': as they make the market for the traders, e.g.: a trader wants to sell? The broker will buy from him/her! A trader wants to buy? The same broker will sell to him/her! So they are always on the opposite side of a trade thus creating the market.
The trader will never have access to the real market quotes. That permits the DD Broker to use the quotes to his/her own benefits whenever they are dealing with a client.
To resume, the DD broker will earn his money on the bid/ask difference and also when a customer loses a trade. Fact being, the broker is trading against his/her clients (thus entering in an opposite trade).
The second kind (NDD for No Dealing Desk) Forex brokers do not use any form of dealing desk. They will give access to the Interbank market directly. They work with the liquidity providers (banks mostly) to get the best bid and ask prices.
They can trade during news time with no restrictions given there are no re-quotes neither no order confirmation.
Those brokers (NDD brokers) get their money either by increasing the spread (thus making a commission fee) or by directly charging a commission for trading.
The NDD brokers are either STP Brokers or of an ECN+STP kind.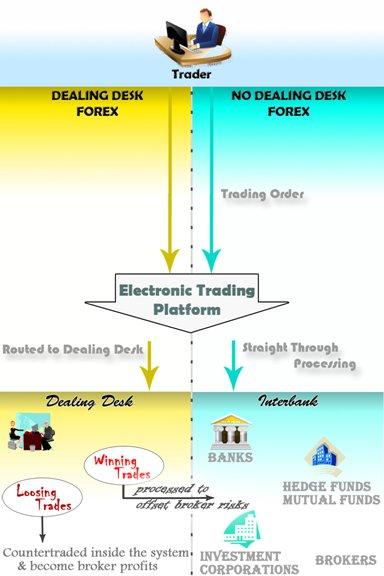 Why trade with a NDD Broker?
There are three main reasons to trade with a NDD Broker:
One - Transparency
The trader will enter the real market and not an artificially created one, like if he/she were dealing with a DD broker.
Two - Better and faster fills
This is the result of having a direct and competitive market bid and offers.
Three - Anonymity
No DD is watching who is coming to the market neither asking for any order to be filled. Rather the client orders are done right away through the system network in a 100% anonymous way.
…and what about the DD Broker?
They are able to follow-up, namely to profile, their clients so no anonymity here.
A good example is when a DD broker will split his clients into smaller groups and auto-trading against them because he/she knows on average the client will lose. What if it is a client having success? They will be given frequent re-quotes, slippage and/or slower execution time mostly when there are fast moving markets to allow the broker to offset his own trading risks. Call it being put on the 'slow mode'.
The transparency is a give or take mostly because it depends on the company rules.
Please remember, those brokers (DD or NDD) are not against any particular trader. They are to there to make money and increase business. Meaning, they will not just work for their clients in a cooperative way. Lots of Forex brokers with lots of clients will indeed help their clients to become successful but please remember: once a trading order is on the table, it is everytrader for themself.


What is happening then with ECN?
People are then asking: why would ECN type brokers do any better and how?
The right answer is with the liquidity providers and with their relationship with the Interbank system.
The explanation is good for most retail brokers. Take into account that relationship is not easily defined because it does come into various forms.
First, when trading, you do have a counter party to all your transactions: the retail brokers.
When you are trading on the exchanges, you sell and another one buys and, from that, the exchange broker gets commission to help with the deal.
So at MyBrokerFX, when you buy, MyBrokerFX is selling and when you sell, MyBrokerFX is buying. Of course, MyBrokerFX can take your position and handle the whole with their liquidity provider. They will put the whole into a pool, take your position with a given liquidity provider that equals their total position. Or they may just keep it in house knowing you will probably lose no matter what.
As  such, there are really only one to two steps between you and the liquidity provider (banks), hedge funds or other brokers handling the opposite end of your position in an ECN type marketplace.
Those one or two steps are where your broker's problem starts when the market is highly volatile, like during an economic release.
Maybe your broker did promise you some 'fixed spreads', 'guaranteed fills' and/or 'zero slippage'? Or maybe he/she has not slipped you or widened his/her spreads yet because just taking it from the liquidity pools is enough and your broker wants you to be happy?
Then again... the world is but changing. You will find lots of MyBrokerFX clients starting to trade the news. Of course, some may be successful! Why? Because the market reactions are very predictable! And those customers have been educated and trained on the whole strategy!
But since things are changing.... MyBrokerFX is losing lots of money! The business model they are used to does not work during economic releases.
Why you may ask? Because of those one to two steps between the customer (you or others) and the whole real market.
As another example, MyBrokerFX is selling to you, and to lots of others customers, Yens (or Euros or …) when no one else in the Forex world is doing it! What is happening then? Nobody is selling those currencies to MyBrokerFX either! They cannot cover it!
What will be MyBrokerFX' next move? If you are a trader, you already know the answer: MyBrokerFX will widen their spreads, add slippage or simply close during those economic releases.
You as a trader, or someone else, do have an expectation when you are buying or selling. You want things to happen. But when you are ending up in a lesser position than first thought... what should you think then? It did happen to you, right? For some, once, for others a lot of the time. Did your broker try to make quick cash on your behalf? Hey! We all think he/she did! Your friends are thinking the same so what's the deal then being with such a system!?!
Looking around, you are all getting the same news from that old business model.
You then start looking for something better....
ECN knocking at your door!
Until you hear of something new: ECN.
They promise things done better: 'No dealing desk', 'True Interbank access', 'Spreads as low as 1 pip', 'STP (Straight Through Processing)', 'We will never take positions against you' any more !
Too good to be true?
You then do a trial with some demo account. The spreads are low and more and more! Then the more you play with it, the more it turns out to be not exactly what you first thought of it!
ECN: what is it really?
All our expectations are tied to a simple fact:
What we know about the marketplace. Being honest, can anyone say they really know what to expect in the real Forex market?
That's why when trying out ECN brokers; we can expect them to work like they used to in the good old days but with tight spreads and no dealing desk (NDD).
It turns out the first thing you DO notice when trying that ECN demo account: slippage.
How so if there are no dealing desks (NDD)?
The reality is, in an ECN environment, slippage is not exactly what it seems to be. Nobody is slipping you. Fact is the ECN broker is simply giving you what you did ask for.
You asked for some market order to go long on the Yen (or Euro or dollar or ….) and that is exactly what your ECN broker is providing you!
Going back to our simple point above: remember than many of us have no idea what a real marketplace is all about!
Do you really think you can buy the Euro at the price on your screen like you will buy some apples having a price tag at your local store?
How did people ended up thinking like that?
Because MyBrokerFX and all those Forex brokers simply trained us to think that way!
They made everything very easy to understand. They gave us lots of simplicity in complex areas. Of course, giving us lots of simplicity means lots of brokers knowing what the real market is simply made profit on our behalf!
Let me explain it with a short example:
In the real Interbank system, an order is simply a request at the market price. Remember that the market is not static! It is going up and down all the time! Sometimes slow, sometimes very fast!
You may order a Euro at 1.3150 but the slight moment it takes you to push the button, send the order and match a buyer.... the market price is then at 1.3154 !
Were you lucky to get a buyer?
During some economic releases, when the market is really volatile, you might have to wait for the Euro to be at 1.3195 before being able to buy it!
Think again: if the US Federal Reserve is releasing a USD negative statement, do you think people will be fool enough to start selling a Euro?
This is the real market! This is the real world! This is a pure NDD system. No broker here is making the market! Sometimes there is a buyer at the price you want, sometimes there is no one!
You might believe you just ended up as before with your old DD broker? You did not! You just entered the real marketplace and it is given you what you did ask for!
Point being: most of us did not know at first what we did ask from that market!
Then some days later with your new ECN platform, you get your first report.
First, the good news; you do not get the 25, 35 or even 50 pip fixed spread you were getting with MyBrokertFX!
But you do notice the spreads do widen a few pips and they seem to jump around a lot, especially on the British pound. The spreads widen, narrow, even invert and just a few seconds before the release! It seems really scary, no?
Think of it this way: banks are pulling their orders and you will always have those last minute traders taking positions!
This is the real world reality of the Interbank system. It is cold, dangerous and scary. This is the market with buyers, sellers and whatever both of them can bear. No guaranteed stop losses in this world!
You will then notice your broker commission. Remember the bid/ask price you saw on your screen is the price being offered in the ECN system. Unlike MyBrokerFX, your broker profit is not hidden in some difference between your price and the liquidity provider price. So for him/her (the ECN broker) to make some profit, he/she is but charging you some fee or commission.
The commissions do vary from one broker to another. As well, most retail ECN brokers will ask on the average for a commission equivalent to 1 to 2 pips per round turn. All depends on the currency pair.
Remember that when it is time for you to take position, you must expect your ECN broker spreads to be better than MyBrokerFX, so it must show a spread of 1 or 2 pips or less, right ?
Reality is: it is not always the case. You will sometimes get better spreads, sometimes not!
So what's so good about ECN?
One word - transparency…
Or what seems to be some promises of transparency! You might get attracted by the spreads and simply afraid of dealing with the real marketplace!
You can see and deal with the real market so no one can cheat you, right? Everyone wants a fair deal.
Things can turn out that your old MyBrokerFX broker might not be so bad after all. It might have taken fair spreads and they did not lie or cheat you in any way.
Over the years, lots of people were disgusted by their brokers not to mention that business model does put MyBrokerFX into a distrust position. People all over the Forex market were screaming for transparency!
So is the ECN marketplace really transparent? Not really. The only way would be if everyone involved, including the retail trader, has access to the feeds. Unless you have such a central clearing then you cannot expect to play into a really transparent system.
Should I open an account with an ECN broker right away?
This depends on you. If you find your old DD broker is not obsolete and works well for you, why should you change?
New or small account traders might find lots of advantages to working with DD brokers. Remember some of them do guarantee no negative balances: you will never lose more money than you have in your account. This feature alone might be the safety net lots of us are willing to have before committing ourselves to the Forex market.
Others DD brokers provide leverage of up to 400:1. For some of us, it might be very attractive. It might make those stop loss and no negative balance guarantees very interesting after all.
Think about it: having that 400:1 leverage makes the no-negative balance protection a must!
Finally, your old DD broker does offer those fixed spreads. For those of us trading at unusual times, like for the Asian market, fixed spreads are way better than the Interbank, especially for the pound.
So are ECN brokers really so good after all ?
It all depends on you!
You did read and understand each type of broker's structure and advantages? Right? Generally speaking, experienced and active Forex traders will be more than happy to work with ECN brokers while a newcomer will find himself/herself at home with a DD broker: both for the simplicity and the safety features.
Conclusion
STP brokers make their money on spreads. Even if not having a physical DD (dealing desk) to check or counter-trade their clients orders, those brokers can provide their own prices (the spread markup) to route the trading orders to their liquidity providers. Of course, to provide their customers some advanced trading services, faster execution time, lower account deposits and an anonymous NDD trading environment, those brokers main interest is your trading profitability so they can earn long on the spreads.
Market maker (DD) brokers make their money on the spreads and, of course, by hedging against their clients. Let's not forget, if you become too profitable, you might upset your broker! Huge and reputable firms should be able to handle clients like you while smaller ones might ask you to leave.
Finally, the ECN brokers do not make profits on the spread difference, only from their commissions. They are only interested to see you as a winner since winning make them money (commission) and if you do not, they don't!