With Gold (NYSEARCA:GLD) and its poorer cousin Silver (NYSEARCA:SLV) recently catching so many people off guard it could be easy to fall for the many sensationalist claims that we keep hearing about.
Firstly I don't believe Gold Prices of $50k or even $10k are likely in the foreseeable future nor do I see Gold declining much lower. That is however not to say that there wont be any additional decline under recent lows.
Its easy to become victim in the recent panic and be swayed by the many opinions out there which at times begs what these claims are backed up with.
To begin with, understanding what the production cost of Gold is, I would be rather surprised to see Gold fall below $1300/Oz and Silver $21/Oz. It most certainly is capable of doing this yet I'd envisage it to be short lived.
Of late there has been a clear deflationary tone to the global economy. Lets look at US inflationary data on the above chart. Inflation since last year has been trending downwards, so its no surprise that precious metals have declined. While inflation remains above 1% I'm personally confident that any correction or bearishness will be contained however also note that where QE1 and QE2 has caused spikes in inflation QE3 has not had this effect.
There is no doubt that QE3 has artificially allowed the stock market to reach new highs recently. Whether the rally continues that remains to be seen however looking at Junk Bonds (NYSEARCA:JNK) and Small Caps (RUT) they remain upbeat.
With a slow down of production in China and expectations of key regions such as USA and Europe not meeting GDP forecasts this has further placed fear in how much the global economy is actually growing. I like to look at a few commodity indices as leading indicators on global sentiment. Comparing commodity indices such as Power Shares DB Agriculture (NYSEARCA:DBA), Power Shares DB Base Metals (NYSEARCA:DBB) and Power Shares DB Commodity Tracking Index (NYSEARCA:DBC) they are all at long term lows. Not quite that of GFC levels and I wouldn't expect levels to that magnitude anyway. So in summary Im of the opinion commodities are trending at major support levels.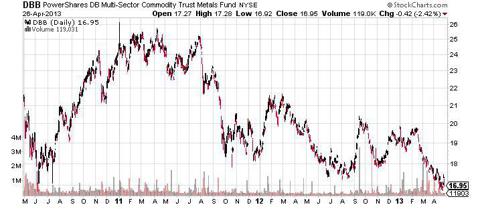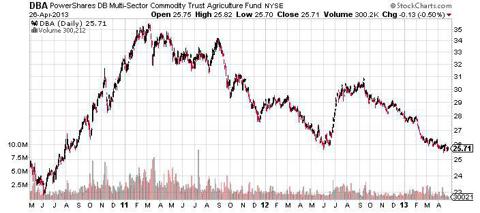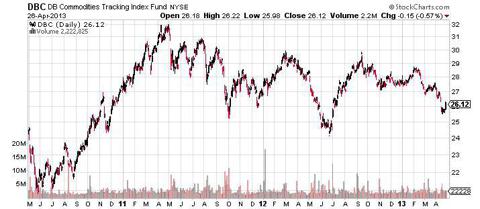 The last thing I wanted to touch on to add to the uncertainty already in Precious Metals is the price of Oil Futures and their state of Backwardation.
At the time of writing the Spot price for Crude Oil (NYSE:WTI) was $92.81 yet future prices of:
$88.33 for December 2014 contracts &
$86.29 for December 2015 contracts.
With future prices of oil nearly always in a state of Contango to allow for storage fee's and interest etc this is highly unusual. So what the market is in effect saying is it's expecting a decline in oil prices in the foreseeable future. This isn't a positive sign for our beloved precious metals.
So in closing while I have no idea where price may go, for the reasons above I don't expect further downside unless Inflation were to dip under 1% and GDP announcements surprised significantly to the downside. At the same time I wouldn't be expecting Gold/Silver to make new highs any time soon due to the uncertainty the market is embracing right now and a lack of significant growth and inflationary pressures.
Disclosure: I am long GLD. I wrote this article myself, and it expresses my own opinions. I am not receiving compensation for it (other than from Seeking Alpha). I have no business relationship with any company whose stock is mentioned in this article.
Additional disclosure: I may further initiate long positions in "GDX" and "SLV" over the next 72 hours.