I was working on a few metrics on well known DGI stocks and decided to publish a couple of thoughts here in my blog. Basically, I picked several stocks that are all around articles in the income & dividend section. I picked 12 stocks that were chosen in several articles as the most favored by various contributors. These are... XOM, CVX, MCD, KMB, KO, PG, JNJ, PEP, SO, CL, GIS, O. I wrote about O in a previous instablog so I'm excluding it from this analysis. Also, this stock requires a different set of metrics because REITs are valued in terms of funds from operations and not earnings.
The first metric that I wanted to analyze is the payout ratio. I had an idea about the dividend coverage but I didn't imagine that some of these companies were paying almost 100% of earnings.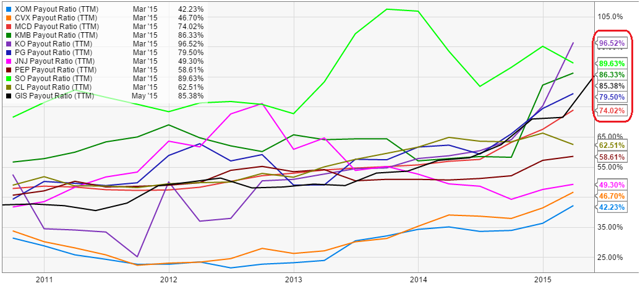 (Source: YCharts)
The next metric I chose was Price to Earnings Ratio. Anything above 18 is a bit frothy in my opinion. 5 of these stocks are trading above 25x earnings.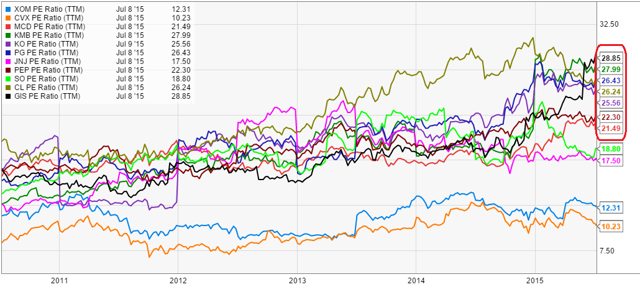 (Source: YCharts)
One of the qualities that DGI authors always point out is the potential these stocks have for reliable dividend growth. This is in fact true, as shown below.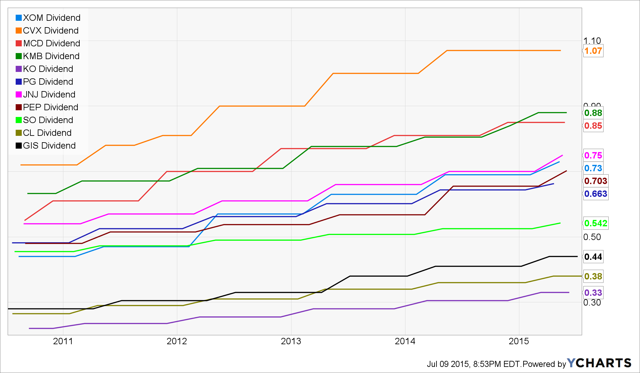 (Source: YCharts)
Now for the tricky part. Earnings don't follow this trend, not even close actually.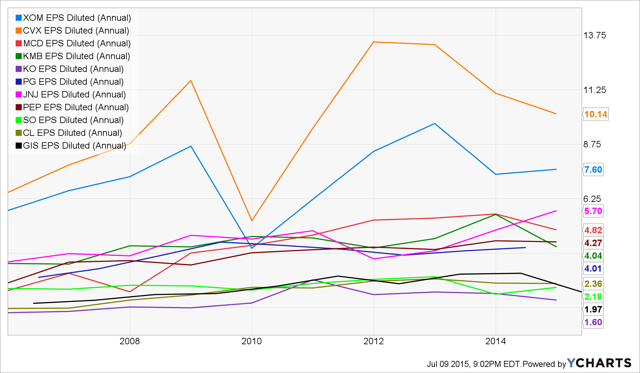 (Source: YCharts)
I prepared a spreadsheet with the compound annual growth rate for both earnings and dividend growth. Here's what I found...
 
2010-2015
 
 
a
b
 
 
DIV CAGR
EPS CAGR
(b - a)
XOM
8,20%
1,15%
-7,05%
CVX
7,33%
-0,60%
-7,93%
MCD
7,10%
-0,45%
-7,54%
KMB
5,08%
-2,19%
-7,28%
KO
6,26%
-7,52%
-13,77%
PG
5,46%
-4,78%
-10,23%
JNJ
5,25%
2,63%
-2,61%
PEP
5,88%
1,55%
-4,33%
SO
7,68%
-0,06%
-7,75%
CL
6,27%
2,73%
-3,54%
GIS
8,83%
-2,08%
-10,92%
Dividends have increased at an astonishing pace, however, earnings per share are - in some cases - negative. The period is 2010-2015 (6 years), and I used the current trailing twelve months earnings as an estimate for year end 2015. This may prove to be a little too optimistic, with corporate earnings suffering due to dollar strength and other circumstances.
I didn't devote plenty of time to this analysis, it's more of a "share as I think" kind of thing. If there are any factual errors, I kindly urge the reader to point them out.
In my opinion this seems like a perfect storm. Chase for yield + high payouts + declining earnings + interest rate risk = Be careful.
Of the name above, I believe there's value in the energy stocks, XOM and CVX. I'm following a couple of ETF's (VDE) and (XLE) to go long the energy sector.
Regards,
CFB