In case you're wondering if one of your holdings is going under, you're not alone. Lots of dumping on the Venture today. Mainly exploration stocks as usual. Anonymous and Canaccord were the main culprits. Looks like another fund imploded today. Have a look at the top volume traders. this is some of the highest volume I've ever seen and all but one is red or even. It's as if the TSX big board dropped a thousand points or something. But we know what it is, just another day of suspicious trading in TSX Venture penny stock land.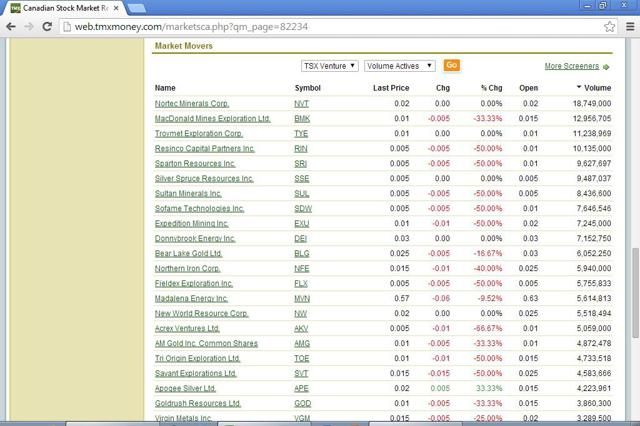 This one is even more telling. The biggest % losers on the day. Look at the names and symbols of all the 50% losers. Its as if some bot was instructed to sell off every explorer with a first letter from R to U to 50%.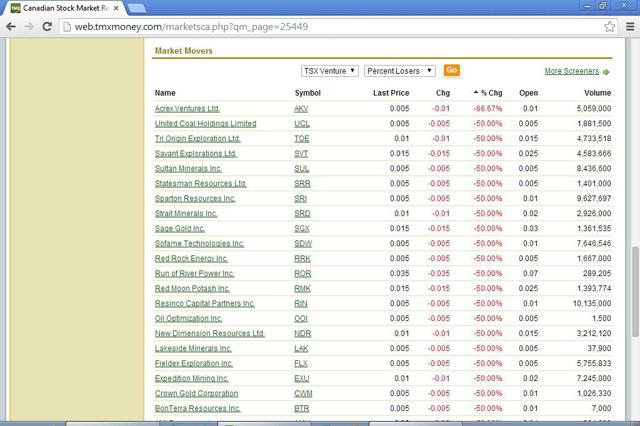 Additional disclosure: I have not received any compensation for this article and all opinions reflected herein are my own. The information provided herein is strictly for informational purposes only and should not be construed as a recommendation to buy or sell, or as a solicitation of an offer to buy or sell any securities. There is no guarantee that any estimate, forecast or forward looking statement presented herein will materialize and actual results may vary. Investors are encouraged to do their own research and due diligence before making any investment decision with respect to any securities discussed herein, including, but not limited to, the suitability of any transaction to their risk tolerance and investment objectives.