Peak Positioning Technologies (PKK on the TSXV) agreed to acquire Quickable for total consideration of $2.5M to be paid in a mix of cash and PKK shares and is scheduled to close on May 2. The market, including myself, liked the news as PKK rose 120% to 5.5 cents. The deal appears favorable to both parties as PKK's market cap is still only $4.9M although some dilution will take place once the full nature of the transaction is known.
Quickable.com is a website and app designed to make the process of selling goods online quick, convenient and simple with a capability of selling from your Smartphone. You take a picture of the item you want to sell and scan the barcode (if one is available - otherwise you manually enter in description) with your Smartphone. Quickable will enable you to sell your product across a variety of platforms including Craigslist, eBay, Facebook and Twitter with only one listing. You can visit the Quickable website or have a look at the screen capture below for more details on how it works.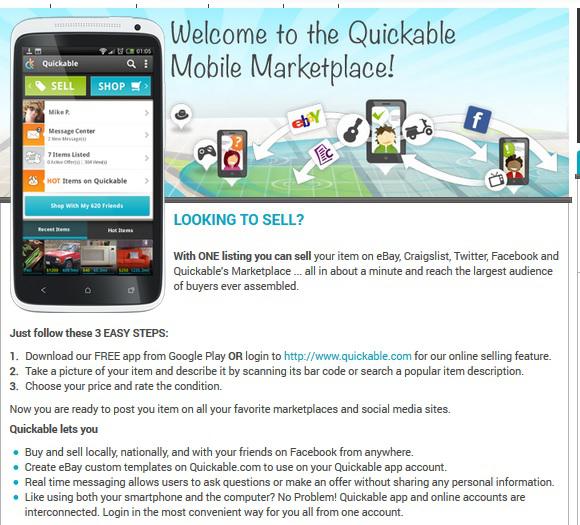 Peak has the opportunity to turn Quickable into a big earner for the company. The news release states:
"The Quickable(NYSE:SM) platform was launched in July 2012 and is currently available to US subscribers only. As of the end of February 2014, Quickable(SM) had over 115,000 registered subscribers accounting for a total of more than USD$22,000,000 in gross merchandise value."
And:
"As part of its due diligence of Quick Tech, Peak mandated an independent Maryland based technology consulting firm to conduct a thorough technical analysis and review of Quickable(SM), and to provide Peak with a detailed report of its findings. "Based on the technical due diligence report and our own assessment of the platform, I can confidently say that Quickable(SM) is a very robust and flexible mobile e-commerce platform", commented Varujan Tasci, Peak's Chief Technology Officer. "I am also of the opinion that this type of technology will fit extremely well with our overall strategic vision and bring significant value to our various stakeholders", he concluded."
With GMV of $22 million since inception 20 months ago, Quickable has an opportunity to make money by charging sellers a small fee as a percentage of the price of the goods sold; however it does not appear to be doing so at this moment. The PKK management team seems quite confident that this platform aligns well to the company's overall strategy and technology. I expect that to mean a positive impact to PKK's income statement later in 2014. When more details come out about this deal I will be able to do a deeper dive into PKK. But for now this looks like a great opportunity to get in at the ground floor so I did not want to risk waiting for that time and missing out on potential near-term price increases.
Disclosure: I am/we are long PKKFF.
Additional disclosure: I hold positions in securities as disclosed in this article. I have not received any compensation for this article and all opinions reflected herein are my own. The information provided herein is strictly for informational purposes only and should not be construed as a recommendation to buy or sell, or as a solicitation of an offer to buy or sell any securities. There is no guarantee that any estimate, forecast or forward looking statement presented herein will materialize and actual results may vary. Investors are encouraged to do their own research and due diligence before making any investment decision with respect to any securities discussed herein, including, but not limited to, the suitability of any transaction to their risk tolerance and investment objectives.