For those who read my blog, they are quite familiar with Grand Power Logistics Group, GPW on the TSX Venture Exchange. I believe GPW is one of the best stocks trading on the Canadian markets and their Q4 and full year 2013 financials released last week reiterates my belief.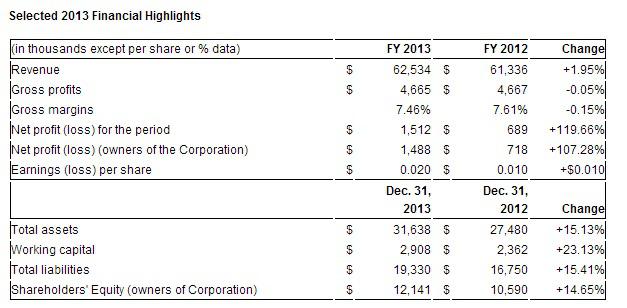 While the full year release shows a 2 cent EPS on an 8 cent stock with over $60M in revenues on a stock with a market cap of $6M, the full year results don't really tell the whole story. Year-to-date Q3 showed revenue was declining year-over-year. Q4 was a big turnaround quarter for the company, as seen in the quarterly breakdown.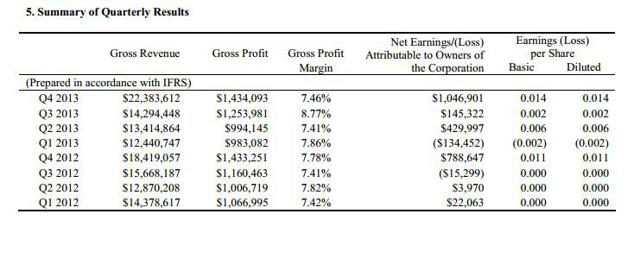 Revenue for Q4 was $22.4M, up 21.5% from Q4 last year. Net income was over $1M which led to a 1.4 cent EPS just for the quarter.

Reviewing a summary of the company's sales revenues by type and region as disclosed in its MD&A shows that while air freight continues to be the dominant source of revenue, ocean freight showed very strong growth in Q4 2013 to more than double of the previous quarter and triple of the revenues seen in Q4 2012. While GPW is known as a Chinese stock, it is actually in Hong Kong where the company has seen its greatest success while the business in China showed a recovery in Q4 after several up and down quarters.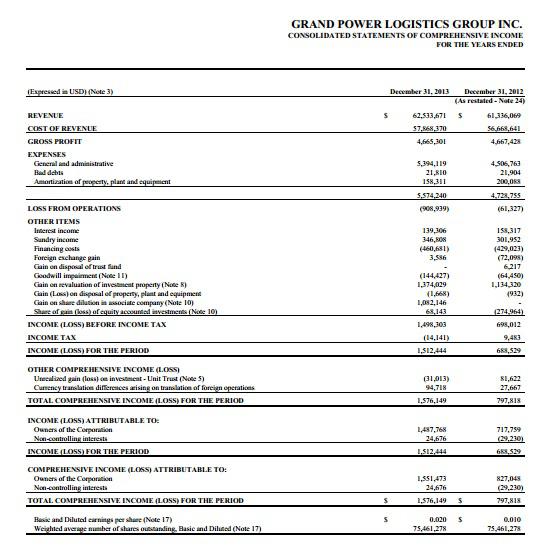 Operations showed a loss for the quarter as the net income came from $1M in gains made on the Yangshan project throughout the year which was eventually sold for a $3.4M profit in Q1 2014. I expect the balance of that $3.4M in gains to be recorded in Q1 which should be over $2M and lead to an EPS of around 3 cents.
One could argue that this EPS is based off of extraordinary events that aren't expected to occur in the future. My rebuttal would be the net cash or working capital per share for the company after the Yangshan and Macau deal will be in the 12 cent range, below current market price. So while you may be able to discount the Price to Earnings ratio to account for extraordinary items, the cash per share achieved from these two deals exceed the stock's current price of 8 cents so there is little downside on GPW no matter which financial metric or scenario you decide to use.
The operating loss for Q4 was driven by $900K in higher general and admin expenses, which means the company is likely hiring to account for future planned growth. This idea is backed up by the outlook provided by GPW's CEO for 2014:
"With the substantial gain in the value of its real estate holdings in 2013, the company is now evaluating the potential of diversifying its business into other sectors with higher potential for growth and capital appreciation while maintaining its core logistics business," said Ricky Chiu, President and CEO of Grand Power. "With our strong financial position and exciting opportunities available for growth and expansion, we look forward to the year ahead. We believe that the company is poised to advance to new levels in its business development."
GPW will release Q1 results by the end of May. I expect to see strong working capital and EPS figures from the sales that took place in March. I also look forward to see revenue growth figures in line with what we saw for Q4 2014 as well as the possibility of more opportunistic sales or the announcement of the growth businesses alluded to be the CEO in the comment above. I think GPW is an absolute steal at 8 cents per share.
Additional disclosure: I am long GPW.V. I hold positions in securities as disclosed in this article. I have not received any compensation for this article and all opinions reflected herein are my own. The information provided herein is strictly for informational purposes only and should not be construed as a recommendation to buy or sell, or as a solicitation of an offer to buy or sell any securities. There is no guarantee that any estimate, forecast or forward looking statement presented herein will materialize and actual results may vary. Investors are encouraged to do their own research and due diligence before making any investment decision with respect to any securities discussed herein, including, but not limited to, the suitability of any transaction to their risk tolerance and investment objectives.