In my previous blog post which briefly mentioned Keek (KEEKF), I was promised a message board of serious investors. Instead I saw a couple of upset day traders accusing me and Danny Deadlock of a pump and dump and that KEEKF's volume has dried up. Keek trades much more actively on the TSX Venture Exchange under the symbol KEK. What those investors wondering if Keek is a pump and dump are probably unaware of is the volume wasn't driven by myself or Danny Deadlock, but it was driven by heavy investment from a fund manager in Canada who already held significant interest in Keek's old incarnation of Primary Petroleum. The insider buys can be seen here: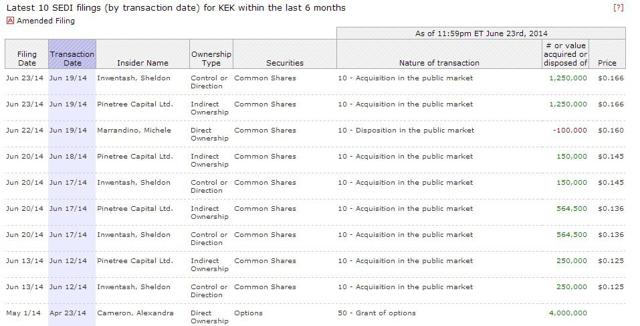 Pinetree Capital is a well-known fund in Canada led by Sheldon Inwentash which focuses on early-stage investment opportunities. Its portfolio has suffered in recent years thanks to the significant pullback of resource stocks on the TSX Venture but the company has made a bit of a comeback through POET Technologies Inc. (OTCQX:POETF) (PTK on the TSXV) and appears to be doing the same with Keek as it looks to get into technology plays.
Referencing the table above, Mr. Inwentash and Pinetree have combined to buy more than 4.4 million shares just in the time period from June 12 to June 19 with the biggest purchase made at 16.6 cents. The only dump that took place was from a relative of the former CEO for 100K shares. The buying represents nearly a third of all volume that occurred on KEK for that week. Looking at the buying history on PTK: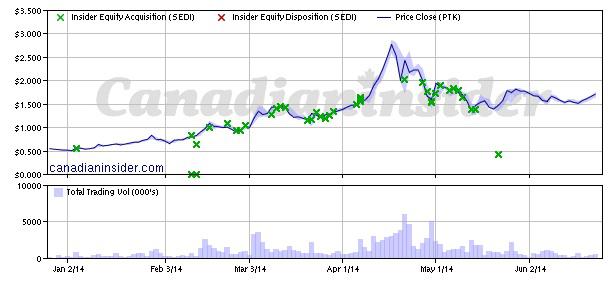 Suggests that once Pinetree determines a business is of interest to them, the fund is relentless with its buying as represented by the numerous green marks pointed out on PTK's chart over several months. Pinetree's recent buying spree on KEK was a little over $600K in cash. If the buying on PTK is any indication, KEK could be seeing a lot more investment from this fund with added buying pressure potentially causing the stock's price to spike. Since Pinetree started buying PTK in the $1 range, its stock price rose above $2.50 before pulling back to $1.50-$2.00 range where more buying throughout May took place.
Disclosure: The author is long KEEKF.
Additional disclosure: I hold positions in securities as disclosed in this article. I have not received any compensation for this article and all opinions reflected herein are my own. The information provided herein is strictly for informational purposes only and should not be construed as a recommendation to buy or sell, or as a solicitation of an offer to buy or sell any securities. There is no guarantee that any estimate, forecast or forward looking statement presented herein will materialize and actual results may vary. Investors are encouraged to do their own research and due diligence before making any investment decision with respect to any securities discussed herein, including, but not limited to, the suitability of any transaction to their risk tolerance and investment objectives.