Since my article on Stans, I have had dialogue David Vinokurov, Vice President of Corporate Development, to clarify some issues. There was some question as to how they $118M settlement was reached and if the mining licenses are still valid. I have provided a screen capture of this email conversation for those who wish to read it.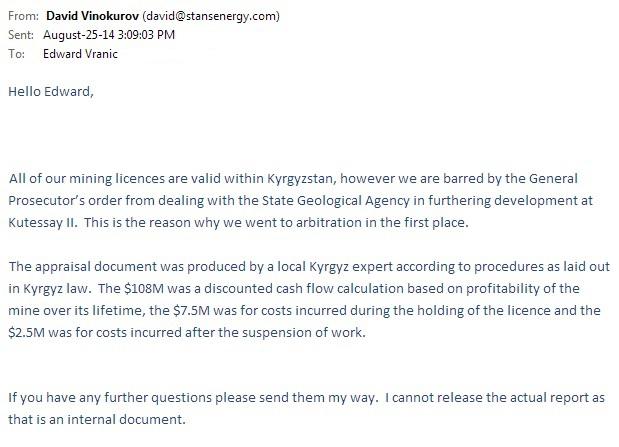 I can also confirm through this email trail that Stans is starting the collection process through its lawyers and that it has multiple targets in sight, including the Centerra shares. I am quite confident in the company's ability to eventually collect on this settlement, though it is too early to speculate on definite timing.
Disclosure: I am/we are long HREEF.
Additional disclosure: I hold positions in securities as disclosed in this article. I have not received any compensation for this article and all opinions reflected herein are my own. The information provided herein is strictly for informational purposes only and should not be construed as a recommendation to buy or sell, or as a solicitation of an offer to buy or sell any securities. There is no guarantee that any estimate, forecast or forward looking statement presented herein will materialize and actual results may vary. Investors are encouraged to do their own research and due diligence before making any investment decision with respect to any securities discussed herein, including, but not limited to, the suitability of any transaction to their risk tolerance and investment objectives.