While trading the TSX Venture over the years, I have seen no shortage of big claims made by companies that have led nowhere. Usually this is in the form of a plot of land that has some huge amount of mineral reserves in the ground and requires a large capital investment to get the project going. But there have been enough non-mining stocks that have disappointed as well. Even I got caught up in the hype and potential of Mobio before we had any solid numbers to back up its valuation at its peak.
Peak Positioning Technologies Inc. (OTCPK:PKKFF) (PKK.V) and its soon-to-be subsidiary LongKey Software have a much different feel. LongKey is in the process of being acquired by Peak. The TSX Venture Exchange has approved the acquisition, and Peak will own 51% of LongKey upon closure of a concurrent $1.6 million financing with eventual plans to acquire the entire company.
The specific targets made by the companies with respect to the Internet Financial Services [IFS] platform that LongKey has developed looks like it can succeed. Peak's ownership stake in LongKey is its primary source of revenue so an investment in PKKFF offers the most direct publicly-traded vehicle for investors who want to take advantage of the IFS opportunity. Peak created an executive summary of the IFS Platform and the opportunity with LongKey. The presentation starts on Page 3 with the opportunity overview which looks ridiculously high: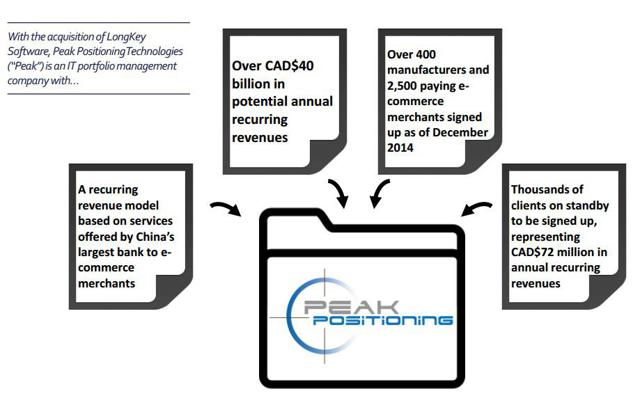 Peak claims that there are enough clients on standby that could lead to $72 million in annual revenue. As in other words, LongKey doesn't need to advertise and doesn't need to sell, all it needs to do is execute by putting the companies on standby into the system and that will result in $72 million in annual revenue.
As if that claim wasn't bold enough, the box on the top left claims that the market is worth $40 billion annually. $40 BILLION...annually. That would be borderline insane to make that kind of claim without very good proof to back it up. Many TSX Venture investors would laugh off these claims as yet another ridiculous boast from some management team looking to get investors to pay their salaries. But Peak and LongKey have some very noticeable differences between typical Venture companies which makes PKK a truly unique opportunity for Venture investors looking for the next big gain to offset the many, many losses and broken dreams over the years.
LongKey has a relationship with the largest bank in the world
LongKey has developed the IFS platform for the Industrial and Commercial Bank of China Limited (OTCPK:IDCBY) or ICBC as a solution for small eCommerce businesses looking to get loans from the bank for expansion. Alibaba has 5 million vendors on Taobao. It wouldn't be a stretch to think that the 4 million smallest ones are very small businesses run by individuals, families or small groups of associates looking to take advantage of the eCommerce boom. Many of those companies don't have the computerized data in place to show the bank that they have a viable business deserving of a loan for expansion. The IFS platform set up by LongKey for the ICBC will enable the tracking of purchases from manufacturers for sale on Taobao. ICBC can then determine if these businesses qualify for loans.
LongKey already has a working revenue model and proven demand for IFS
I have seen analyst estimates on pre-revenue companies that never come close to fruition. LongKey has a proven and very straightforward revenue model that generated $1.2 million in revenue for 2014 based on 3,000 clients already set up on the IFS system, which is no small feat. While LongKey has a tight relationship with ICBC that it relies upon for the IFS platform, the revenue it gets is actually from thousands of businesses. This company is not a one-trick pony that appeals to just a few clients. If 3,000 small businesses deem IFS to be a necessary tool in order to get a loan, chances are thousands more will too.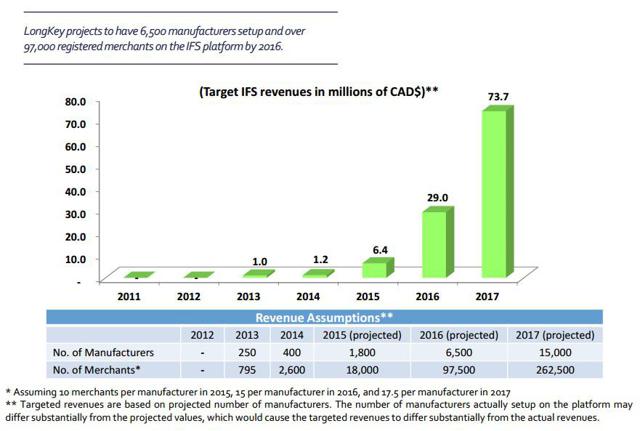 LongKey charges a one-time set-up fee of $1,800 for each manufacturer and an $1,800 annual fee that's waived if the manufacturer brings in 10 merchants to the system. The merchant is charged $180 annually.
The revenue model is so easy to understand that one can calculate the numbers just from the sign up projections. 2017 comes to $73.7 million. That can be broken down by:
262,500 merchants x $180 annual fee = $47.25 million.
8,500 new manufacturers loaded onto the system x $1,800 = $15.3 million.
15,000 manufacturers x $1,800 annual fee is $27 million. Only a certain percentage is subject to the fee because they recruit at least 10 of their eCommerce merchants onto the system. About 41% would be charged the annual fee, or $11.15 million, to add up to the $73.7 million total.
The good thing about this service is that it is not expensive for the small merchants. If it helps them get loans and makes the purchase procurement process easier, they will keep using it. Manufacturers will want to sign up because it is a tool where they help can keep their distributors or recruit new ones. The IFS platform growth story is a numbers play, and there are a lot of merchants and manufacturers out there.
The financing Peak is undertaking will go to LongKey's working capital so that it is able to quickly sign up the businesses on standby as projected in the chart above. Going from 3,000 total manufacturer and merchant sign-ups in 2014 to nearly 300,000 in 2017 is a daunting task and LongKey will need to do a lot of hiring to meet the increased operating, client management and technical needs.
Page 11 of the presentation shows some details of the $40 billion market: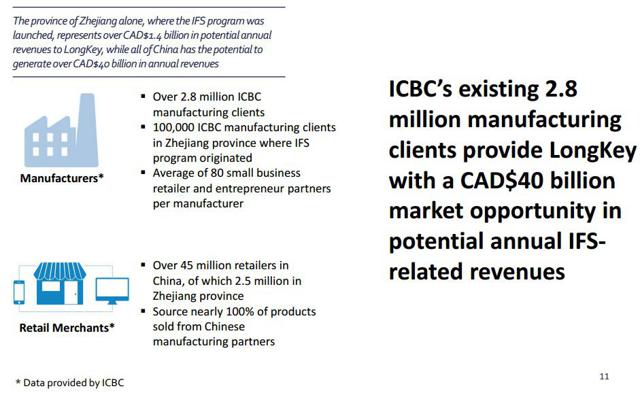 ICBC has 2.8 million manufacturing clients and estimates there are 45 million retailers in China. Obviously the company is not going to sign up every single one of these clients, but it is pretty reasonable to assume that it can sign up a significant amount of existing ICBC clients as well as recruit new ones so that its true potential is in the $100's of millions or $billions.
If LongKey signs up 10% of ICBC's manufacturing clients and each manufacturer recruits exactly 10 merchants so that the annual fee is waived for all of them, that's $504 million (280K x $1,800) in total revenue from the upfront registration fee spread out through the years and $504 million (2.8M merchants x $180) in recurring annual fees. The potential is definitely there.
What about LongKey being a Chinese firm? Isn't there risk of fraud?
Notwithstanding my opinion of people who write off all Chinese companies as stereotypically fraudulent, LongKey is not a "typical" Chinese firm. It was founded by two North Americans of Chinese descent who went back to China to start the business. Reading the bio of Qiu Liang, the CTO of LongKey and one of its founders, it becomes more apparent why LongKey wants to list with Peak, a company which has a management team comprised mostly of people from Montreal.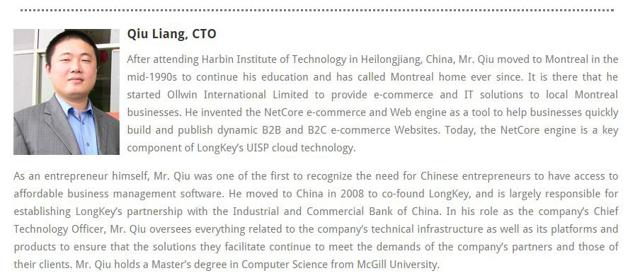 It would be complete nonsense to think that LongKey is a fraud when the founders want to move back to North America and list LongKey through one of the founder's friends' TSXV-listed company in Peak. Chinese companies that want to commit fraud do so from the safety of China where the SEC (or relevent Canadian governing body at the provincial level) has no jurisdiction to lay criminal charges.
Other issues relating to Chinese businesses like repatriation of the currency (some companies find it difficult to take funds earned in China out of the country) can be worked around because of the dual relationship the founders have with China and their homes in North America.
Peak and LongKey are a unique opportunity which I think can result in 10 times to 100 times the return for investors who have the patience to see it through
On page 20 of the executive summary, Peak provides the current and projected capital structure of the company. With 140 million shares outstanding and at 2 cents per share, the market cap of PKK is $2.8 million. To complete the transaction, Peak intends to raise $3M with 60 million shares, or at 5 cents per share. Per the agreement with LongKey, 82 million shares are going to be issued to the company, so that Peak's total float will be 282 million with a 51% ownership stake in LongKey.
PKK plans to acquire the rest of LongKey in the 24 months following the closure of the first part of the acquisition. PKK wants to roll the shares up 1 for 5, but only after the financing at 5 cents is complete.
As Peak is looking to complete this transaction, who knows which way the share price will go until it's done. With a 2 cent price now and a 5 cent price intended for financing, one could assume that a purchase right now at 2 cents is a pretty safe bet for a bottom. But given the weakness in the TSXV and the threat of a reverse split that traders blindly fear regardless of context, the stock could struggle in the short term. However, if the LongKey story catches on fire, the stock price could really move beforehand and the company would have greater flexibility in determining the financing and need for a reverse split. So it is up to each investor to figure out an acceptable balance between risk and potential opportunity cost when determining if and when to buy PKK shares.
What I am much more confident about is the performance of the stock once the financing and acquisition is complete. 282 million shares at 2 cents is a 5.6 million market cap. If LongKey can execute on its $72 million in annual revenue target and Peak's share of that is at least 51%, the market cap should be able to easily move up by more than 10 times depending on the margins of the company at full operating efficiency. A 25% margin leads to $18 million in net income, half of that belonging to Peak. A 10 P/E would result in a $90 million market cap or $0.32 per share (or $1.60 after the 1-for-5 split). And that would be just from the revenue that the company can achieve from clients on standby. The upside is a lot more than that.
PKKFF is a microcap stock so it offers a high-risk and high-reward profile for investors. I believe the risk-to-reward trade off of PKKFF is a good one for investors with a high risk tolerance who want to take advantage of the tremendous growth of eCommerce in China with a speculative position on a company that has a unique niche and is in the early stages of capitalizing on this opportunity.
The dynamics of investing in Peak will change depending on the financing and if the company acquires the other half of LongKey within two years as planned. But I am confident in LongKey's ability to execute on its business plan and in Peak's ability to bring LongKey under its fold and fund its working capital needs. I am patiently holding shares waiting for a big payoff in 1-5 years.
I recommend that anyone interested in an investment in PKK to review the executive summary. It can be found at:
http://peakpositioning.com/wp-content/uploads/2015/02/PKK-Exec-Summary-Jan-2015-RV02.pdf
Disclosure: I am/we are long PKKFF.
Additional disclosure: I hold positions in securities as disclosed in this article. I have not received any compensation for this article and all opinions reflected herein are my own. The information provided herein is strictly for informational purposes only and should not be construed as a recommendation to buy or sell, or as a solicitation of an offer to buy or sell any securities. There is no guarantee that any estimate, forecast or forward looking statement presented herein will materialize and actual results may vary. Investors are encouraged to do their own research and due diligence before making any investment decision with respect to any securities discussed herein, including, but not limited to, the suitability of any transaction to their risk tolerance and investment objectives.