Oculus Innovative Sciences, Inc. (OCLS) is a specialty pharmaceutical company which develops and markets treatments of dermatological conditions, advanced tissue care and animal healthcare products based on its Microcyn platform technology. OCLS has been one of the have-nots in the health care industry as its stock price has sunk from over $5 in early 2014 to below $1 by year-end despite the excellent returns seen in the overall sector. However, the company has recently taken steps to turn its business around and improve its balance sheet so now it looks like one of the few cheaply valued health care stocks. Recent FDA approvals and expectations of double-digit revenue growth makes OCLS an interesting speculative small cap and low float health care stock which has provided investors with strong gains and trading opportunities over the past few weeks.
The company reported its Q4 2015 (ended March) results on June 11 after market close, beating revenue expectations by 29% ($4 million versus $3.1 million consensus estimate) and EPS by 14 cents ($0.11 loss versus $0.25 loss consensus estimate). These results represented a substantial turnaround for the company as revenue grew 37% from the quarter ended March 2014 and 25% from the previous quarter ended December 2014.
Prior to reporting Q4, OCLS reported an 8% decline in revenue for the first nine months of fiscal 2015 due to the loss of a health care business partner and customer Innovacyn as it transitioned to a new supplier. However, OCLS responded quickly by garnering a partner in Mexico, Sanfer, and by hiring a U.S. sales force in October 2014. This has resulted in the company's best quarter since September 2012.


Source: OCLS Q4 press release
The 37% in growth in Q4 is more impressive considering that the company saw a steep decline in royalties from the Innovacyn business drying up. Product revenues increased 85%, led by 117% growth in the United States and 96% growth in Mexico. The rest of the world saw 55% growth. U.S. dermatology sales increased fourfold to $412,000 from $110,000 for the quarter ended March 2014. According to the Q4 conference call, OCLS believes that the U.S. dermatology sector is going to be the business with the biggest long-term growth potential and has launched a new dermatology division, IntraDerm Pharmaceuticals. OCLS recently received FDA clearance for its no-touch Alevicyn SG Antipruritic Spray Gel which will be used to manage and relieve the burning, itching and pain experienced with various types of dermatoses, including radiation dermatitis and atopic dermatitis. This spray will be one of four new products to be launched by the company in the next few weeks, adding to the three dermatology products launched last year - the Alevicyn Gel for atopic dermatitis, Alevicyn Dermal Spray for the treatment of skin procedures and post-surgical wounds and Celacyn, a prescription scar management gel.
The dermatology market is highly competitive, but OCLS believes its Microcyn Technology stands out as a stable anti-infective therapeutic that treats infection while also enhancing wound healing through increased blood flow to the wound bed and reducing inflammation. Many companies are able to produce oxychlorine formulations, but their products can become unstable after a short period of time or use very large ranges of effectiveness to improve their shelf lives. OCLS has 8 issued patents in the United States and has 30 issued patents issued elsewhere in the world. OCLS also has a total of 90 pending U.S. and foreign patent applications, so there is tremendous value waiting to be unlocked in the company's intellectual property.
The company closed a secondary offering at the start of the year for $6.25 million in order to shore up the balance sheet for planned R&D and sales team expansion. While the financing was dilutive at $1.00 plus warrants, the float remains quite small at 15 million shares. A spin out of Ruthigen, Inc. (RTGN) in the early part of 2014 will lead to further cash inflow as OCLS will be receiving $4.5 million for the sale of its RTGN shares. RTGN is also required to pay OCLS up to $8 million in milestone payments upon successful completion of patient enrollments in clinical trials as well as royalties upon commercialization of RUT58-60. Including the sale of shares, the company stated that its pro forma cash position would be $10.7 million. With an operating burn rate of $1.6 million last quarter, the company will have at least six quarters of cash left at current burn rate with the expectation that the burn rate will decline as sales increase.
COO and CFO Robert Miller stated the following regarding operating expenses and cash burn rate on the Q4 conference call:
For the quarter they were $2.3 million and we would expect them to be in that range to maybe up to the $3.5 million.

In terms of the cash, how do we plan to use it, we are currently - have a EBITDAS negative even though for the quarter it was $1.1 million. We are using the cash outlay for quarter of about $1.5 million which will decline as our sales and especially in the derm business grow.

So we will be using it to make sure that we can grow that business aggressively and - but we think it should be an up cash to get us about through that - through the breakeven process.
Key takeaways on the conference call regarding revenue growth guidance are:
International product revenue will continue to grow in the 10% to 20% range or higher, in constant currency. The Peso and Euro have dropped against the U.S. Dollar which will negatively impact international growth, but that was also the case the quarter ended March where, for example, the Peso dropped 12% against the USD but Mexican sales in USD terms was still up 96%.
OCLS expects the Q1 2016 quarter ended June to be less than the 37% growth seen in this past quarter.
The U.S. dermatology market has seen growth in excess of 100% year-over-year and quarter-to-quarter. The company expects this type of high growth to continue given the new products that are being released onto the market.
Based on these points on the cost and revenue side I have developed a forecast by quarter for fiscal 2016 and by year for 2017 and 2018.

I expect revenue growth for fiscal 2016 to be in the 25% range. I believe that this is achievable given the new products on the market and strong Q4 results. This is a lift of only $3.5 million in revenue compared to fiscal 2015. The CFO gave a broad range for non-cash operating expenses to be $2.3 to $3.5 million per quarter. My estimate is in the upper end of this range at $3.15 million per quarter. Cash outlay is expected to be $1.5 million per quarter and decline from there while EBITDAS is expected to improve from -$1.17M seen last quarter as sales increase.
I expect the company to be cash flow positive some time in late 2017 or early 2018 (fiscal 2018) with about $5 to $6 million of its $10.7 million burned by the time profitability is achieved. Therefore I do not expect the company to need to finance again in the foreseeable future.
When asked about why the company chose to focus on the dermatology market, CEO James Schutz was not shy in suggesting that a buy out could be the eventual goal based on high revenue multiple valuations seen in the industry:
Seven derm has strong pricing product margins and insurance coverage, eight, it's a concentrated core point, meaning we don't need an enormous sales force to cover, nine, derm has fast sales ramps, meaning that new sales people pay for themselves quickly and 10 and this is Bob's favorite, dermatology has great valuations or multiples on revenue.

Specific to M&A, David went on his presentation to highlight that there is been substantial consolidation in the dermatology space both in the public and private side of things.

On the private company side, there were nine private companies of note in 2008 all of whom were purchased for an aggregate of $9 billion. Those names includes, Stiefel, Graceway, Tuggerah [ph] SkinMedica and our neighbors down the street here in Petaluma, Dow Pharmaceuticals.
Using Dow Pharmaceuticals as an example, it was a privately held dermatology company purchased by Valeant Pharmaceuticals International, Inc. (NYSE:VRX) for $285 million in 2009. At the time of the acquisition, Dow's revenues were $45 million so it was purchased at a 6.3 revenue multiple. On the conference call, OCLS management mentioned NovaBay Pharmaceuticals, Inc. (NYSEMKT:NBY) as a market comparable in the dermatology and eye care market. With a market cap that is about twice the size of OCLS, NBY trades at a revenue multiple in excess of 30.
At a $25 million market cap, OCLS trades at about a 2 Price to trailing Sales multiple. Considering that the balance sheet is expected to hold over $10 million cash upon sale of the RTGN shares with expected revenue growth of 25%, the forward enterprise value to revenue multiple is less than 1. A buyout priced at 5.0x of $17 million in estimated 2016 sales would lead to an $85 million valuation, or about $5.70 per share.
I don't expect a buyout to happen that soon on OCLS as the company will need to prove that its products can continue to gain traction. But upon future quarters of increasing revenue and decreasing cash burn, I expect the company to trade at a revenue multiple in excess of 5 based on market conditions so my one-year price target on OCLS is $5.70 per share with the possibility of a buy out occurring at a price above that at some point a few years down the road. Given its product line, new sales force, strong balance sheet, improved outlook on revenue growth and being a rising player in the hot health care sector with a particular focus in dermatology, OCLS appears substantially undervalued at a market cap of around $25 million.
Disclosure: I am long OCLSW, which are warrants on OCLS expiring in 2020 at a strike price of $1.30. They act similar to call options. I believe the warrants are highly under-priced given the long time to expiry, the volatility on the stock, and the fact that the warrants are in the money. Warrants represent a leverage opportunity and a risk management tool. For instance, a purchase of warrants at $0.50 when the stock price is $1.60 will result in intrinsic value of $1.90 if the stock price doubles to $3.20. Conversely, the warrants are worthless if the stock is under $1.30 upon expiry in 2020. But warrants can also be used to manage risk because an investor can put up less capital in OCLSW for the same dollar amount of upside compared to an investment in OCLS. Owning warrants is within my risk tolerance. Investors should decide if warrants are within their risk tolerance independently of my recommendation. This Black-Scholes options value calculator estimates the fair value of OCLSW to be $1.20 based on Friday's closing price of $1.62 on OCLS, 4.5 years until expiry, $1.30 strike price, 0.1% risk-free interest rate and 100% volatility on OCLS. A 50% volatility assumption leads to a $0.76 estimate for the warrants.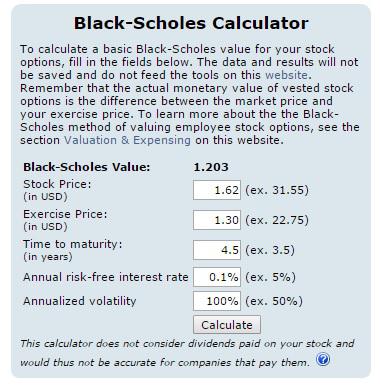 Disclosure: I am/we are long OCLS.
Additional disclosure: I hold positions in securities as disclosed in this article. I have not received any compensation for this article and all opinions reflected herein are my own. The information provided herein is strictly for informational purposes only and should not be construed as a recommendation to buy or sell, or as a solicitation of an offer to buy or sell any securities. There is no guarantee that any estimate, forecast or forward looking statement presented herein will materialize and actual results may vary. Investors are encouraged to do their own research and due diligence before making any investment decision with respect to any securities discussed herein, including, but not limited to, the suitability of any transaction to their risk tolerance and investment objectives.