Amira Nature Foods Ltd. (NYSE:ANFI) has twice been the victim of short seller Prescience Point hit "reports". The first one on February 9th caused ANFI to plunge from $13.40 to $9.95 but had little staying power in the minds of investors as the stock actually closed above $14 briefly in July. This prompted another desperate report by Prescience Point on July 30th. It was largely ignored on the first day, but for the first 14 trading days in August ANFI dropped from $12.26 to $2.84, culminating with Amira changing its auditors, an announcement that really spooked the market. Shortly after that, I wrote an article which scrutinized Prescience Point's attack on ANFI and raised several issues that demonstrated flaws in the firm's research. In anticipation of a rebuttal that would once again put downward pressure on the stock, I was careful to take profits on a part of my ANFI holdings. But I never did receive a rebuttal.
On November 10th, Amira filed with the SEC that an Independent Third Party Forensic Investigation has been completed by BDO LLP, with the following conclusion:

The result of the review by BDO came to the conclusion that allegations made against Amira by Prescience about inflated export and domestic Basmati Rice sales and any unreported related party transactions were completely unfounded. This strikes a huge blow to the credibility of the Prescience reports. Now perhaps the firm is willing to ignore the criticisms of just another market commentator like myself, but certainly it would try to provide a rebuttal against ANFI's SEC filing if it had an ounce of ammunition to stand on, right?
Prescience has had two weeks to respond to ANFI's SEC filing, with something, anything, that would save its credibility. But the firm has been silent. In fact, Prescience hasn't said one word about ANFI since September 25 on neither its Twitter feed, nor the one of its founder, Eiad Asbahi: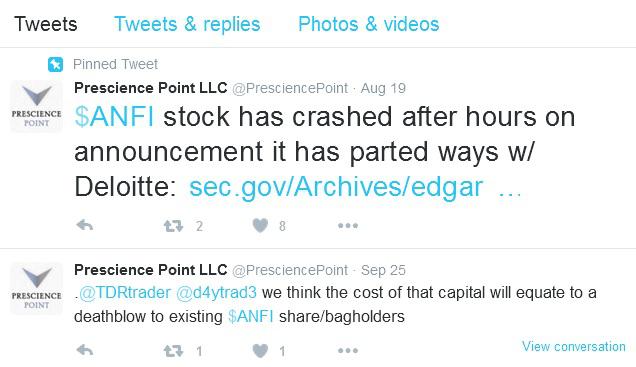 In market action that I don't believe to be the least bit coincidental, ANFI rose 16% from $4.77 to $5.51 on 2.4 million volume on September 25, building up on a 17% rise on 747K volume the previous day: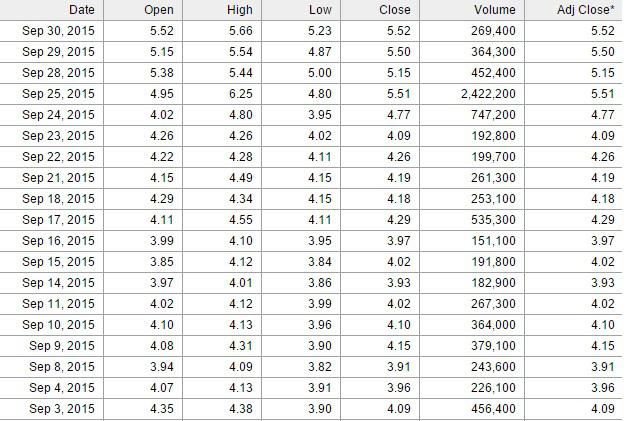 This spike in volume over those two days pretty much matched the volume for the first half of the month. This leads me to one conclusion - that Prescience Point and its associates covered their short and slithered away around that time. Prescience Point no longer has a position, and therefore has no interest in defending its report even at the expense of its credibility. The firm has a target of $0 on ANFI, so why cover at around $5 if the target had any conviction? Not even me mocking Prescience with respect to this failed thesis prompted any action: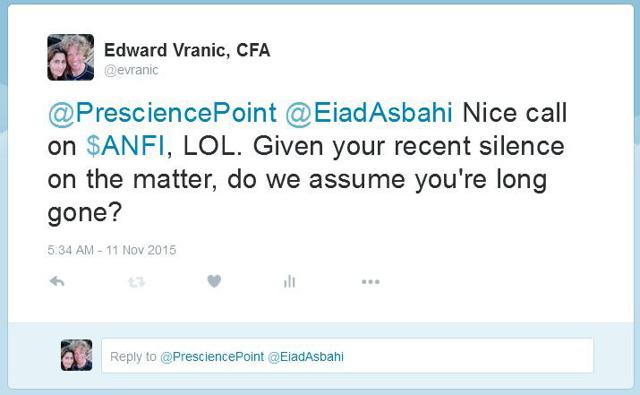 I have no issues with being bearish on stocks due to overvaluation, perceived cash flow issues or inconsistencies in SEC filings. But if you're going to make a hit piece on a company claiming fraud, make sure you can back up your words and be prepared to combat any rebuttal. As far as I'm concerned, Prescience Point is a disgraced short seller with no credibility that outright lied on its "research reports" in order to reap short term profits from investor fears over a little-known foreign company like Amira. Investors should be very wary of any future reports that this short seller research firm creates.
Prescience has been useful in enabling myself and others to pick up cheap shares on ANFI. I have been long either the stock or call options since the $3's, and I expect ANFI to head back to the $13 range, where it was before the continued attacks by Prescience as they have been shown to have no merit. At the time I started writing this article, ANFI was around $8. It is closing on $10, so the $13 level should be attained in short order at this pace.