I find Amira Nature Foods Ltd. (NYSE:ANFI) to be a resilient company. Despite the short attack led by Prescience Point which ruined its bond deal that was set to fund further growth and lower its interest expense, the company forged on with its U.S. growth strategy, including getting onto the shelves of Whole Foods (read my article highlighting ANFI's successful entry into the U.S.). After both the BDO LLP forensic investigation and the 20-F signed off by ASA & Associates LLP have been completed without any issues, the stock has gained more than 200% from around $3 on August 24 (the day I first called a long position on ANFI) to today.
This has prompted Prescience Point to end its five month hiatus in a slew of Tweets against ANFI last Friday afternoon. This is despite the court filing made by ANFI (read the full document and also my article which disseminates the key parts of the case) seeking an injunction against the short seller to compel it to remove all misleading reports against Amira. I believe the firm has become desperate as it has watched its profits on its short position on Amira evaporate. Unlike previous suspected frauds in China that went into hiding when research firms like Prescience Point went after them, Amira has aggressively fought these allegations by seeking a jury trial and have presented the findings of two auditors within a year.
Prescience Point's short thesis on Amira has gone from being a fraud worth $0 to a short because of too many positive Seeking Alpha articles.

Prescience Point has become less bearish on ANFI after one Indian and one international accounting firm each disagreed with the firm's research. It previously stated that ANFI was a fraud worth nothing. Now apparently Amira is setting up for a dilutive equity raise. I didn't think frauds could do that, given that a $0 price would require an infinite amount of shares to raise nothing.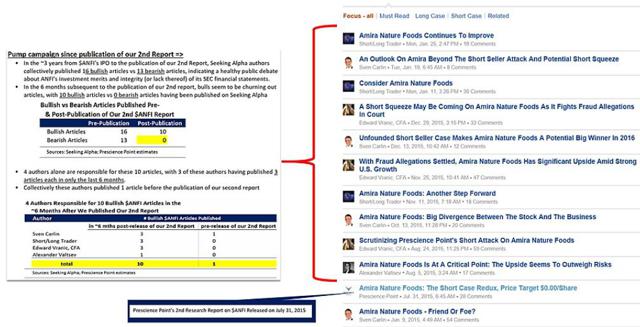 According to Prescience Point, I am part of an attempt by Seeking Alpha to pump the stock. It comes to this conclusion despite the fact that I have no relationship to the other authors outside of our common bullish opinion on ANFI, which I believe is reasonable due to its low P/E of 7 and high revenue growth rate of 28%. If you look at Sven Carlin's and Short/Long Trader's profile as well as my own, the only common focus ticker we have had other than ANFI is TSLA (I mentioned CXDC once in passing), one of the most talked about stocks on this site. It's grasping at straws to suggest that three clearly unassociated investors have somehow conspired to orchestrate a pump on ANFI. It's a much more viable argument to assume that three investors independently like this cheap stock at the same time.
The three articles I have written on ANFI carry very specific updates that I felt warranted commentary:
1. In my first article, I was prompted to initiate research because I felt ANFI was a deeply discounted value play. At the time, the P/E was around 2. While I felt that the Prescience Point reports had some holes in them, I also admitted that other points appeared to have merit which I could not immediately dismiss and said that the company must take these issues head on. My investment in ANFI was largely a high-risk, high-reward play at the time as I was not 100% sure that ANFI wasn't inflating its revenues, but figured the discount was worth the risk anyways.
2. In my second article, I focused on Amira's early success in getting onto U.S. shelves after BDO, LLP completed its Third Party Forensic Investigation, clearing ANFI of supposedly inflating revenues on its financial statements per Prescience's allegations. Given that inflated revenues were my main source of concern about ANFI in the first article, I thought it merited a second one for follow up.
3. In my third article, I disseminated some very important information laid out in the document of the court case filed by ANFI against Prescience Point.
These three articles are substantially different from each other and accurately outline positive developments in ANFI's business or investment thesis since the attack. I can't speak for the content or the motivation of the other three writers, but I can assure readers that I didn't work in tandem with anyone to try to pump ANFI. After the first article, I did receive private messages from several individuals inquiring as to when I plan on providing updates (as I do with many different companies I have covered) and I politely told them that I work according to my own schedule. In the comments section of the articles I warned readers to size their positions accordingly as I believed that Prescience was planning another attack and that the year-end financials and subsequent quarters still needed to be filed.
The hypocrisy and irony in Prescience Point's statement of an orchestrated pump underway at Seeking Alpha is that there's pretty strong evidence to suggest that the firm is conspiring with others, including Ian Bezek here on Seeking Alpha, to short ANFI.
I actually know and respect Ian's analysis from FXCM Inc. (FXCM). Not quite enough to pay for his research on this site, so I'm stuck with this page when going to the URL of his article: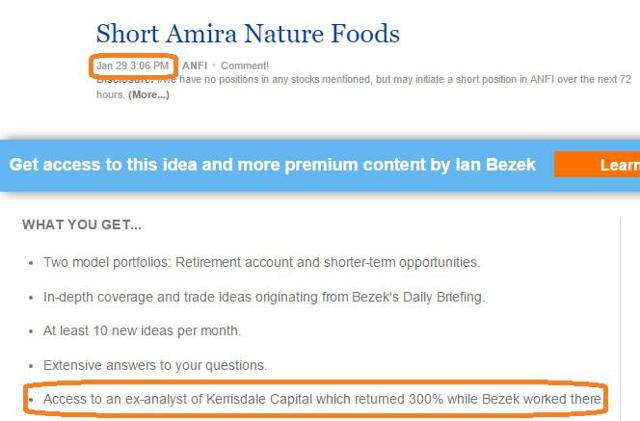 Note that his report was released only one hour after Prescience's posts on Twitter. Pretty coincidental timing considering that no one has written a bearish report on Seeking Alpha for months. But the bigger clue is his previous employment with Kerrisdale Capital. Kerrisdale and Prescience have worked together in the past, releasing a report on Advanced Battery Technologies. Even if Ian wasn't employed there at the time of the ABAT report, I think it's a pretty fair assumption that he has become acquainted with the team at Prescience through mutual colleagues. So while Prescience's claim that there's an orchestrated "pump campaign" going on at Seeking Alpha is weak, evidence is strong that it has teamed up with a former employee of Kerrisdale to create a "bash campaign" against Amira.
Getting back to FXCM, after the Swiss Franc revaluation around a year ago that created havoc on the forex market and its brokers, both Ian and I were two voices of reason against a whole slew of day traders chasing a dead cat bounce who couldn't understand that FXCM's loan shark deal left the company with minimal equity value. We even had a brief bromance in comments section of Ian's FXCM article.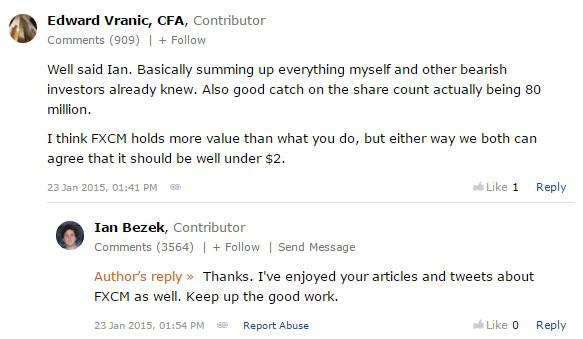 I should hope that merits him speaking up and saying that I'm not some mindless pumper as portrayed in Prescience's Tweets the next time he has a lunch break with Eiad Asbahi or "former" Prescience co-founder Ben Axler. At a minimum I would hope that is this enough evidence to the FXCM longs who have since lost two-thirds of their money that myself and Ian weren't involved in an orchestrated attack on that stock as claimed, given that we sit on opposite sides of the fence on ANFI.
Is ANFI at risk of a dilutive capital raise?
Independent of any feelings I have towards short sellers, asking if ANFI needs to raise capital is a valid one. After all, the short attack did destroy the company's debt offering last year, Basmati prices have been weak and we are still owed three quarters of financials. So there are some questions to be answered.
On the positive side, Iran recently removed restrictions on rice imports which should be a big boost to the Basmati industry as Iran imports heavily from India. While the Rupee has remained strong relative to other emerging economy currencies, it has still dropped to its two-year low of 68 Rupees per U.S. Dollar. This will help ANFI as it sells internationally. The irony of Prescience Point causing the cancellation of ANFI's bond offering is that it has actually ended up helping the company as its debt has remained in Rupees and the currency has dropped 10% in a year against the U.S. Dollar. ANFI has the potential to be in better shape for it if it can renegotiate another bond deal now.
Presented below is ANFI's income statement and working capital section of its balance sheet (long term assets and liabilities are small and/or inconsequential to this discussion).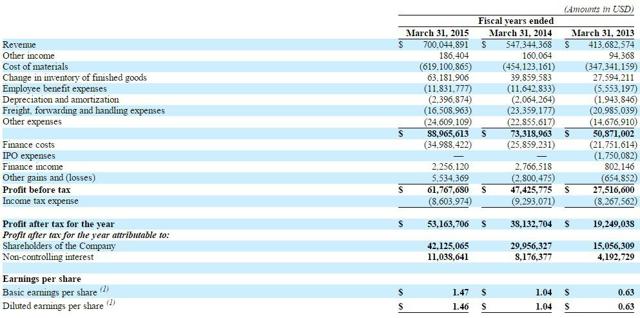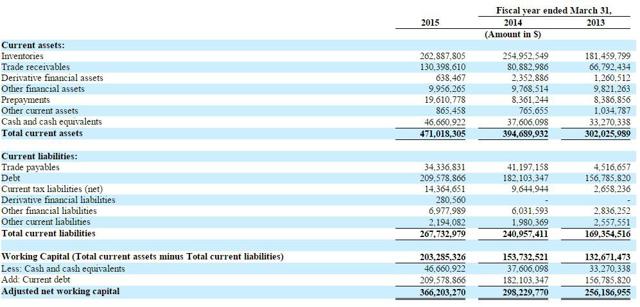 Source: ANFI's 2015 20-F
ANFI has working capital of $203 million with a reasonable current ratio of 1.8. A large proportion of the working capital is locked up in inventory, which makes sense considering that the rice has to age for a year. Performing the acid test which excludes inventory and prepayments leads to a ratio of 0.7. To judge whether this is good or bad, I will use KRBL Ltd (KRBL.NS) for comparison as I have done in the past as it is a larger competitor in the Basmati rice industry.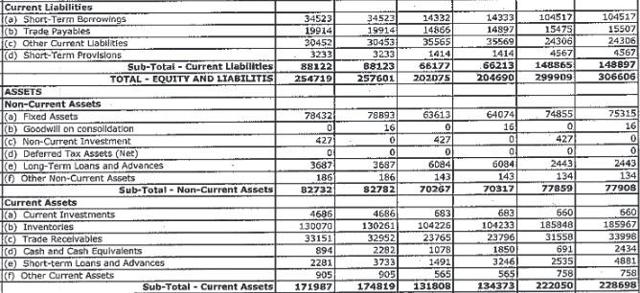 Source: KRBL's financials ended September 2015, reported in Rupees in lacs (units of 100,000)
KRBL's current ratio is 2.0 (174,819/88,123), but a very high proportion of its current assets is in inventory. KRBL's acid test is 0.5 (43,653/88,123), so ANFI actually has better liquidity. If you are to believe that ANFI has liquidity issues, then this whole industry has liquidity issues, an industry in which some companies have been operating for more than 100 years. My guess is that they have generally figured out by now how much working capital they need while the rice ages.
ANFI's accounts receivable increased from $81 million to $130 million from fiscal 2014 to 2015. Its days sales outstanding was 68, up from 54 in 2014 and 59 in 2013. KRBL's DSO for its latest quarter is 33, which may be too low. Assuming the sweet spot for DSO is in the 40 to 60 range, ANFI has just crossed over to the slightly high side. So it is a metric to watch carefully in future quarters if it continues to grow, but not a cause of concern just yet.
Given the drop in the Basmati price, what can we expect from ANFI in the next three quarters following March 2015? Presented below is KRBL's financial results from a recent corporate presentation. The FY 2015-16 H1 column covers the quarters ended June and September 2015.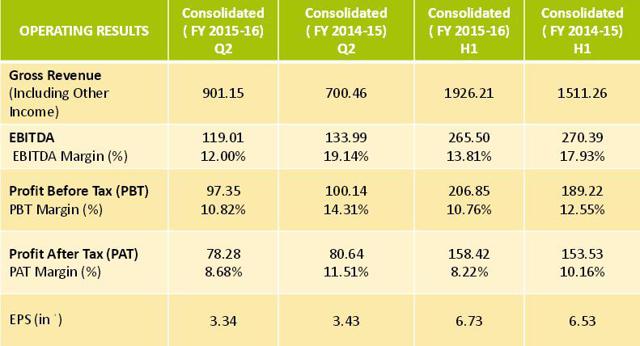 Revenue grew a robust 27%, but EBITDA dropped by 2% while EPS grew by 3%, likely due to the thinning margins led by the drop in price on Basmati. KRBL's revenue for the year ended March 2015 grew only 9% from the prior year at a consolidated level, so fiscal 2016 has started off strong on a revenue basis despite the drop in wholesale prices. Based on these numbers, I'm optimistic that ANFI can at least maintain its EPS achieved for fiscal 2015 considering the last data point we have is ANFI's 28% revenue growth for the year ended March 2015.
Even with the various challenges the Basmati industry has faced, that has not stopped KRBL's stock price which has doubled in a year and quadrupled in two years. Clearly Basmati prices have not been a negative driver on KRBL like other weak commodity prices have had on their respective companies. One can only imagine what ANFI could have done if it wasn't caught up in a short attack: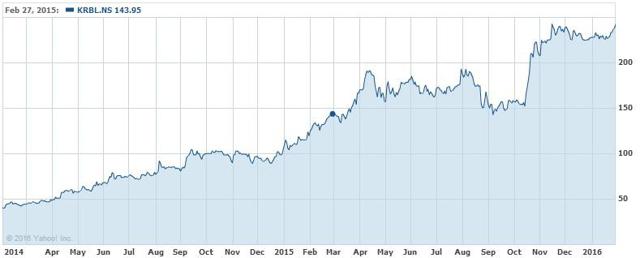 Using KRBL as a comparison and as a guide for the industry since March 2015, there is nothing that immediately stands out that indicates that ANFI has a need or a desire to pursue a dilutive equity raise. I think there is a strong chance that it will try to pursue another debt offering, and it is an opportune time to do so. The interest rate on its debt is in the 12% range, so seeking debt in the lower interest rate environment of the United States should bring on significant interest expense savings. With the Rupee remaining relatively strong to its immediate neighbors thanks to sound fiscal management, it may have hit a bottom against the USD so I believe now would be a good time to try again.
However, if ANFI is in need of cash, it could always wait for the court settlement it may receive from Prescience Point for the short attack!
Prescience Point's short history has been pretty good. Mine has been better.
In my first ANFI article, I outlined the stock price performance of Prescience Point's 10 short calls prior to ANFI. Overall the calls were pretty good, although two of the companies did get bought out.
In this bear market which has been disguised as a bull market for years as a handful of mega cap companies like Apple, Amazon and Google have inflated the indexes, shorting has not been hard. In 2015, I wrote a total of 21 short-biased articles on Seeking Alpha on 11 different companies. Looking at the performance since my first article on each of those 11 companies:
10 out of 11 of my short calls in 2015 were correct. Half of those correct calls were down 50% or more with VRX, FTK and OSIR averaging a 27% drop after three months or less. I must be a short selling expert! Follow me as I make my own short fund!
The whole point of this exercise was not to show that I am some stock picking guru. The majority of my long calls in 2015 on Seeking Alpha have been nearly as bad as my short calls have been good. Prescience can share this opinion as its long call on HA has been about as good as my call on ANFI, while its long call on ZINC has been caught in the "sell everything junior resource" sentiment of the market just like my HREEF call. More on that later.
The point is that it has been easy to short everything outside the mega caps. Prescience Point prides itself on its calls on Chicago Bridge & Iron Company N.V. (NYSE:CBI) and some fraudulent Chinese battery company a few years back. So what? As I've demonstrated above, it's not been hard to put together a string of awesome short calls. If you're a short seller and you haven't been right on at least 7 out of 10 calls on small and mid-caps in this market environment, you're pretty bad at it.
Regarding VRX, FTK and OSIR, these short calls of mine have been particularly controversial as I (and others) have brought up the potential of accounting irregularities or misleading statements made by the companies. VRX has had an excuse book with more pages than War and Peace since the Philidor debacle. FTK flat out admitted that it messed up after Bronte Capital revealed the company's misleading data and just announced a brutal Q4. OSIR has completely fallen apart after its auditor resigned (note: resigned as opposed to ANFI who fired Deloitte) and all it has to say for itself is this non-response response to articles like mine surrounding its accounting issues. Now compare these actions to the actions of ANFI. While blindsided by Prescience Point's allegations in February, it has still managed to get onto the shelves of U.S. supermarkets. Both BDO and ASA have given it a clean financial bill of health and unlike Valeant which dances around issues, Amira has taken Prescience Point's claims head on and has provided strong rebuttals against them in the court document.
At a minimum, I believe my performance on short calls at least shows that I have skill in looking out for red flags. When I review ANFI's performance and behavior since the short attack, it rises well above the companies I have mentioned. The only thing I have found ANFI guilty of is being foreign. A company which has operations on the other side of the world (to North Americans) on which investors cannot easily do their own due diligence and can be susceptible to believing misleading statements made by opportunistic short sellers. Which is a perfect lead in to my most important point.
Prescience Point has not once provided any compelling evidence that any of the negative testimony about ANFI attributed to third parties in its reports is true.
For anyone who has read Prescience Point's reports, you'll know that these reports rely heavily on the testimony of others. The firm claims that it spoke with former high-ranking Amira employees, current CFO Bruce Wacha as well as KRBL's CFO. These interviews painted a very negative picture of ANFI, suggesting that the company was irrelevant in the domestic (Indian) Basmati rice industry and that it was being run by people with low moral turpitude. The firm also relied on anonymous posts on the internet about working conditions from people who allegedly worked at Amira, as if employer review sites cater to anything other than negative feedback from disgruntled former employees.
Here's the problem with Prescience's anecdotes. It's been nearly a year, and the firm has failed to provide one iota of evidence that any of the interviews attributed to people named in the reports took place. No tape recordings. No videos. No signed statements from the alleged participants. This is in direct contrast to Prescience's report with Kerrisdale on ABAT, as the firm proudly leads its report with customer interviews among other links to YouTube videos.
Anyone who reads these reports is relying solely on Prescience Point's promise that the firm isn't lying. In the court document, Amira claims that neither Bruce Wacha nor anyone else ever held a conversation with anyone identifying themselves as part of the Prescience team. This amounts to "he said, she said" debate, but ANFI has one very important advantage in proving that it is telling the truth.
Amira has provided undeniable evidence which confirms the most important interview claimed to have taken place in the Prescience Point report to be a lie. Presented below is a letter signed by KRBL Chairman Anil Kumar Mittal that denounces any claims attributed to KRBL against Amira in the reports, using terms like "factually inaccurate", "malicious", "dishonest" and "irresponsible":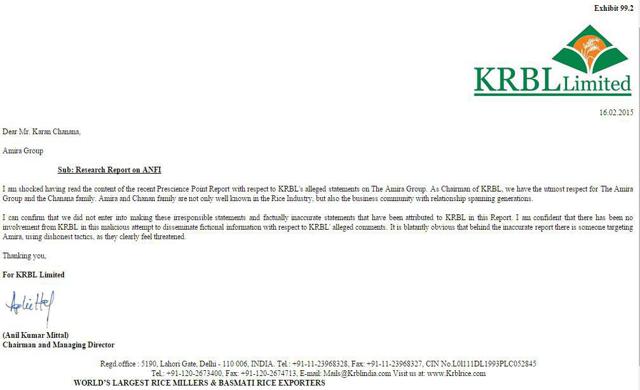 (Source: SEC filings)
As the Chairman is the one who is signing off on this, we can reasonably assume that he had a conversation with his CFO to confirm that this is the case. Keep in mind what this means. KRBL has every competitive incentive to watch Amira crash and burn. It makes for one less competitor in a growing industry. The fact that the Chairman of KRBL came out so quickly to defend Amira should not be overlooked by investors.
What this shows beyond any doubt is that Prescience Point is lying, very boldly, to paint a picture to support a central part of its thesis. There will very likely be follow up to the barrage of Tweets made by the firm. Investors should not believe a word of it because Prescience Point has been caught in a lie before and when you catch a liar once, you know very likely that they will lie again. If this firm wants to be taken seriously, it better produce less conjecture and more solid evidence to support its claims.
In addition to the interviews, Prescience Point relied on APEDA data to support its claim that Amira is overstating Basmati rice revenues. What is more likely, that Amira has managed to fool BDO, a respected international accounting firm, during its forensic audit of a rice business (you need a lot of rice to prove over $200 million worth of it in inventories), or that Prescience simply misinterpreted or intentionally misrepresented the APEDA data to try to prove its thesis? Occam's razor leads to the latter conclusion.
Has the desperation reached a tipping point? I think ANFI has KBIO-like short squeeze potential to $50 as Prescience Funds is on the verge of imploding.
In one of its tweets, Prescience claims "We have been & remain short of $ANFI stock". In one of my articles, I surmised that Prescience covered a large short position. If this post is to mean that the firm did not take at least some profits off the table, then it has watched its gains evaporate as the stock has climbed its way back to $10.
When I was at the peak of my Valeant short, I was watching with interest as all the Herbalife Ltd. (NYSE:HLF) longs were celebrating the downfall of Bill Ackman (a notorious activist long on VRX and short on HLF through his Pershing fund). HLF appeared to spike on days when Valeant did poorly and the theory behind that was that Ackman was covering his position in HLF to help free up funds for Valeant. I call this the "law of associated investments".
As I mentioned above, one of Prescience's top long positions has been Horsehead Holding Corp. (ZINC):

Assuming Prescience still holds this long position, ZINC has tanked from $14 in April 2015 to $0.26 today. If the ZINC long is just one of a few positions along with the ANFI short, then Prescience has had an absolutely miserable time since August. Hawaiian Holdings Inc. (NASDAQ:HA) has risen from around $10 to $35 since Prescience recommended it, but the firm held a $20 target on it. If Prescience remained true to that target, then it has sold out long ago.
Prescience could be on the verge of implosion as one of its main long positions has lost 98% in a matter of months while it has seen profits on its main short position evaporate as ANFI has moved 200% since August, and the rest of its positions haven't done much of note. Imagine how poor the fund's returns must be since August. Have its investors had enough? Is this a final desperate attempt before investors decide to redeem at large? I believe it is. I smell blood and I think other ANFI longs can smell the same.
Recall that KaloBios Pharmaceuticals, Inc. (KBIOQ) recently ran from $2 to as high as $45 on a short squeeze fueled by news of Martin Shkreli's involvement. Even after his arrest caused the stock to tank back down to the $2's, that was far too late for the shorts who were caught in a squeeze on a stock with only 4 million shares outstanding, resulting in one trader opening a GoFundMe account. ANFI has 36 million shares outstanding, but it claims in the court documents that 75% of that is held by its CEO. Only the IPO shares are free floating. So can ANFI run in a similar manner as KBIO upon an implosion of Prescience?
If you believe that:
1. Mr. Karan Chanana holds 75% of the float and these shares are not up for sale, then ANFI's open float is only 9 million shares with over 3 million shares short.
2. That ANFI is not in need of a dilutive equity raise.
3. That Prescience Point is in desperate shape and needs a victory on its short position on ANFI or face redemptions which will force the closure of positions.
Then ANFI is a very thinly traded stock ripe for a short squeeze. It could be a fun ride for those who choose to join the long side.
Conclusion: My personal message to Prescience Point
If you want myself and others to stop calling you liars, there is just one thing you have to do. Provide irrefutable PROOF that your conversations with KRBL's CFO, former ANFI employees and Bruce Wacha, among others, actually took place. In the year since your first report, Amira has provided written testimony from the Chairman of a competitor discrediting an interview that you claimed you conducted. Amira provided sign off from two auditors (including a respected international one in case the Indian one and its one PCAOB inspection is not good enough for you) disproving your erroneous analysis. Amira believes that you intentionally misrepresented the APEDA data, however, I have to question the intelligence of those leading a firm that can be so easily duped into believing that the actions of independent investors on Seeking Alpha and social media feeds constitute an orchestrated pump led by the company. Congratulations on taking the bait.
I'll say this. Thanks to your shady reports and incredibly lax follow up, I have managed to take large profits on ANFI from less than $3 to where it is today. Even in the unlikely event that your thesis does come true and ANFI is worth a zero and my remaining position is worthless, I've already taken enough profits to guarantee a win on this investment. So thanks for that, I guess. But I'm greedy. I want more profits if ANFI goes to $20 or $50 on the power of your short squeeze.
If you want to be proven correct and make ANFI drop, you don't have to waste time bashing me or Amira, or come up with more anecdotes or flawed/fraudulent analysis or get your Kerrisdale friends to write reports for you. All you need is rock-solid proof to the claims that you have previously made and attributed them to others. We're all waiting for it!
Disclosure: I am/we are long ANFI.
Additional disclosure: I hold positions in securities as disclosed in this article. I have not received any compensation for this article and all opinions reflected herein are my own. The information provided herein is strictly for informational purposes only and should not be construed as a recommendation to buy or sell, or as a solicitation of an offer to buy or sell any securities. There is no guarantee that any estimate, forecast or forward looking statement presented herein will materialize and actual results may vary. Investors are encouraged to do their own research and due diligence before making any investment decision with respect to any securities discussed herein, including, but not limited to, the suitability of any transaction to their risk tolerance and investment objectives.