Reading my first article and interview with the CEO of First Global Data (OTCPK:FGBDF) (FGD.V), you know that the company has performed well, earning a 0.6 cent EPS in the first nine months on revenue growth of over 1000% and decreased costs of about 25%. As good as the first nine months have been, I expect to see a substantial increase in revenue for Q4 on an increase in business activity driven by FGD's deal signed with Vijaya Bank that was announced on November 7th.
I met with the CEO again yesterday and he showed me VPayQwik™, FGD's branded mobile payment app for the Vijaya Bank. As I decided to download it today, I did some research and stumbled upon very encouraging results. This is the link to the app on the Google Play store, with it having already generated 631 comments on 50,000-100,000 installs on Android: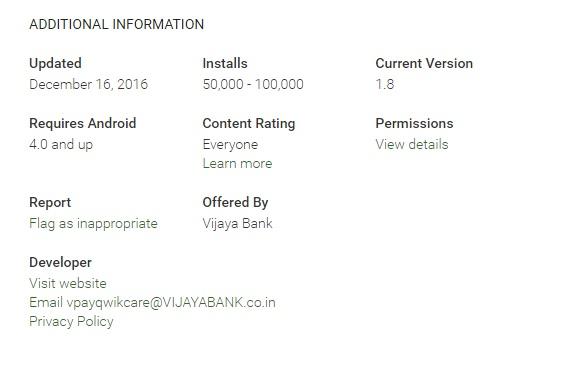 Assuming iOS accounts for another 50,000+ installs, there have been in excess of 100,000 users downloading it since it launched in early November. Out of those 631 comments, most of them have been generated in the last couple of weeks and most of them have been positive with a decent 4-star average rating. So the app is gaining traction and most people are satisfied. However, it has generated 101 1-star comments so far, with the vast majority of those unhappy users having similar issues as this person: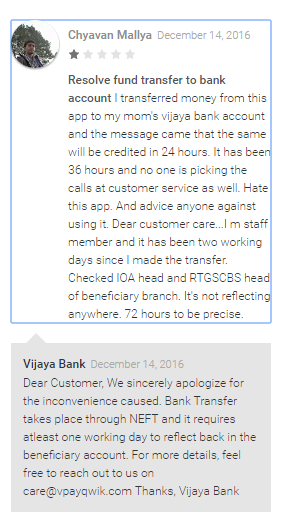 As my interview with Andre implied, in these partnerships the banks or telecoms themselves handle all the customer service issues, and here is an example of Vijaya Bank trying to handle this complaint online, explaining that this bank transfer takes at least one working day to complete. On the surface, it doesn't look like there is any issues with the app itself, just the time it takes for the transfer to happen and people are obviously very sensitive when they think their money has disappeared or it's not where they expected it to be when they needed it so they will be quick to voice their displeasure.
So what does this development mean for FGD? Assuming all else being steady with the business that has thus far generated the $3.4 million in revenue and 0.6 cent EPS in the first nine months of the year, we can assume a substantial increase in revenue and profits for Q4. How much more substantial? I don't want to speculate but I have advised Andre Itwaru to try to get numbers out as soon as possible, even if it's just a press release on unaudited top line results and save the full MD&A and audited financials for later. I advised him of this before I even discovered the substantial early acceptance of VPayQwik, so now I'm twice as happy that I did. If he takes my advice we could be in for a very exciting January. I am in the process of buying more FGD. If this deal with Vijaya is already paying off for the company, imagine when the company goes live with the other partnership agreements it has recently signed, and any future ones to come. My $0.75 target cold be met in short order.
Disclosure: I am/we are long FGBDF.
Additional disclosure: I hold positions in securities as disclosed in this article. I have not received any compensation for this article and all opinions reflected herein are my own. The information provided herein is strictly for informational purposes only and should not be construed as a recommendation to buy or sell, or as a solicitation of an offer to buy or sell any securities. There is no guarantee that any estimate, forecast or forward looking statement presented herein will materialize and actual results may vary. Investors are encouraged to do their own research and due diligence before making any investment decision with respect to any securities discussed herein, including, but not limited to, the suitability of any transaction to their risk tolerance and investment objectives.