I have recently been getting a lot of questions like this where people are asking me to compare my three biggest investments right now, Peak Positioning Technologies (OTCPK:PKKFF)(PKK.C), First Global Data (OTCPK:FGBDF)(FGD.V) and Keek (KEEKF)(KEK.V):

For the record, I answered FGD to this question, which I will get to why in a bit. But my reasoning can't be described in 140 characters or in a post on Facebook so I decided to make this post to expand on the risks and opportunities of these three stocks, particularly in the context of comparing them to each other. Ultimately, each person needs to determine their own risk tolerances for these three microcap penny stocks. Hopefully this article will provide some clarity.
Dilution: You don't get something for nothing
A common feature of Venture companies is heavy dilution, and all three of these stocks have been no different. Here is the fully diluted market caps (in $CDN) of all three based on Friday's closing price:
KEK: 65 million fully diluted shares at $1.55 = $101 million FD market cap
FGD: 335 million fully diluted shares at $0.26 = $87 million FD market cap
PKK: 700 million fully diluted shares at $0.06 = $42 million FD market cap
Keep in mind that KEK had a 1-for-30 reverse split prior to Mark Itwaru entering the picture, so all three companies have had a massive increase in share count since they first listed. But you don't get something for nothing and unlike so many other Venture companies which have diluted just to pay operating expenses, all three companies have diluted as a consequence of significantly advancing their businesses.
Mark Itwaru and his holding company Riavera took over close to 40% of KEK's float through equity raises and debt conversions when KEK was trading near all-time lows thanks to the mess the company was in from the previous management regime. In exchange for this dilution, KEK's balance sheet looks a lot healthier, KEK has gained access to 30% of Peeks, a social commerce app with proprietary payment technology that Itwaru has spent $20 million to develop, and KEK now has a CEO that his highly motivated by his wallet and his pride to ensure that it works out for himself and his fellow shareholders. The outstanding warrants and stock options left on KEK will bring in over $7 million to the company upon full exercise.
FGD recently diluted in the form of a debt conversion and an equity raise, substantially improving the company's balance sheet in tandem with its profitable operations. The warrants would bring in $33 million upon full exercise which is extremely substantial given that the company is already cash flow positive and won't need it to fund operations. That means this money, which is 10 cents per fully diluted share in cash, can be used to eliminate any remaining debt, make substantial acquisitions, pay out a dividend or be used for a stock buyback.
PKK's fully diluted share count ballooned to 700 million upon last year's strategic investment with Chinese billionaire Jiang Wang. Mr. Wang invested $4 million for 199 million shares at 2 cents and 199 million warrants at a 5 cent strike price. This significant ownership stake came with a transfer of a piece of one of Mr. Wang's private B2B materials transactions business. That business has already enabled PKK to record an outstanding $26 million in revenue for seven weeks of operations in Q3, and has been instrumental to the company's projection of over $550 million in revenue for 2017. I think the 398 million shares and warrants that Mr. Wang and his associates own are in tight grip and are well deserved. Upon exercise, the 199 million warrants would bring in $10 million to Peak, plus a couple more million from warrants owned by other shareholders like me upon exercise.
Financial Performance: Why I picked FGD to answer that question
When talking about the risk profiles of FGD, PKK and KEK, it's pretty simple. FGD is the lowest risk of the three because it has demonstrated three quarters of profitability already. If someone is going to ask me which one stock of those three to invest in, and I don't know anything about their financial situation, I will recommend the one that I think has the least risk to it.
FGD starting reporting profits in Q1 2016. PKK's business just started in mid-August and there is a good shot it will record profits for Q4 2016. Therefore PKK is probably about 6 to 9 months behind where FGD is right now. The Peeks platform went live in November so it is the youngest of the three businesses, and when exactly it will turn into a profitable business is anyone's guess. It could already be there for all we know, or more than a year away.
Looking forward to 2017, Peak's management is quite confident in the continued growth of the company's business. PKK's "2017 revenues are expected to exceed $550M with EBITDA of 3.00% to 5.00%", which means we can expect EBITDA to be in the $16.5 million to $27.5 million range. Providing the market with guidance at such an early stage in the business is a rarity for a Canadian microcap company. Neither Itwaru brother is willing to go public with guidance just yet, and that is fair given the volatile nature of tech startups. Peak has something which few other companies have - a billionaire backer who is willing to place existing business into the young company, thus ensuring that PKK can make good on its forecasts even in an environment filled with unforeseen risks. So in that aspect, PKK is the lowest risk business as its future growth is reasonably assured through the purchase order agreements it already has under its belt.
While not providing official guidance, FGD's CEO Andre Itwaru has teased these numbers in a recent interview: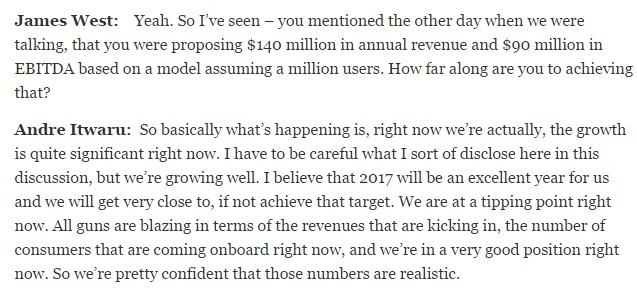 With the installs of the VPayQwik app already numbering in the 50,000-100,000 range just two months after the deal with Vijaya Bank was announced, I don't think it's unreasonable to expect one million users by the end of the year. That would equate to a 7% penetration of the 14 million users with Vijaya and doesn't even consider the agreements that FGD has signed with other banks and telecoms with a total of close to 100 million users. FGD could be at a $140 million revenue run rate by the end of the year (note that this is much different than me saying FGD will earn $140 million in revenue this year).
With PKK trading at a $42 million market cap and a 2017 EBITDA of $22 million assuming mid-point of guidance, it's trading at a 1-1.5x EV/EBITDA multiple. Keep in mind that EV, or enterprise value, subtracts net cash value (cash less debt) from a company's market cap. The only way PKK gets to 700 million shares is if all the warrants are exercised which would bring in over $10 million in cash. So more than $10 million would be subtracted from the market cap as part of the numerator in the EV/EBITDA equation.
Andre Itwaru forecasts $90 million in EBITDA in the scenario where FGD has one million users brought on by its various partnerships. With a fully diluted market cap of $87 million and enterprise value of $55-$60 million upon exercise of all warrants (depending on amount of debt left), that would lead to a multiple of less than one. We know by looking at the VPayQwik installs that the company is already at least 5-10% of the way to one million users two months after the Vijaya bank deal was announced and it's only the second week of January. So there is a distinct possibility that the company will reach a million users by the end of the year and average 500,000+ users throughout 2017. That would produce an EBITDA of around $45 million, which would put it in the same boat as PKK with a 1-1.5 EV/EBITDA multiple.
Another thing to consider is that all of PKK's operating subsidiaries, at least in the foreseeable future, will all be in China. FGD's operations reported in the first three quarters of 2016 are primarily North American while the Vijaya Bank deal promises tremendous growth in India. FGD intends to expand globally, but especially in areas of the world where much of the population is unbanked or underbanked (Eastern Europe, Africa and Asia). So FGD definitely has geographical diversity in its corner.
KEK isn't even involved in this conversation because it is a completely different animal. It is in another stratosphere when it comes to risk versus reward profile versus the other two. Simply put, investors are not putting their money into KEK because is a value play like the other two are looking favorable to be in 2017. KEK has the highest valuation of the three yet recorded only $13,000 in revenue its last reported quarter ended August. And that number is meaningless because the Peeks app was in demo mode until November 1. Even if Peeks was to catch on fire beyond anyone's expectations in 2017, it would be highly challenged to earn $200 million in EBITDA this year, with 30% of that, or $60 million, going to KEK to align it with a similar 1-1.5x EBITDA multiple. Keep in mind that EBITDA multiples on these tech companies should be 10x or more so the 1.5x multiple I discuss here is just ridiculously low.
Investors are buying up KEK because they see the Peeks app as a potential disruptor in the social media world which is in desperate need of disrupting when it comes to monetization models. They see an app like Snapchat expected to go to IPO at a valuation of over $30 billion while there is preliminary anecdotal evidence to suggest that Peeks could already be at an ARPU that is multiples higher than Snapchat's ARPU. KEK has higher risk than the other two stocks, but also has an upside that could be in excess of 100 times of where it is now in a few years if it becomes the next big social media outlet. Or more accurately, a truly integrated social commerce app with its own built-in proprietary payment system. And while the risk is high on KEK, it is substantially lower than when I first invested in it in March 2016.
A year ago Peeks was nothing more than a vision in Mark Itwaru's mind. Now we have an app that is clearly gaining traction just by looking at the increase in activity, and the increase in ranks on business intelligence websites like Alexa and App Annie (see chart below). The revenue share agreement between KEK and Personas has increased from 10% to 30%. The CFO has worked diligently to improve the balance sheet by eliminating trade payables that were created prior to Mark Itwaru taking over Keek, paying just a fraction of what was owed on some of them. Finally, the monthly burn rate is down to $150,000-$175,000 as the Keek team has worked hard to move all its data to the cloud, saving on maintenance and hosting costs, and Personas is taking on more than its fair share of the operating expenses for Peeks.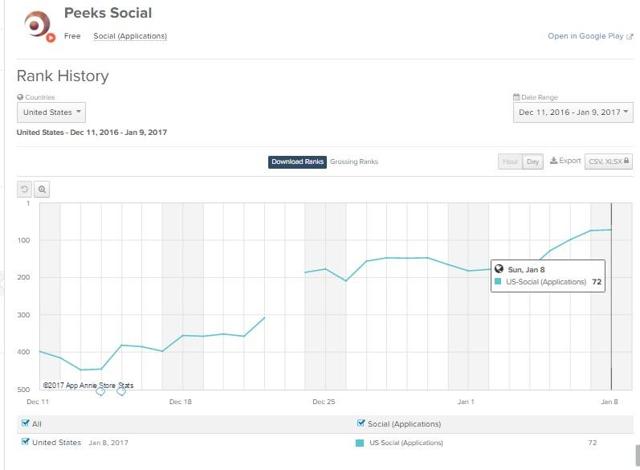 Pictured: Peeks Social U.S. rank has improved from #398 on December 11 to #72 on January 9 according to AppAnnie.
Getting to know the CEOs and my guess on their long-term plans
This section is going to be kind of interesting. I've owned stock in PKK since March 2014 and have chatted with CEO Johnson Joseph countless times over email and phone. However, since he and the rest of the management team resides in Montreal and other key players are in China, I've only met them face-to-face once last year at a luncheon that Peak hosted to introduce shareholders to Jiang Wang. Ultimately, PKK is Mr. Wang's company as he and his associates own a controlling stake. He speaks very minimal English and lives in China. These are obvious roadblocks for me to getting to know him well.
Contrast that to the Itwaru brothers when I first met Mark in Q1 2016 and Andre in Q4 2016 and began investing in their companies around the same time I met them. However, they both live in the Greater Toronto Area where I am so I have had a chance to meet both of them face-to-face several times and I expect that to continue. It's strange but in those few months I've gotten to know them, I feel like I now have a better idea of their personalities and can make a better guess at their plans for the future than I do with the people behind PKK.
Despite being brothers, I find that the two have starkly different personalities. If I had to name the one company out of these three that I think would be a buyout target it would by far and away be FGD. Andre Itwaru appears to be more laid-back and very willing to collaborate with other people to get a job done. This works out well for FGD's business strategy and has enabled the company to become profitable quickly as it focuses only on its core competencies while letting its bank and telecom partners handle all marketing and customer service tasks. I can see him being open to a buyout at the right price.
Mark Itwaru is a lot more possessive of Peeks and has a vision that appears to be mostly his and fully intends to see it through. The term "trade secrets" comes out of his mouth a lot when myself or others try to pry him for more detailed answers. In my previous articles I suggested that Peeks could be bought out by Facebook, Snapchat or another social media suitor but as I have gotten to know him I now highly doubt that Peeks will be bought out within three years. If I had to choose between a buyout or an RTO involving Personas, I would strongly side with the RTO being the most likely outcome. It would be the perfect way for Mark to protect Peeks from a hostile takeover bid as he'd probably own over 80% of the shares of a prospective "PersonasKeek" combination as opposed to right now where he would still need about 10-15% of KEK shareholders siding with him in order to block a takeover attempt of the public company.
However, an RTO is just my speculation. I don't know of Mark's true desire to make an RTO happen nor would I know the timing. I do know he is particularly sensitive to this question as it has been posed to him many times and I can understand why. How would you like it if random people kept coming up to you asking/suggesting/telling you to buy your neighbors house in addition to your own? Going public with Personas through an RTO is a life-changing financial decision for him, and needs to be made only by him, his family, his financial advisors and other people close to him. Not by shareholder coercion.
Just like KEK is Mark Itwaru's baby, PKK is Jiang Wang's baby, but taken even one step further. While I believe that Mark Itwaru wouldn't want a buyout offer on KEK any time soon, it actually makes no financial sense for Mr. Wang for PKK to be taken out. This is his way of expanding his business empire outside of China, and I believe he is setting it up so his son can take on an executive role within the company. Just like I think Mark Itwaru would be more likely to add in his Personas business through an RTO into KEK than let it be sold, I think Mr. Wang would put more of his $10 billion empire into PKK through a further investment stake than to give up controlling interest.
Conclusion
Whatever stock works best for an investor, they have to decide for themselves. I would recommend taking a look at all three - after all, two of these picks are trading at forward looking EBITDA multiples of less than two. One of those being based on official guidance from PKK while all one has to do is read between the lines on FGD. The third stock KEK offers a very rare opportunity to get into a social media play at a ground floor valuation. The Facebooks, Snapchats, Twitters and Ubers of the world were all private equity when they were trading at $100 million valuations. By the time the public saw (or will see) them, they traded at IPO valuations in excess of $10 billion. Peeks is only 70% private equity and we have access to the remaining 30% of it through KEK.
An update on PKK today
Peak has released a monthly status update as part of being a CSE listing. Unlike a press release, this doesn't get a lot of dissemination but it has some very useful information in it so I thought I would share key excerpts of it here to ensure as many people as possible know about it:
The Issuer's operating subsidiary, Asia Synergy Technologies ("AST") continued to build on the momentum from the previous month's activities. AST acquired several new clients and conducted a series of revenue generating transactions over the period. The transactions were facilitated by the Gold River materials trading and financial services platform and allowed AST to test a handful of new features recently activated on the platform. The details of those transactions as well as those related to AST's revenues and profits for the period will be provided in the Issuer's consolidated audited financial statements for the period ended December 31, 2016 as prescribed by securities legislation for financial disclosure.
So PKK is adding clients and presumably LOIs and purchase order agreements, but for whatever reason the company is just not announcing them through press releases. Perhaps the fact that announcing over $500 million worth of PO agreements last summer wasn't enough to move the stock, so maybe something will eventually be announced as part of a larger plan.
Also:
During the period, the Issuer's management continued to collaborate with institutional investors on their ongoing due diligence for a potential relationship with the Issuer. The Issuer's management had a number of exchanges with these investors where several potential relationship scenarios were discussed. The Issuer's management was very satisfied with the pace and direction of the discussions as of the date of this report.

With its understanding of the credit and financing challenges faced by businesses of all shapes and sizes in China, the Issuer's management intensified its discussions during the period with a handful of international financial technology (Fintech) solution providers. Those Fintech solution providers were identified by the Issuer's management as having products that would allow the Issuer to take advantage of opportunities in the Chinese credit and lending space, even beyond those currently being exploited by AST though the Gold River platform. The Issuer plans to provide more details on those discussions in a future news release.
So it sounds like there is continued progression on the institutional investor recruitment attempt. The company also appears to be attempting a more FGD-like collaborative Fintech model by bringing on partners. I would approve of this as any attempt to improve PKK's low margins should be explored.
Investor Group Links
For those who wish to chat more about these three companies, I have set up investor group on Facebook. the links are as follows:
FGD: https://www.facebook.com/groups/377851355894645/
PKK: https://www.facebook.com/groups/1056761834354355/
KEK: https://www.facebook.com/groups/190918448004346/
Disclosure: I am/we are long FGBDF, KEEKF, PKKFF.
Additional disclosure: I hold positions in securities as disclosed in this article. I have not received any compensation for this article and all opinions reflected herein are my own. The information provided herein is strictly for informational purposes only and should not be construed as a recommendation to buy or sell, or as a solicitation of an offer to buy or sell any securities. There is no guarantee that any estimate, forecast or forward looking statement presented herein will materialize and actual results may vary. Investors are encouraged to do their own research and due diligence before making any investment decision with respect to any securities discussed herein, including, but not limited to, the suitability of any transaction to their risk tolerance and investment objectives.